Oscars 2015: Why It's Possible No Film Will Win An Academy Award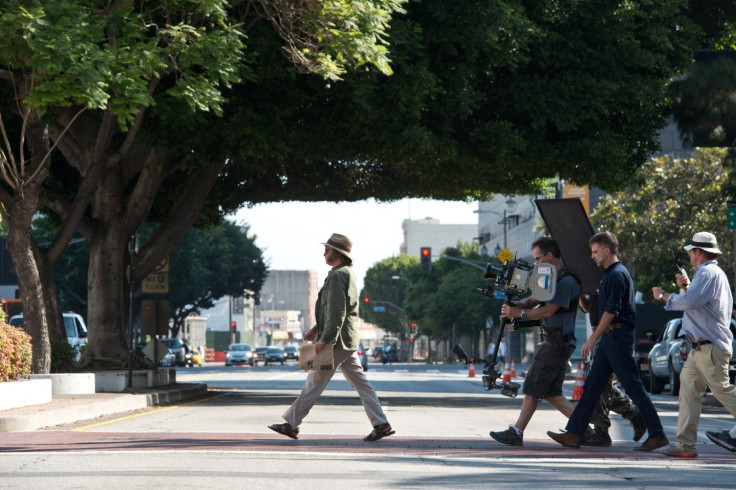 It's entirely possible that film won't win a single award at Sunday's Academy Awards. Just 12 of the 51 live-action films nominated for awards this year were shot on film of any kind. The rest were shot on digital, a trend that has accelerated over the past decade as digital formats have improved and the supply of film, as well as the facilities that process it, have dried up.
"I think everyone is just flabbergasted by how quickly this happened," said Jan-Christopher Horak, the director of the UCLA Film and Television Archive. "Even though 10 years ago we knew digital photography had wiped conventional analog photography out of existence within five years, it didn't seem possible [it could happen with film]."
Ten years ago, only one Oscar nominee, "Star Wars Episode III: The Revenge of the Sith," was filmed digitally. That same year, there were more nominated films shot on videotape (three) than nominated films shot digitally. Five years ago, just two of the five films nominated for best cinematography were shot using only film, one was shot entirely on digital, and the other two were shot using a mix.
Yet today, even with the support of some of the industry's most powerful and influential directors, the material that gave an entire artistic medium its name could be on the verge of becoming a fringe curiosity. "I don't think anyone thought we'd reach 2015 and have maybe 20 to 30 percent of the nominees be film," Horak said.
Improved, Efficient Format
The film industry's move from analog to digital was greatly accelerated by a literal tectonic shift: The 2011 earthquake and subsequent tsunami that rocked Japan practically wiped out the supply of certain kinds of tape, forcing many film and television production studios to take on digital formats to keep production schedules moving.
That move woke many industry people up to the fact that digital video offered a number of production advantages, though cost savings were not among them.
"There's almost no difference," said Steven Poster, the president of the International Guild of Cinematographers. "You need more crew when you're shooting digitally."
Yet what digital does offer is the ability to do things like color-correct shots while on set, allowing production teams to work more quickly, and shoot longer shots.
The improved picture quality helped the transition too. "The digital format's improved to the point where it's very difficult to tell them apart unless you have a very trained eye," said Stephen Pizzello, the editor-in-chief and publisher for the American Society of Cinematographers.
Today, digital cameras shoot at such high resolution that the picture they offer is far sharper than anything possible with film stock. That exceeding sharpness, in fact, may be one of the things keeping digital alive, as more and more cinematographers seek out filters or lenses that create a more forgiving picture.
"Cinematographers are looking for a more romantic look," Poster said.
Influential Supporters
A number of prominent directors feel a strong affection for what Pizzello calls film's "painterly quality." Quentin Tarantino declared he would rather retire from filmmaking than shoot digitally. Christopher Nolan, the director behind outsized cinematic spectacles like "The Dark Knight" and this year's mammoth "Interstellar," has never shot his movies digitally. The two of them, along with Judd Apatow, approached a number of studios with a proposal to spend a fixed amount of money every year on film from Kodak, enough to keep the company afloat.
In early February, the coalition got its wish – Kodak announced it had secured agreements with Paramount, NBC Universal, Warner Bros., 20th Century Fox, Sony Pictures and Disney, promising a steady supply of film every year.
Boutique Future
Yet supplying film stock to studios has never been the source of Kodak's profits. Those came from producing the film prints that studios distributed across the country and around the world, a revenue stream that has been wiped out by the move to digital projections at movie theaters.
The Kodak commitment also does nothing to solve the ongoing challenge of processing the footage that directors and cinematographers produce. Only a handful of the film processing facilities that play a key role in postproduction are still around. In October, the last film processing facility in New York City, Film Lab, closed its doors, leaving no viable options for productions that take place outside Los Angeles.
Yet studios will feel compelled to indulge directors like Nolan and Apatow only as long as they continue to generate strong box-office showings, and as long as their successors continue to demand film. At many film programs, students are still taught how to shoot on film.
"Artists are always particular," Horak said. "And artists are always cognizant of what came before them.
"It is sustainable as a boutique industry," he said, "if producers are willing to pay for the costs that a boutique industry implies."
FOR FREE to continue reading
✔️ Unlock the full content of International Business Times UK for free
offer available for a limited time only
✔️ Easily manage your Newsletters subscriptions and save your favourite articles
✔️ No payment method required
Already have an account?
Log in
© Copyright IBTimes 2023. All rights reserved.