'Outlander' Season 1 Recap: Top 6 Moments From Jamie And Claire's Wedding In Episode 7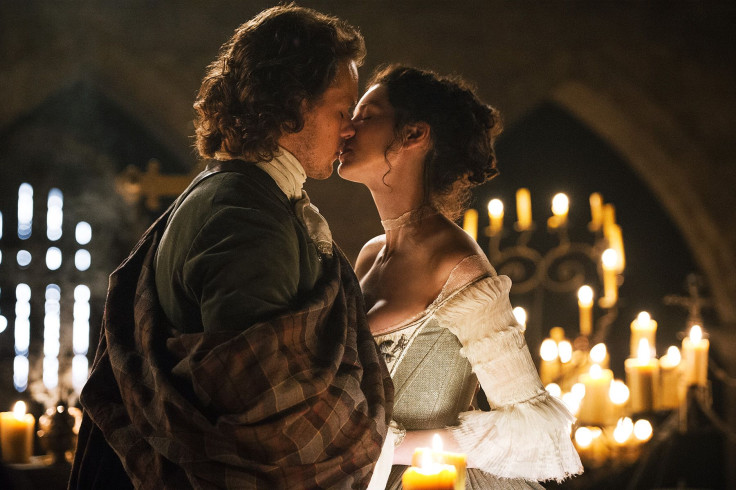 "Outlander" Season 1 episode 7 brought the moment that every book fan had been waiting for: Jamie (Sam Heughan) and Claire's (Caitriona Balfe) wedding. The episode took place on the day and night of their wedding. However, there were plenty of moments outside of the ceremony that were fun to watch. Check out the top moments from the episode below:
1. Jamie Losing His Virginity
If we're being honest, plenty of fans were looking forward to the wedding night more than the ceremony. Jamie and Claire's awkward first time was taken straight from the pages of Diana Gabaldon's book. From Claire's suggestion to go to bed to Jamie admitting that he didn't know humans had sex facing each other (he'd only seen animals mate), book fans recognized plenty of quotes and the scene finally brought Claire's brooding to an end.
2. Getting The Priest
Jamie had some demands for his wedding, and one of those demands was a priest and a church. Dougal's men had to find a priest the day of the wedding, but the priest they found refused. He wanted announcements and elements of tradition that would take weeks. Dougal's lackey and the priest start quoting the Bible at each other back and forth until Dougal threatens to kill the priest. Eventually, Dougal realized that he could just bribe the priest.
3. Claire Stalling
Claire wasn't exactly ready to jump into bed with Jamie. She asked him why he wanted to marry her at all. He explained that it was for her safety. "You have my name, my clan and if necessary the protection of my body as well," Jamie said. Then, just as they were about to kiss, Claire asked about his family. They talked for hours before Claire was finally ready to have sex with her new husband.
4. The Prostitute's Dress
Ned Gowan (Bill Paterson) was tasked with finding Claire a suitable dress. Apparently, he thought that a brothel was a good place to go dress shopping. Plenty of prostitutes came on to him, but he remained focused on finding a dress. Eventually, one woman revealed that a client paid her with a wedding dress.
5. Claire's Cold Feet
Claire couldn't forget Frank throughout the whole episode. Claire almost stopped the wedding because of her guilt. She realized that she didn't even know Jamie's real name. Jamie introduced himself as Jamie Alexander Malcolm MacKenzie Frasier and they shook hands. Claire took off her wedding ring from Frank (Tobias Menzies) as she entered the church.
6. The Ring
Jamie had a ring made on the day of their wedding. He wanted as much of a traditional wedding as possible. The ring was specially made for Claire from a key, and it's an important object for book fans. It's one of the things that made Claire realize how much effort Jamie put into making their wedding day feel important.
Worst Moment: Dougal (Graham McTavish) hit on Claire after she and Jamie consummated their marriage. He told her that her marriage shouldn't hold her back. "It needn't stop you from sampling other pleasures," Dougal said. Luckily, they were interrupted by another man, and Claire went back up to her room. When the man remarked that Claire look "well ridden," Dougal punched him.
"Outlander" airs Saturdays at 9 p.m. EDT on Starz. What was your favorite moment from the episode? Sound off in the comments section below!
© Copyright IBTimes 2023. All rights reserved.