'Outlander' Season 1 Spoilers: Black Jack Causes Trouble For Jamie And Claire In New Sneak Peek Video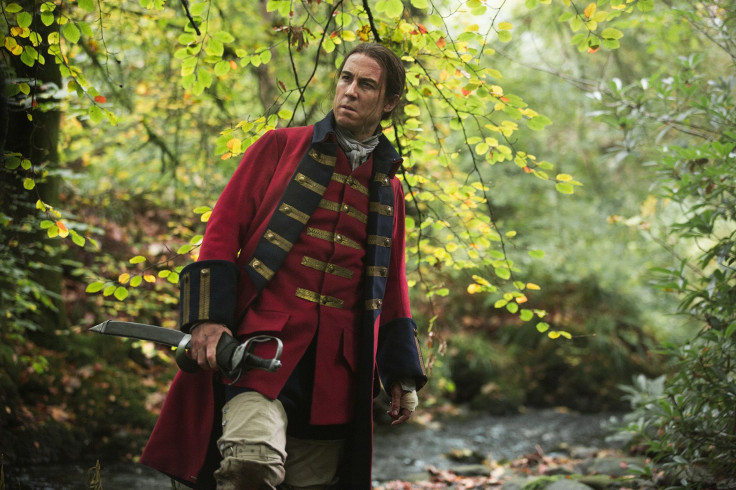 "Outlander" fans are still missing their favorite Scottish drama, but luckily a new sneak peek gives them the fix they need. Tobias Menzies introduces the latest installment of "Droughtlander," an online series of special footage for fans to get through the "Outlander" drought. Ironically, he introduces the segment in the rain.
The clip shows some old scenes, as well as some new footage of Jamie (Sam Heughan) and Claire (Caitriona Balfe) in bed. "You're just really going to love seeing what it means for the two of them to stay together, rather than get together," Balfe says.
However, the video focuses more on Jamie's relationship with Capt. Black Jack Randall (Menzies). "Jack Randall isn't quite finished with our couple, and it's going to be dark," executive producer Ron Moore warns.
"Jamie's been someone who has intrigued Jack," Menzies adds. "He was unable to break him and still wants to get to the bottom."
"Ultimately, there's some kind of strange, twisted respect," Heughan explains.
Of course, Randall isn't his only problem. Jamie's uncles will be at each other's throats this season, and Geillis (Lotte Verbeek) will become more suspicious of Claire. However, one silver lining in Jamie's story is his sister. Jenny (Laura Donnelly) will be reintroduced to viewers. She appeared only in a flashback in episode 2, but now Claire will get to meet her sister-in-law.
Watch the sneak peek for the second half of "Outlander" Season 1 below:
The midseason premiere of "Outlander" Season 1 airs Saturday, April 4, at 9 p.m. EST on Starz.
© Copyright IBTimes 2023. All rights reserved.