'Outlander' Season 2 Spoilers: Claire And Jamie Have Little Time To Be Parents Due To French Politics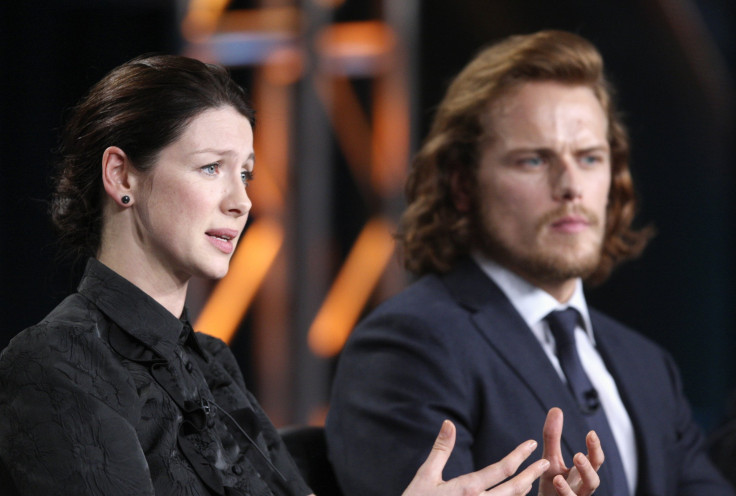 Jamie and Claire may not have time to discover how to be good parents in the new world of "Outlander" Season 2, cast members Caitriona Balfe (Claire) and Sam Heughan (Jamie) said in a recent interview. Production of the next season is ongoing, and some of the episodes of the show have been filmed.
Spoilers Below!
In an interview with TVGuideMagazine, Heughan said that the next Season feels like a "new world," where Jamie and Claire will get to meet a lot of new characters. Balfe said that, since her character is now pregnant, the two leads will have to figure out how they are going to become parents in the new atmosphere.
The two main characters were last seen boarding a ship and heading to France to stop the Battle of Culloden. Heughan pointed out that the two characters will have little time to figure out their parenting responsibilities because of all the politics in the French court.
Season 2 of "Outlander" will visually very different, according to Balfe. The actress explained that, unlike the first season where it was "very gritty and earthy," next year the cast members will be seen in "bright colors and silks and satins." She added: "It's going to be very exciting."
Answering a question about whether Jamie and Claire would make good parents, Balfe said that although the two characters are from two different time periods, they have a similar outlook in life, and this is what the characters will instill into their child. Heughan said that his character may think that he will be a "great dad," but when faced with the prospect of being a father, he will realize that "it's going to be a whole new ballgame."
In an interview with AccessHollywood, Balfe said that Claire's pregnancy "changes everything." The character had always believed that she could not get pregnant. The actress said that this twist in the story brings up a lot of the character's past and she pointed out that Claire lost her parents when she was only five years old and didn't have a mother figure while growing up.
The pregnancy is said to bring Jamie and Claire closer together in "Outlander" Season 2, and Balfe said that it is a "beautiful part of the story." Five episodes of the next s,eason have reportedly been filmed and the premiere episode is expected to air sometime in 2016.
© Copyright IBTimes 2022. All rights reserved.
FOLLOW MORE IBT NEWS ON THE BELOW CHANNELS