'Outlander' Season 3 Star Sam Heughan Requested A Change From The Books
"Outlander" is based on Diana Gabaldon's bestselling novels, but the Starz TV show doesn't always stick to the source material. In Season 3, episode 6, Jamie actor Sam Heughan requested a change be made to his character.
"I sent an email to [showrunner] Ron Moore last year saying, 'How about glasses?' It's not something in the books but I thought it would be a nice surprise," Heughan told Entertainment Weekly.
In Sunday's "Outlander," Jamie and Claire finally reunited. In one of many shy moments, Jamie explains that his eye sight has declined over the years. He puts on a pair of glasses to look at the photographs of Brianna (Sophie Skelton) that Claire (Caitriona Balfe) brought to the 18th century.
It seems the actor wanted to give Jamie an imperfection. "It's a weakness of Jamie's. He doesn't have many. It's nice, and it's something we can play off," the Scottish actor added. "It's kind of a disguise as well. He plays so many different characters and I felt when we first see Jamie, it would nice to see him as a completely different character, a gentrified Edinburgh man who has his own business."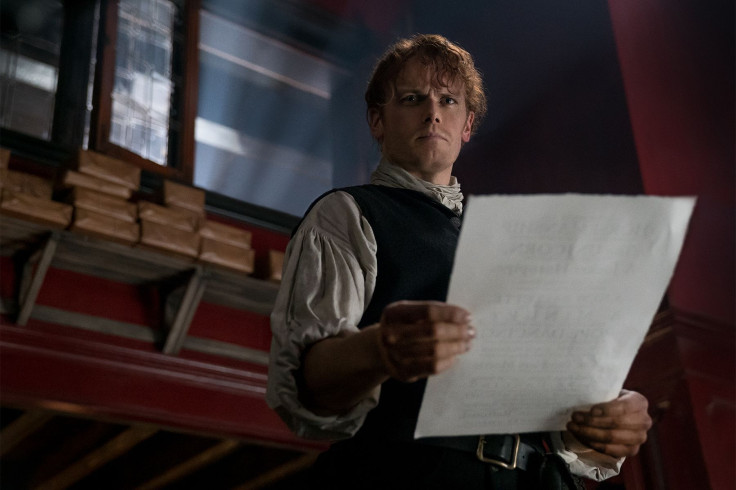 It also helps with aging. Jamie looks the slightest bit more mature in his spectacles, and that's fitting since he is supposed to be 20 years older than he was in Season 2. While glasses and gray hair help Heughan and co-star Caitriona Balfe age a bit, "Outlander" opted not to go for full prosthetics à la "This Is Us." Balfe previously stated that they thought too much aging would be distracting.
"A lot of prosthetics can also be jarring and can take people out of the scene, and it cannot look perfect," Balfe told TVLine. "That would add an awful lot of production time. It would probably add a lot of cost and post-production [work]."
"Outlander" can't do too much aging too fast, though. If the time travel drama lasts through an eighth season, Jamie will be in his early 50s and Claire will be in her 60s. If the early Season 4 renewal is any indication, it seems like audiences will be watching the couple for many years to come.
"Outlander" Season 3 airs Sundays at 8 p.m. EDT on Starz.
© Copyright IBTimes 2023. All rights reserved.