'Outlander' Star Caitriona Balfe Celebrates Birthday, Thanks Sam Heughan For Well Wishes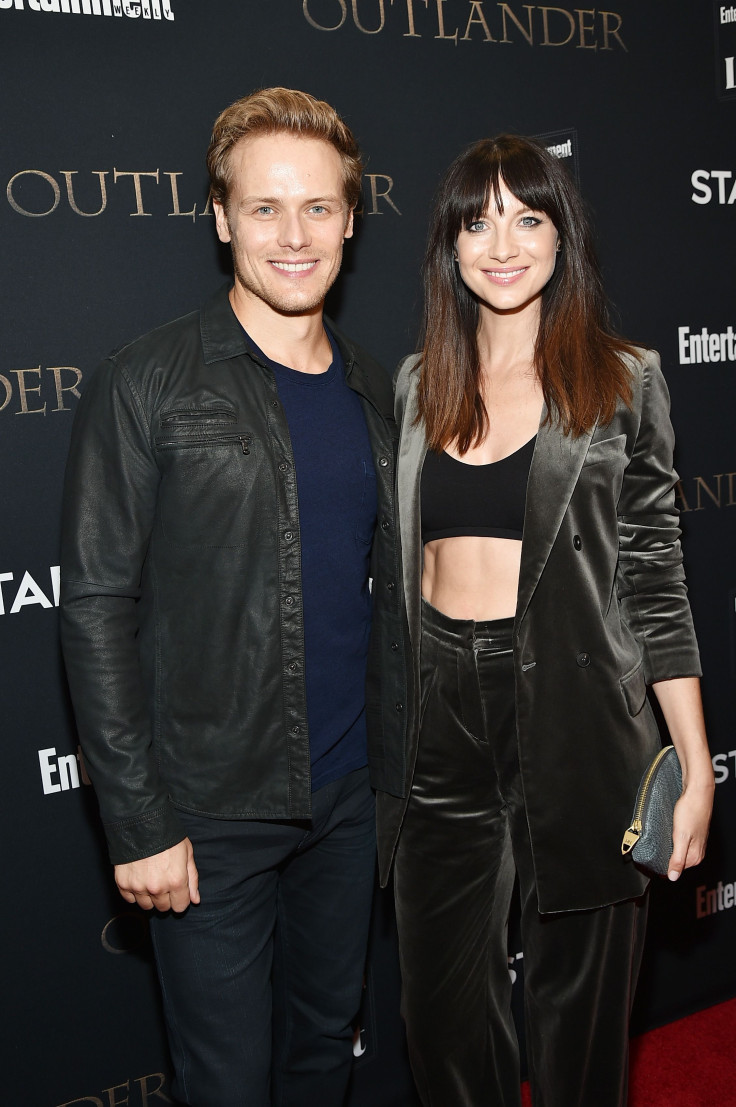 "Outlander" star Caitriona Balfe is celebrating. Wednesday, Oct. 4 marks her 38th birthday, and it seems her co-stars are making sure she feels the love on her special day.
Sam Heughan, who plays Jamie on the Starz drama, wished his onscreen wife a very happy day and shared a photo of them. He teased the actress, "Always older than me…" Heughan is about six months younger than Balfe.
Balfe didn't mind being teased. "Older, wiser, drunker .... all the best er's!!" she wrote. "Thanks for always being there when a girl needs something to lean against!"
The "Outlander" cast is pretty dramatic on the show, but they love a behind-the-scenes laugh. Lauren Lyle, who will play Marsali later this season, shared a photo of Balfe seemingly taking a photo of an advertisement for penis enlargement, lost lovers and financial problems.
"Happiest of birthdays to the incomparable @caitrionambalfe. I hope you get what you're looking for this birthday!" Lyle wrote.
"You just never know when you'll need this 'cover all bases' guys help," Balfe wrote back.
Executive producer Maril Davis revealed that the Claire actress is actually working on her birthday. It seems production of "Outlander" Season 4 has already begun. "Happy Birthday to the amazing @caitrionambalfe!!!" Davis wrote. "Sorry you have to go to work today. Thankfully you work with fabulous people."
Ahead of her special day, Balfe actually did some reflecting on her past. She wrote a piece for the New York Times' "The First Time" series about when she moved to Paris to become a model at age 19. After a particularly bad casting session, Balfe found herself in Place des Vosges and realized she was exactly where she wanted to be.
"My sobs subsided, and I was hit with the most over powering sense of gratitude," she wrote. "I forgot about the casting director who had just reduced me to nothing. I wasn't nothing. I was a young Irish woman, and I was here, realizing a dream and living in the most beautiful city in the world."
Nearly twenty years later, Balfe is no longer living in Paris, but her career is thriving. "Outlander" is averaging 1.5 million viewers each week, according to TVSeriesFinale. That's more than both the first two seasons.
Ratings are expected to climb even more as Jamie and Claire get closer to reuniting. The couple has been separated for 20 years after Jamie sent Claire back to her own time before the Battle of Culloden. Claire doesn't figure out that Jamie survived the war until the late 1960s, and figuring out where he is 20 years after she left is no easy task. However, a reunion will come eventually on the Starz drama. Fans will have to keep watching "Outlander" on Sundays at 8 p.m. EDT.
© Copyright IBTimes 2023. All rights reserved.