Oval Office Meeting: Obama Sees Progress After Meeting With Congressional Leaders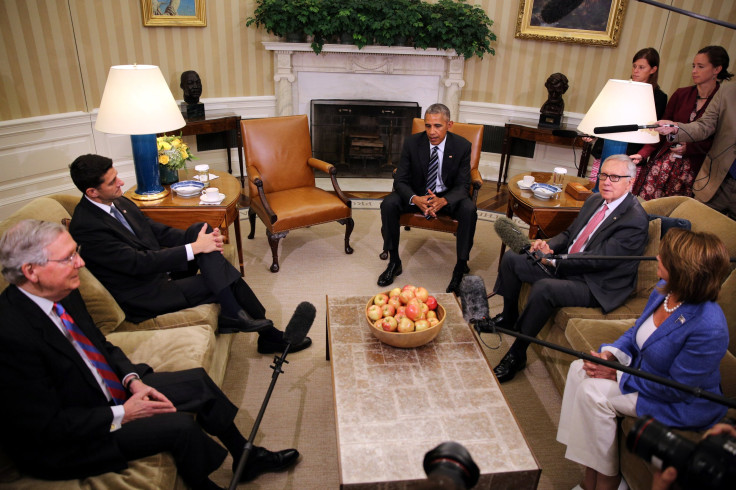 U.S. President Barack Obama said Monday he is hopeful "we can get some things done" with Congress after the Nov. 8 election.
Obama met with congressional leaders in the Oval Office and said he is encouraged by the "constructive work that's being done right now." Obama acknowledged with the political season in full swing, everyone is thinking about elections.
Congress needs to pass a stop-gap spending bill to keep the government from shutting down Oct. 1.
Nonetheless, a White House statement said Obama and congressional leaders discussed disaster relief, including aid for Louisiana and areas hit by wildfires as well as the lead contamination of the water supply in Flint, Michigan.
He said he hopes Congress will pass funding to fight the mosquite-borne Zika virus, which can cause severe birth defects, before it adjourns to campaign. Congress left Washington for the summer without acting on Zika funding. Since then more than 2,700 cases have been diagnosed, including among pregnant women. Legislation has been bogged down by amendments defunding Planned Parenthood.
"So my hope is, is that we can make some modest progress in areas where we agree and we've been working together. After the election, I am even more hopeful that we can get some things done," Obama said.
There was no mention of his nomination of Merrick Garland to the U.S. Supreme Court. Republican senators have refused to hold hearings on the nomination or a vote. Though Senate Majority Leader Mitch McConnell has said that won't change after the election, Senate Judiciary Committee Chairman Chuck Grassley said recently it's possible Republicans could change course if Hillary Clinton wins the election.
Obama is expected to veto a bill allowing the families of the victims of the Sept. 11, 2001, terror attacks to sue Saudi Arabia for its role in the plot. White House spokesman Josh Earnest said he would try to convince lawmakers to change course on the issue.
"The president feels quite strongly about this," Ernest said, adding the concept of sovereign immunity protects the United States as well.
"The families of the 9/11 victims have suffered so much and fought so hard for justice," Sen. Chuck Schumer, D-N.Y., told the New York Times. "I hope for their sake that the administration will rethink vetoing this bill."
© Copyright IBTimes 2023. All rights reserved.