Papa John's Apologizes For Blaming Poor Pizza Sales On NFL Protests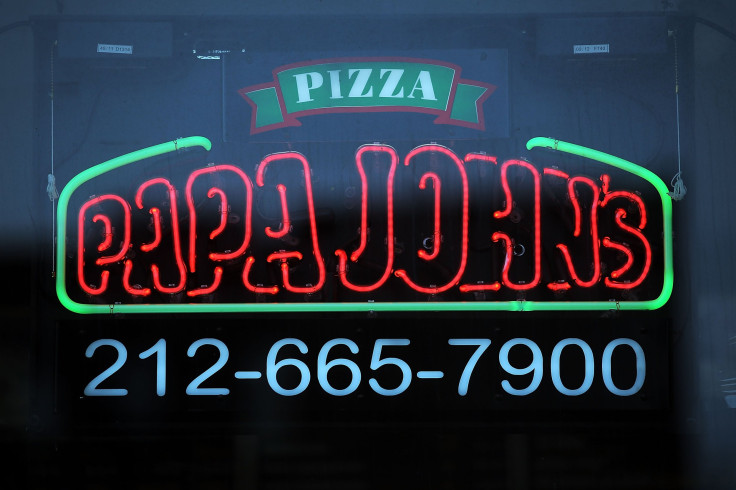 Two weeks after Papa John's blamed the National Football League (NFL) protests during the national anthem for poor pizza sales, the popular pizza chain, in a series of tweets on Tuesday apologized for the comments made by Papa John's founder, CEO, and spokesman John Schnatter.
"The statements made on our earnings call were describing the factors that impact our business and we sincerely apologize to anyone that thought they were divisive. That definitely was not our intention," Papa John's wrote.
"We believe in the right to protest inequality and support the players' movement to create a new platform for change. We also believe together, as Americans, we should honor our anthem. There is a way to do both."
Even after the popular pizza chain issued an apology, several users on Twitter were not satisfied and said that it was too late to make an apology now.
A Twitter user by the name, Juliethe RealJules wrote, "Nope, too late. When you acknowledge that the kneeling protests ONE thing only, specifically police brutality against minorities and that the protests do not disrespect either the military nor our flag, THEN I MIGHT consider eating your s***ty pizza again. I really doubt it."
Writer Rachel Kiley wrote, "You don't need to 'work with' them. They want to protest. They don't need your permission or to compromise to benefit you."
Soledad O'Brien, CEO Starfish Media wrote, "*sigh* @PapaJohns Literally your CEO said exactly the opposite of that. He said protests should have been nipped in the bud a year ago."
The controversy first started on Nov. 1 when on a conference call with shareholders Schnatter voiced his disgust about the ongoing anthem protests and said that they are killing his pizza business during NFL games. "The NFL has hurt us," Schnatter said. "We are disappointed the NFL and its leadership did not resolve this."
Schnatter also blamed commissioner of the NFL Roger Goodell for allowing demonstrations to continue which he believes are turning football fans away from the games and those expensive pizza ads.
Steve Ritchie, Papa John's president and chief operating officer also laid blame on the company's deal with NFL for the decline in sales, New York Daily News reported. "We expect it to persist unless a solution is put in place. …Leadership starts at the top and this is an example of poor leadership."
Although the company did not mention just how far the sales have fallen, Ritchie indicated that, as one of the most prominent NFL sponsors, Papa John's and the NFL's popularity are linked.
Several prominent figures including ESPN reporter, Jemele Hill also criticized Schnatter for his insensitive comments. Hill took to her twitter account and said that pizza sales are not as important as taking a stand against racism and police brutality.
Hill was also quick to respond after Papa John's tweeted the apology on Tuesday. "This is peak 2017," she wrote.
According to the NY Daily News even though the company has singled out protests during the anthem as a primary reason behind declining sales, commercials starring Peyton Manning, an alleged sexual harasser, continue to air which could also be one of the reasons behind the decline in sales.
© Copyright IBTimes 2023. All rights reserved.