Pastor Charles Worley's Anti-Gay Rant Goes Viral, Says Homosexuals Should Die Out [VIDEO]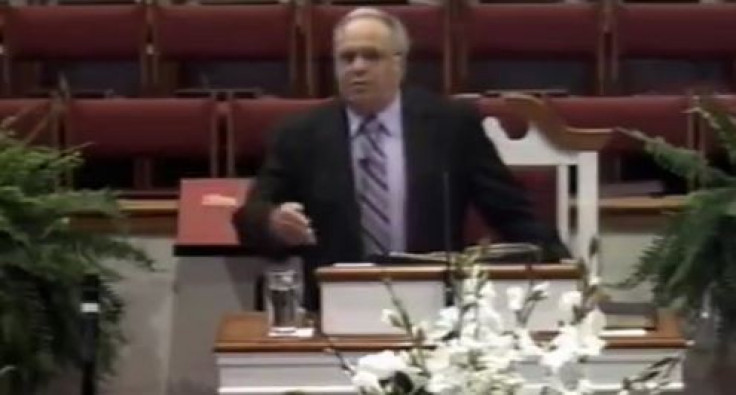 Many pastors have been adverse to President Obama's endorsement of gay marriage, but North Carolina Pastor, Charles Worley, took it a step too far by sharing his methodology on how to to get rid of homosexuals in his sermon last week.
I've never been as sick in my life of our President getting' up and saying it was alright for two women to marry, or two men to marry. I can tell you right now, I was disappointed bad, Pastor Worley was recorded saying in a video, which has since been removed from the church's website. I'll tell you right there, it's as sorry as you can get. The Bible is against, God's against, I'm against and if you've got any sense you're against!
Addressing the Providence Road Baptist Church in Maiden, Pastor Worley explained what he would do to gays and lesbians if he could get it passed in congress.
Build a great big, large fence - 50 or 100 miles long - and put all the lesbians in there. Fly over and drop some food. Do the same thing with the queers and the homosexuals - and have that fence electrified so they can't get out. Feed 'em. And you know in a few years, they'll die out. You know why? They can't reproduce.
WARNING: The video is offensive and contains vulgar language.
Although members of the congregation said amen after the sermon, the comments have created full blown outrage among equality advocates as well as other Christian communities.
I am angry and sick at heart over Pastor Worley's comments, said the Rev. Dennis Teall-Fleming, pastor at Open Hearts Gathering in Gastonia, North Carolina, in a statement distributed by GLAAD.
Members of the Charlotte group for equality also expressed their disgust by the comments. Calling for violence against and mass murder of minorities is inexcusable, Matt Comer of the Charlotte Rainbow Action Network for Equality (CRANE) told WTSP.
My heart aches for any of the lesbian, gay, bisexual or transgender (LGBT) young people in his congregation forced to listen to this message of hate and violence. Physical, emotional, verbal and spiritual violence against any person has no place in civilized society, he added.
Pastor Worley continued his sermon ranting about how homosexuality made him feel physically sick. God have mercy it makes me puking sick to think about... [Pause] I don't even know that you ought to say this on the pulpit or not, he continued. Could you imagine kissing some man? My God - I love you fellas, but not that much, he said.
Providence Road Baptist Church's Website is currently down, but according to WTSP, the Website states that the church identifies itself as old fashioned, calling itself a Fundamental Independent Missionary Church. We offer NO apologies in believing the King James Version of the Bible is the inerrant Word of God, a statement on the website reads.
Pastor Sean Harris Expresses Similar Sentiments
Pastor Worley's comments come on the heels of Baptist Pastor Sean Harris's sermon, which advised his congregation to practice violence on children that showed signs of homosexuality.
It was only last week that Pastor Harris of Berean Baptist Church tried to teach his audience a thing or two about parenting.
Dads, the second you see your son dropping the limp wrist, you walk over there and crack that wrist. Man up. Give him a good punch. Ok? You are not going to act like that. You were made by God to be a male and you are going to be a male, he said.
Harris has since half-heartedly retracted some of the comments from his sermon, saying he was speaking figuratively and claiming that Jesus, too, conjures up violent images in the bible.
Pastor Worley, however, has not retracted his comments. I talked a little bit, I believe it was last Sunday, on the homosexual lifestyle and there was a whole lot of people who didn't like what I said, he told his congregation on May 20. I want to read it out of the Bible and then we'll go from there, he said on Sunday.
And listen - all of you that are watching or listening - go ahead and put this on your Facebook like you did the other and we'll be blessed. They say 'You don't love us.' Listen, all of the Sodomites, the lesbians, and all of the... what's that word? Gays - I didn't wanna say 'queers' - that say we don't love you, I love you more than you love yourself. I'm praying for you to be saved, he added.
© Copyright IBTimes 2023. All rights reserved.