Paul Ryan Still Not Ready To Endorse Donald Trump, Despite Rumors From Trump Campaign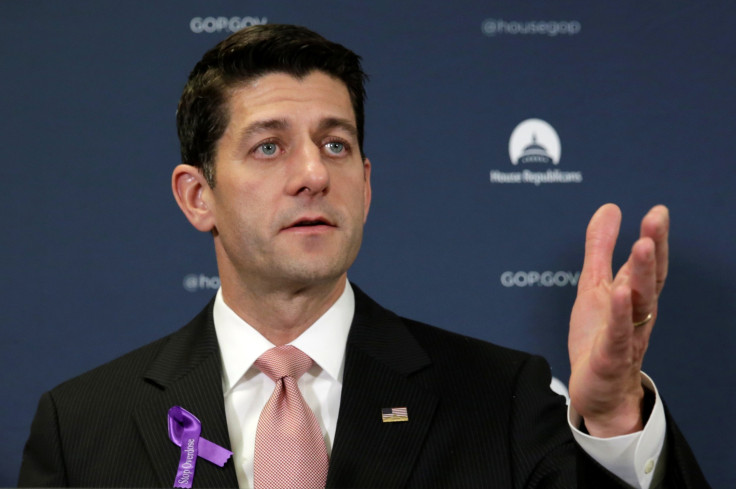 Don't believe the hype — Speaker of the House Paul Ryan is still not ready to endorse presumptive GOP nominee Donald Trump.
On Wednesday, Ryan publicly refuted claims from the Trump campaign that his reluctance to embrace Trump as the party's standard-bearer has softened. "I haven't made a decision," Ryan, R-Wis., told reporters on Capitol Hill.
On Tuesday, Bloomberg Politics reported that Trump's campaign manager, Paul Manafort, told a group of high-ranking Republican officials that he expects Ryan to endorse the party's nominee as early as this week. Ryan and Trump have met multiple times to get on the same page on which direction the pair would like to take the party, but the meetings have not yet resulted in a public endorsement.
"We've not told the Trump campaign to expect an endorsement," Ryan spokeswoman Ashlee Strong said in a statement, according to U.S. News & World Report. "He's also not told anyone he regrets anything."
Ryan is the most prominent holdout among Republican leaders who have thus far refused to give Trump their blessing — largely a result of the businessman's controversial policy proposals and inflammatory rhetoric. That list includes the last GOP nominee, Mitt Romney, and the last Republican president, George W. Bush. Ryan's reluctance represents a nearly unprecedented tension between the party's highest-ranking sitting leader and the party nominee.
The standoff began this month shortly after Texas Sen. Ted Cruz and Ohio Gov. John Kasich dropped out of the GOP primary race, making Trump the presumptive nominee. Ryan told CNN that he was "just not ready" to support Trump for president. Trump responded by saying he's "not ready to support Speaker Ryan's agenda." Ryan, who has been touted as a possible presidential contender should there be a contested GOP convention in July, then invited Trump to meet with him and other members of the House leadership.
"This is our first meeting. I was very encouraged with this meeting, but this is a process. It takes some time; you don't put it together in 45 minutes," Ryan said of the meeting.
While Trump has continued to hold out hope for Ryan's endorsement, the businessman has repeatedly claimed the endorsement would not be necessary for him to be successful in a general election.
"Does it have to be unified? I'm very different than everybody else, perhaps, that's ever run for office. I actually don't think so," Trump told ABC's "This Week" this month, referring to the Republican Party. "I think it would be better if it were unified, I think it would be — there would be something good about it. But I don't think it actually has to be unified in the traditional sense."
© Copyright IBTimes 2023. All rights reserved.