Penn State Officials Ordered to Stand Trial in Sex-Abuse Case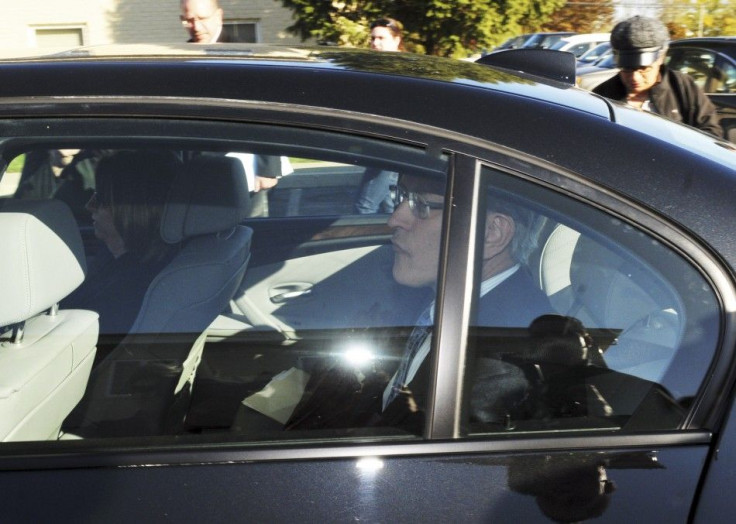 A judge ruled on Friday that two former senior officials at Pennsylvania State University must stand trial on charges of lying to a grand jury about what they knew of sexual-abuse allegations against a former football coach, Jerry Sandusky.
Magisterial District Judge William Wenner decided there was enough evidence against former Penn State athletic director Tim Curley and finance official Gary Schultz that they should be brought to trial.
The ruling capped a court hearing where a key witness, Mike McQueary, testified in public for the first time that he saw Sandusky in a sex act with a 10-year-old boy in 2002.
The explosive allegations against Sandusky have shocked the university and the college-sports world, and focused national attention on the serious problem of child sex abuse.
The story told by McQueary, a graduate assistant in the university's football program at the time, is key to the case against the two Penn State officials and Sandusky.
This is because McQueary testified that he personally witnessed the abuse and then told his boss, former head football coach Joe Paterno, who in turn told Curley.
Even though McQueary's account was passed up the line of authority at Penn State, no one told police and Sandusky's alleged behavior continued for years.
Curley and Schultz deny that they lied to the grand jury and say that Paterno and McQueary only told them in general terms about the incident and not in graphic detail.
Sandusky has been charged with 52 counts of child sexual abuse involving 10 victims over 15 years. The identity of two of the victims, including the boy in the shower, remains unknown, prosecutors said. Sandusky has said he is innocent.
I believe he was sexually molesting the boy, McQueary testified at the hearing in the Dauphin County Courthouse on Friday.
But McQueary also said, I did not see insertion nor was there any protest, screaming, or yelling.
I heard rhythmic slapping sounds, two or three slaps that sounded like skin on skin.
He said he was shocked, horrified, not thinking straight. I was distraught.
Accusations of a Cover-up
McQueary said he witnessed the abuse on a Friday night, but it was not until Saturday that he told Paterno, who then waited for the close of the weekend to notify Curley and Schultz, who was in charge of campus police at the time.
Failure to immediately notify local police has resulted in accusations of a cover-up and the firing of Penn State President Graham Spanier as well as Paterno. Both McQueary and Curley were placed on administrative leave, and Schultz has retired to prepare his criminal defense.
Now that the case is going to trial, it will be a jury's task to decide whether McQueary has the credibility to address the high level of proof required to determine perjury, said Curley's attorney, Caroline Roberto.
Key testimony at trial will also come from Paterno, who turns 85 next week, either in person or collected earlier, depending on his health, Pennsylvania Deputy Attorney General Marc Costanzo told reporters. Paterno has been diagnosed with lung cancer, and he recently fell and broke his pelvis.
McQueary spoke for two hours at the preliminary hearing in a courtroom packed with about 100 reporters and as many as 60 members of the public.
McQueary, who was 28 at the time, testified that after witnessing the alleged incident he told his father: I just saw coach Sandusky. What I saw was wrong and sexual.
Asked if he used the phrase anal intercourse when he talked to Paterno about the incident, McQueary said, No, out of respect, I would not have done it.
Paterno told him, I'm sorry you had to see that and that McQueary had done the absolute right thing, McQueary testified.
Paterno appeared shocked and saddened at what McQueary saw, and slumped back in his chair, said McQueary, who was dressed in court in a dark suit, white shirt, and blue tie.
McQueary said he had never confronted Sandusky himself about the incident, and that while he had absolutely without a doubt considered calling police, he did not.
McQueary testified that he did tell Schultz about the incident and in doing so, I thought I was talking to the head of police. He said he considered Schultz a sort of district attorney who would know what to do with the information.
Asked by Schultz's attorney, Tom Farrell, if Sandusky had an erection, McQueary said: I don't know. I didn't look and stare down there. Asked if he saw pain on the boy's face, McQueary said, No.
McQueary's father, John McQueary, also testified on Friday. He said that in a meeting with Schultz after the event his son was told there had been a noise level about other incidents involving Sandusky, but the university was never able to unearth anything or sink our teeth into anything substantial.
Referring to his son's description of the sounds of the alleged incident, the elder McQueary said while neither he nor Mike used the word thrusting, You don't have to be a rocket scientist to figure out a sound like that would be thrusting.
(Additional reporting by Ian Simpson; Editing by Greg McCune and Jerry Norton)
© Copyright Thomson Reuters 2023. All rights reserved.