Philippine Flood Death Toll Reaches 60, Over 2 Million Affected [PHOTOS]
The death toll from five days of torrential rains and subsequent floods in the Philippines climbed to 60 Friday while weather forecasts predict more rains across the main island of Luzon. Rescue and relief efforts are under way to help hundreds of thousands of people affected that crippled the capital Manila and surrounding areas.
The flood waters that submerged about 80 percent of Manila earlier this week has almost subsided, with people gradually returning to their homes. A state of calamity had been declared in parts of Manila and other areas, BBC reported.
Over two million people across 30 cities in 16 provinces have been affected by the floods, according to the Philippine National Disaster Risk Reduction and Management Council.
The government agency said that the most number of casualties was due to drowning. There were reports of electrocution and deaths due to landslides.
"Of the above total affected, 119,751 families or 580,079 persons are currently served inside and outside evacuation centers," a statement from the agency said.
More than 300,000 people were sheltered in 630 evacuation centers while other displaced people were with friends and relatives.
Social Welfare Secretary Corazon Soliman said more volunteers were needed for relief efforts.
"We have the food but we need to pack them, deliver and distribute them in this massive operation," Soliman told AFP.
"Most local government units do a community kitchen, but the volume of evacuees is so big that they have been overwhelmed. We are also appealing for more medicines, blankets, mats and, more importantly, dry clothes."
President Benigno Aquino III has ordered the national trade department to ensure stable prices for basic goods in the flood-hit areas.
Catastrophic flooding has been affecting Manila almost routinely, a Philippine government official said Wednesday. "The only way we can be prepared for the impact of climate change is to accept that these recent developments in our country like intense weather disturbances, heavy rainfall, as well as long dry season, are the 'new normal' " Environment and Natural Resources Secretary Ramon Paje said, according to a statement from the Department of Environment and Natural Resources.
He said he would ask the local government of Quzon City to have the area be declared as a "permanent danger zone."
In 2009, the typhoons Ketsana and Parma wrecked havoc in Manila within a week, causing flooding that affected more than 9 million people and killed 929.
The Philippines was identified as highly vulnerable to the impacts of climate change, Paje said, adding that the government had been working on long-term solutions to minimize damage on people and government infrastructures.
Click on 'Start' for images from the flood-hit Metro Manila and surrounding regions.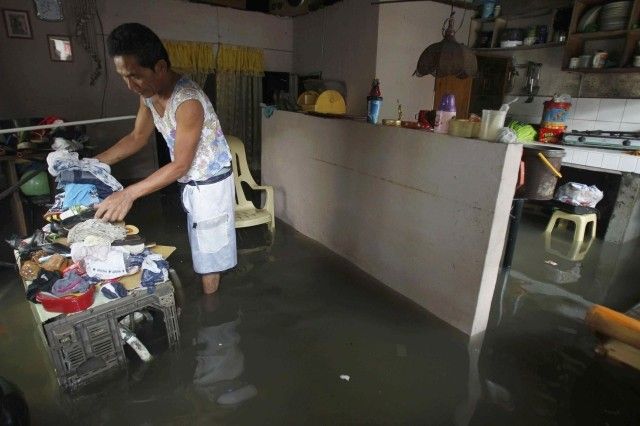 © Copyright IBTimes 2023. All rights reserved.