Photos Of Brooklyn Bridge Shutdown By Walter Scott Supporters During Police Brutality Protest [VIDEO]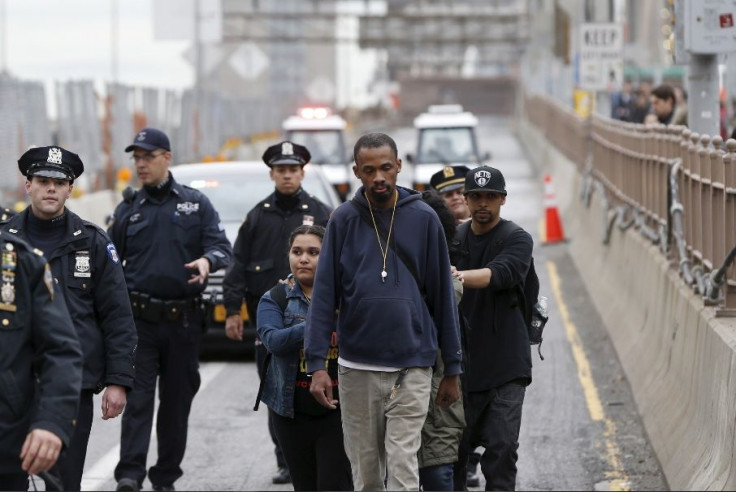 Hundreds of Walter Scott supporters shut down the Brooklyn Bridge Tuesday during a rally, WNBC, New York, reported. Scott, a black man, was shot and killed by a white police officer in South Carolina last week.
The protest organized by Stop Mass Incarceration kicked off in Union Square. Protesters said they want "justice for all the victims of brutal, murdering police" and are asking the judicial system to "indict, convict and send killer cops to jail" because "the whole damn system is guilty as hell," Russia Today reported.
The goal was to march to the New York Police Department's Lower Manhattan Headquarters, but marchers stopped on the Brooklyn Bridge and halted traffic during rush hour.
Dr. Cornel West led the protest. "Don't be confused by some black faces in high places," West told DNAInfo, New York. "For seven years there has been black and brown brothers and sisters shot down by the police. Black president, black attorney general, black head [of homeland security] and not one policeman sent to jail."
"We just want the police to stop killing people," Bronx resident Billie Banks, 24, told DNAInfo. "They are killing innocent people for no reason."
By 5 p.m., traffic slowly eased after at least a dozen people were detained. Video footage posted to YouTube by the user "We Are Change" shows a crowd chanting "let him go" after one protester was arrested.
It's not the first time the Brooklyn Bridge has been shut down by supporters, Newsweek noted. Previous rallies for the deaths of Michael Brown and Eric Garner also stopped traffic.
Twitter users shared pictures from the event with the #ShutDownA14. Some of their posts have been shared below. Check it out:
Follow me on Twitter @mariamzzarella
© Copyright IBTimes 2023. All rights reserved.