Photos Taken By Hilda Clayton Moments Before Her Death Released By US Army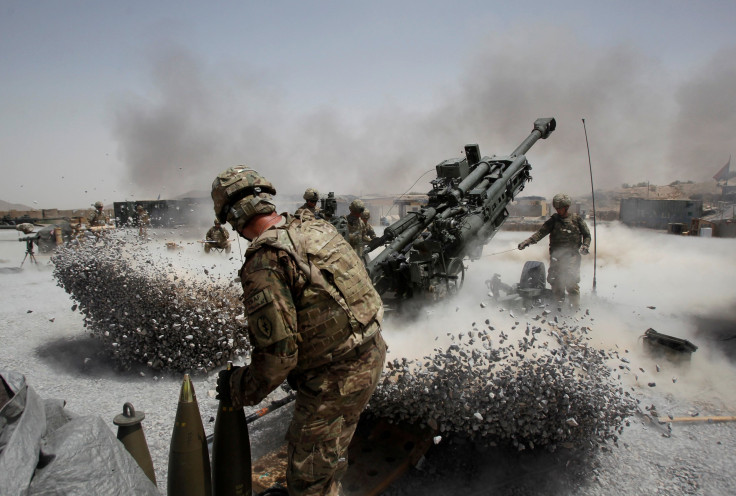 The U.S. Army has released pictures taken by combat photographer, Hilda Clayton, which she clicked just few seconds before her death in an explosion that killed four other Afghan soldiers too. They died when a mortar tube accidentally exploded July 2, 2013.
Clayton's image was published with the Afghan photographer's picture in the May-June issue of Military Review, a journal of the army. In the picture, debris float in front of an orange haze of flame and a soldier is seen covering his ears from the blast. The then 22-year old Clayton was present at the training exercise, documenting the drill as well as training another combat photographer, who also died in the explosion, according to US Army's Military Review journal.
Read: US Army Needs More Missiles And Soldiers, High Ranking Army Officer Tells Congress
"At the critical juncture of the war, when it was necessary for the Afghan National Army to increasingly assume responsibility for military actions, the story was not in the fighting but in the partnership that was necessary between U.S. and Afghan forces to stabilize the Afghan nation."
"One of the Afghan soldiers killed was a photojournalist that Clayton had partnered with to train in photojournalism. Not only did Clayton help document activities aimed at shaping and strengthening the partnership but she also shared in the risk by participating in the effort," the journal stated.
The Georgia native worked as a visual information specialist attached to the 4th Armored Brigade Combat Team, 1st Cavalry Division.
Only after Clayton's family and unit provided consent to publish the photographs taken by her, the Army's Military Review Journal did so.
The article in the journal also says that Clayton's death "symbolizes how female soldiers are increasingly exposed to hazardous situations in training and in combat on par with their male counterparts."
Bill Darley, managing editor of Military Review, said in a phone call Tuesday that the photos had been brought to the publication's attention by a staff member who had served with Clayton. He said that publishing Clayton's images were a tribute to her and perfect for an edition that in part focused on gender equality. When asked about the response to Clayton's photo, which has been widely shared, Darley said she "was revered by her unit—they even named an annual contest in her honor—and she was a dedicated soldier, so we are gratified" that the public was interested to know who Clayton was, according to Time.
According to the Augusta Chronicle, Col. Bill Benson, the commander of 4th Brigade Combat Team, 1st Cavalry Division, which is nicknamed Long Knife, said right after Clayton died: "Though not assigned directly to Long Knife, Spc. Clayton embodied the Cavalry spirit. She was always willing to take on any mission and she pursued every opportunity to tell our story with her images."
"In the short time that (Clayton) was with Long Knife, she earned the respect and admiration of everyone she came in contact with...Our deepest condolences are with her husband, her parents, and her family and friends at home. Though nothing can fill the void that has been left, I hope that there is some consolation in knowing that Spc. Clayton was a valuable member of the Long Knife team and that she made a positive difference every day that she was with us," Benson said.
© Copyright IBTimes 2023. All rights reserved.