Pippa Middleton Sports Chic Look, Gets Cozy With James Matthews After Church Service In Chelsea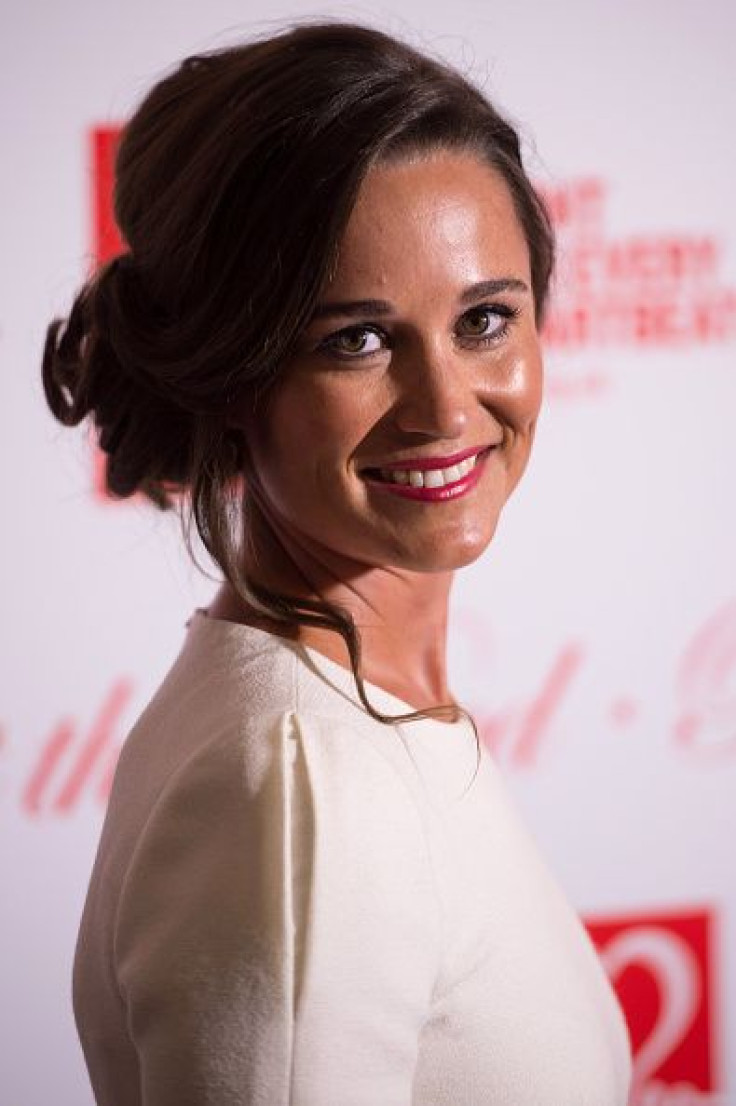 Pippa Middleton and her soon-to-be husband James Matthews were spotted together displaying their love as they attended church service Sunday in Chelsea, the Daily Mail reported early Tuesday. Photos shared by the U.K. tabloid shows the couple getting cozy with each other just two weeks before their wedding.
Kate Middleton's sister, Pippa, sported a chic look in a pink and cream designer coat worn over a cream dress and accompanied by nude shoes. James reportedly met Pippa's female friends at the service. Some of the photos published by Daily Mail show Pippa leaving the church arm-in-arm with James.
Pippa and James are set to get married on May 20 at St. Mark's Church in Englefield, Berkshire. After the ceremony, the guests will gather at the 18-acre Georgian Grade II-listed manor home of the Middletons and an after-party has been planned similar to that of Kate and Prince William's wedding.
Read: Pippa Middleton Wedding: How Is Kate Middleton's Sister Getting Ready For Her Big Day
Over the last few days, reports surfaced that Pippa has been preparing herself for the big day with some fitness goals as she was seen attending a 75 minute long pilates class at exclusive club and private fitness center KX Gym. The Duchess of Cambridge is also said to be busy with her sister's wedding preparations. Prince William and Kate's children, Prince George and Princess Charlotte, will also be playing important roles at Pippa's wedding. Kensington Palace announced April 10 that Prince George will be the page boy while Princess Charlotte will be the bridesmaid at their aunt's wedding.
Among the royal attendees, reports surfaced that Prince Harry's actress girlfriend Meghan Markle will also be part of the wedding. The "Suits" actress is already getting her ensemble for Pippa's wedding ready weeks before the nuptials. Reports claimed that Markle has filed a leave from filming "Suits" between May 15 and May 22.
E! News reported Monday, citing a source close to Markle, that she is getting ready to debut a stunning look on Pippa's wedding. While there are no other details revealed about the dress, including what color Markle's gown will be, E! News reported that Prince Harry's girlfriend went for two separate fittings in Toronto for her outfit, giving rise to speculation that she will likely both the wedding ceremony and reception of Pippa and James.
Earlier, People magazine reported that Markle will only attend the after-party, which tends to be less formal, and she would not be around during the actual ceremony.
"Pending how intimate Pippa wants to keep her wedding, she may very well follow the 'no ring, no bring' rule," People magazine later quoted a source saying.
Markle will be the exception to Pippa's "no ring, no bring" policy, according to which only married couples are allowed for a ceremony, because the actress is attending the nuptials even if she is not yet engaged or married to Prince Harry, according to the Daily Telegraph. However, there is no confirmation Pippa's "no ring, no bring" policy for her wedding guests so far.
© Copyright IBTimes 2023. All rights reserved.