'Pitch Perfect 2' Hits Few Sour Notes But Anna Kendrick And Elizabeth Banks Keeps Original's Spirit [REVIEW]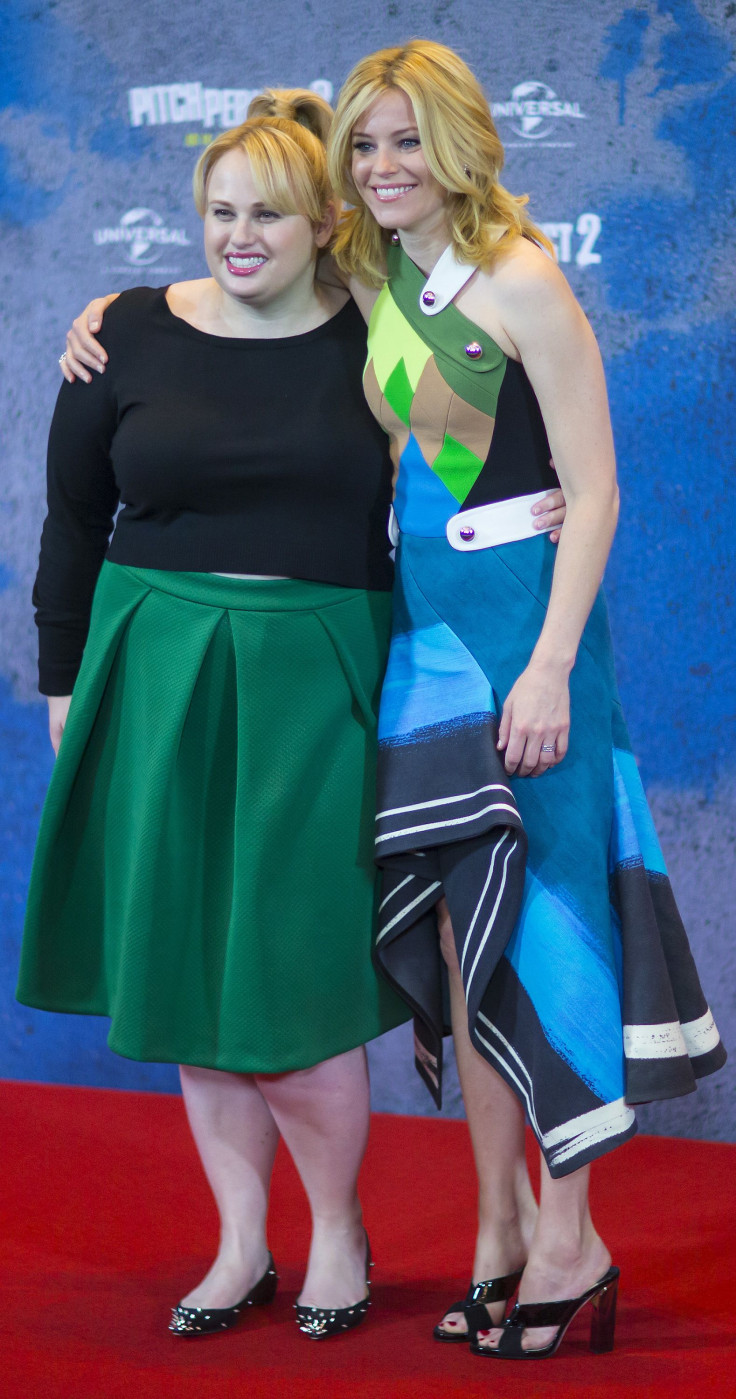 Sometimes you can't hit the right note twice. In "Pitch Perfect 2," Beca (Anna Kendrick), Fat Amy (Rebel Wilson) and Chloe (Brittany Snow) are back for their senior year swan song. Except what was supposed to be a victory tour for the returning champs will be become an underdog fight back to the top of the charts after an embarrassing wardrobe malfunction from Fat Amy topples the reputation of the Barden Bella a capella group.
Joined by legacy member Emily (Hailee Steinfeld), the girls must pick up their spirits and face off against international a capella sensation Das Sound Machine in order to reinstate their standings. If it all sounds silly and frivolous, that's because it is. "Pitch Perfect 2" never strays from its lighthearted underdog plot generated in the 2012 original. Kendrick's Beca manages to hold onto her outsider status by pursuing an internship and looking at life after the Barden Bellas. Fat Amy (Wilson) also matures, but in a comically different way. They grow up so fast.
The majority of the "Pitch Perfect 2" script remains sharp, keeping the "acca-awesome" affectations alive for the second round. Mercifully, they stepped away from an extended gross vomit sequences that many might recall from the first "Pitch Perfect." Making her feature directorial debut, actress Elizabeth Banks ("The Hunger Games" series) keeps the movie in tune with its Christopher Guest style humor.
But the problem that once plagued Hana Mae Lee's strange outsider character Lilly, has now been passed to the perky but clueless Flo (Chrissie Fit). There's no other attribute given to this character other than her deportation and kidnapping jokes, tapping into gross Latina stereotypes. The over-the-top racist caricature feels horribly out-of-sync with the movie's positive message about girl power and friendship. Even John Michael Higgins' off-color commentary, a great running joke in "Pitch Perfect," became more about his racial insensitivity than a critique about his sexist attitudes.
Those moments were disappointing flat notes in the otherwise positive medley of '90s hip hop, pop song covers and even an original composition or two. The soundtrack is solid, if a little too heavy on the newer music that will make "Pitch Perfect 2" sound dated in six months. The elated feeling that followed "Pitch Perfect" didn't return for an encore. It was as if the magical lure of college had waned from freshman to senior year. At least it still felt good to graduate.
"Pitch Perfect 2" opens in theaters May 15.
© Copyright IBTimes 2023. All rights reserved.
FOLLOW MORE IBT NEWS ON THE BELOW CHANNELS