After Campaigning Against Free Trade Deals, Donald Trump May Make A Corporate Free Trade Lobbyists His Trade Negotiator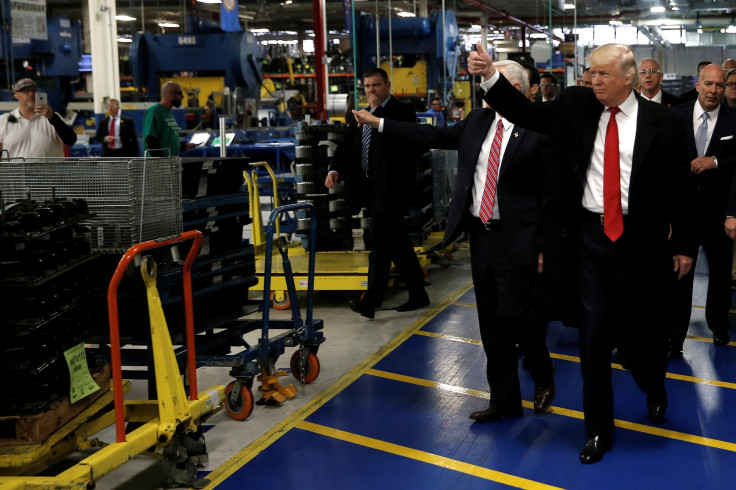 In 2010, as the Obama administration worked to put the finishing touches on a free trade agreement with South Korea, Donald Trump called into Fox News and slammed the deal. "Only an idiot" would sign the pact in its current form, Trump told the hosts of Fox and Friends. "South Korea has treated us very badly," he said.
Now, six years after Trump criticized the pact, a corporate lobbyist who worked on the deal may become the president-elect's top trade negotiator.
On Monday, Wayne Berman, a Republican mega-donor and a longtime trade lobbyist, met with Trump in New York City. Despite federal records showing Berman lobbied on the deal for Chevron, Trump transition team officials told Politico that Berman's name had been added to a list of potential appointees to become the next United States Trade Representative. That key cabinet post could play an outsized role in shaping economic policy for an administration that's expected to make renegotiating trade deals a core priority.
Chevron was strongly supportive of the Korea pact, which makes for an awkward pairing of Berman and Trump. The crux of the president-elect's message on trade — an issue he hammered away at throughout the 2016 campaign— is that the deals cut by previous administrations were crafted by narrow special interest groups and their lobbyists, without taking into account the priorities of American workers. Trump even went as far as to liken the pending Trans-Pacific Partnership trade deal — which is modeled on the U.S.-Korea Free Trade Agreement —to rape.
"It's a harsh word — it's a rape of our country," he said. "This is done by wealthy people that want to take advantage of us."

Berman's potential appointment appears to undercut Trump's promise to put worker's interests front and center, says Robert E. Scott, the director of Trade and Manufacturing Policy Research, at the Economic Policy Institute.
"Trump said he was going to drain the swamp," Scott told International Business Times. "But now he's considering the kind of guy who lobbies for multinational corporations, then comes to Washington and works for those same companies on the inside."
Berman has been through the revolving Washington door several times. He was an assistant secretary of commerce in the first President George Bush administration, went on to found his own lobbying firm and then worked for the second Bush administration as a senior advisor. For the past 4 years, Berman has worked as the in-house lobbyist for the private equity firm Blackstone.
Lobbying records reviewed by IBT show that before joining Blackstone, Berman was a prolific and well-paid lobbyist on trade issues. He has represented a range of corporations, including the American Petroleum Institute, the Carlyle Group, and Viacom, and lobbied to influence trade policies towards Russia, South America, and Korea.
In fact, when Berman was chairman of Ogilvy Government Relations, the lobbying firm was hired by companies like Chevron and Motorola to sway the very trade representative's office he might be heading up in a Trump administration. Between 2006 and 2010, Ogilvy records detailing nearly $3 million of lobbying expenditures show Berman's firm was specifically aiming to influence the trade representative.
In one instance, first reported by Politico in 2009, Chevron dispatched Berman as part of a team of lobbyists tasked with convincing Obama's U.S. Trade Representative to pressure the government of Ecuador into relieving the oil company of liability from allegations that it dumped toxic waste into the Amazon.
Berman was also enlisted by Chevron to influence pending free trade negotiations between South Korea and the U.S. The deal, which was slammed by Trump on Fox, would open up Korean markets to U.S. companies, lower tariffs and provide corporations like Chevron avenues to resolve legal disputes with the Korean government.
Neither Chevron nor Ogilvy responded to IBT's request for comment. It was not immediately clear what exactly Berman did behind the scenes for Chevron on the Korea trade pact. However, the oil giant has long been one of the largest U.S. based investors in South Korea. The company also helped found the U.S.-Korea Free Trade Agreement Coalition, an alliance of corporations that sought to influence the terms of the deal in their favor. While Berman was lobbying for Chevron, the company threatened to withdraw industry support for the deal unless certain "investor protections" — a mechanism for U.S. companies to shield themselves from liabilities in foreign courts — were inserted into the final copy.
When the trade pact faltered in Congress in 2010, Chevron applauded the Obama administration for pushing it through and predicted the deal would "advance the economic agendas of both countries, create jobs and spur economic growth."
Since the free trade pact was finalized in 2012, Chevron has stepped up its investments in South Korea, inking a multibillion dollar natural gas agreement with the Korean company Hyundai. It also purchased $1.9 billion worth of floating oil equipment from Hyundai.
Critics of the deal, including the AFL-CIO, thought it rewarded companies for investing overseas.
"We've seen U.S. multinational companies take advantage of the investment and other corporate protections in past trade deals to shift production offshore," AFL-CIO president Richard Trumka said back in 2010. "So long as these agreements fall short of protecting the broad interests of American workers and their counterparts around the world in these uncertain economic times, we will oppose them."
That criticism was echoed by Trump on the campaign trail, where he railed against free-trade deals in general and singled out the Korea deal as a job-killer.
"Hillary Clinton supported and lobbied for the South Korea trade agreement, you know that one, that's been another disaster, on the promise of 75,000 new jobs. Instead, her trade deal destroyed 100,000 jobs, mostly in the auto industry," Trump said during the rally in October.
Experts were divided on the Korea deal's impact, but the EPI's analysis supports Trump's campaign-trial assessment. While the Obama administration and pact supporters like Chevron promised it would lead to more U.S. exports and generate domestic job growth, it never did, according to Scott from the EPI.
"In the first four years after KORUS took effect, there was absolutely no growth in total U.S. exports to Korea," Scott wrote in a report assessing the deal 4 years after its implementation. "Imports from Korea increased $15.2 billion, an increase of 26.8 percent. As a result, the U.S. trade deficit with Korea increased $15.1 billion between 2011 and 2015, an increase of 114.6 percent, more than doubling in just four years."
That trade deficit was the equivalent of eliminating 100,000 American jobs, according to the Obama administration's own method for translating trade deficits into job losses.
If Trump names Berman the next U.S. Trade Representative, one of Berman's prime responsibilities will be to assimilate the input of the more than 500 members of the various Trade Advisory Committees, which the government consults on trade deals. The committees are currently dominated by industry groups — and some, like the American Petroleum Institute, are former Berman lobbying clients.
Berman is not the only candidate for U.S. Trade Representative. Trump is also reportedly considering David McCormick, who heads up the private equity firm Bridgewater Associates, Dan DiMicco, a former steel industry CEO and Robert Lighthizer a former Reagan administration trade official.
FOR FREE to continue reading
✔️ Unlock the full content of International Business Times UK for free
offer available for a limited time only
✔️ Easily manage your Newsletters subscriptions and save your favourite articles
✔️ No payment method required
Already have an account?
Log in
© Copyright IBTimes 2023. All rights reserved.