DeVos Has Invested Millions Into Company Claiming To Treat ADHD, Autism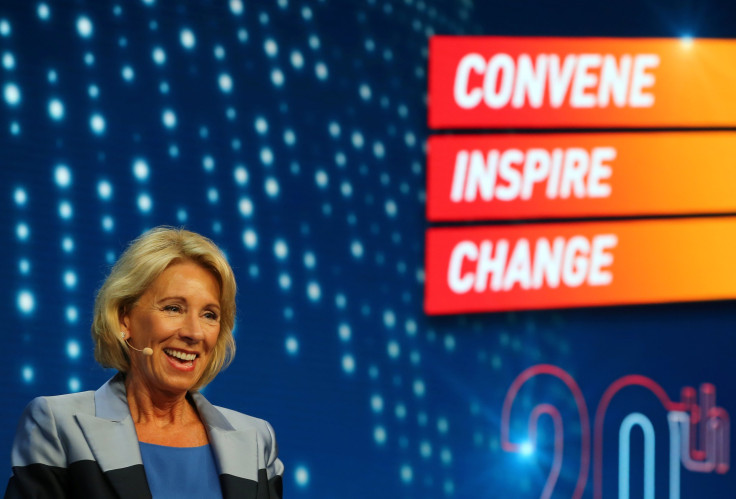 Betsy DeVos didn't divest her multi-million dollar stake in a controversial "brain training" company when she became Donald Trump's education secretary. Now, as the Better Business Bureau is accusing the company of making unsubstantiated claims in its advertising, financial records show DeVos has actually increased her stake in the company by more than $1 million in recent months.
DeVos, a billionaire heiress, longtime Republican donor and charter school advocate, served on the board of Neurocore LLC from February 2009 to November 2016, when she stepped down from the company to serve in the Trump administration. Disclosure forms filed in January with the Office of Government Ethics showed that DeVos had a stake in the company worth between $5 and $25 million. (Financial disclosure forms show a value range for assets, not a particular dollar amount.)
Read: Betsy DeVos Invested In Military Tech Contractor Run By Son-In-Law, While Brother Shaped Afghan War Policy
Since DeVos was confirmed as education secretary in February, she has twice increased her stake in the company, investing between $1,000,001 and $5,000,000 on April 7 and between $250,001 and $500,000 on June 13, according to documents reviewed by the International Business Times.
Ethics experts questioned DeVos' decision to increase her investment in Neurocore, especially after questions were raised about her holdings in the company during her confirmation process.
"I don't think it's appropriate and it's troubling," Larry Noble, the senior director and general counsel of the Campaign Legal Center, told IBT. "At the very least there's an appearance problem… Even after the issue was raised, she goes out and buys additional stock. That shows a tone-deafness to ethics issues."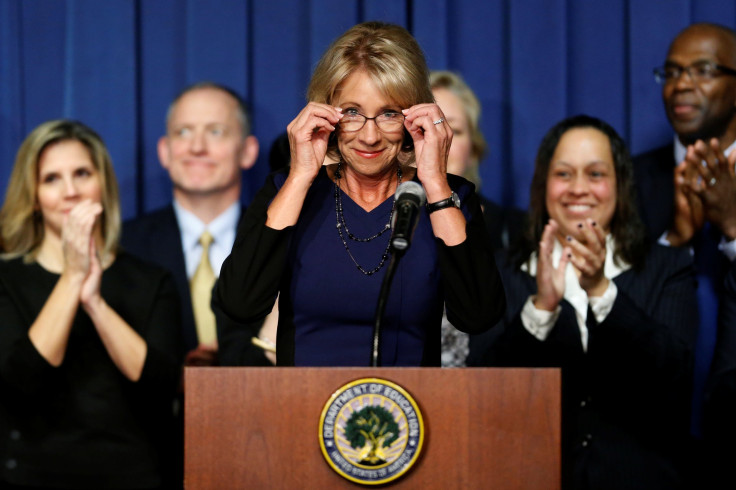 Neurocore CEO Mark Murrison told IBT in an email that the company has not had any communication with DeVos or anyone in the Education Department since she was confirmed. The Education Department did not respond to requests for comment.
Neurocore, which has seven locations in DeVos' native Michigan and two in Florida, sells packages of 30 "brain training" neurofeedback sessions for $2,000 that it claims can help treat and alleviate symptoms of ADHD, autism, anxiety, insomnia and depression without medication, while strengthening mental performance.
The part of its marketing that is particularly relevant to DeVos are the first-person testimonials on the company website that imply the products can improve student performance. (Murrison said Neurocore has no plans to partner with schools, although similar "brain training" companies have.)
A sampling of testimonials:
"My daughter was diagnosed with ADHD, ODD, and social anxiety at age 6. We had to begin homeschooling her in first grade because of her inability to adapt to new social situations and her sensitivity to noise… Her ADD symptoms have reduced by about 80%. She's able to focus when needed, and articulate the need for a brain break or other support when necessary. She's slightly less impulsive."

"[My daughter] was having trouble in school and home focusing, zoning out and not turning in homework. She was also extremely anxious... Frequently had late or missing work and not as happy go lucky as she used to be. She is less anxious and calmer. Doing significantly better in school and seems happier in general."

"I can now concentrate in my classes, my anxiety is virtually gone, and my mood has stabilized."
The scientific community is split about the efficacy of neurofeedback, which is essentially a program that allows patients to observe their brain waves in order to increase focus. Some studies have shown the practice is valuable, especially as it relates to ADHD, while others have found little benefit. But whether the practice is beneficial or not, a national consumer watchdog believes that Neurocore is making unsubstantiated claims about its services.
The National Advertising Division (NAD) of the Council of Better Business Bureaus recommended this week that Neurocore "discontinue its testimonials." The NAD said a review of the company's claims, and their supporting evidence, led it to conclude that "the advertiser's evidence was insufficiently reliable to substantiate the strong health-related advertising claims."
According to the NAD, these claims include statements such as, "81% of children who come to us on ADHD meds and complete our program are able to reduce or eliminate their use of medications upon program completion," as well as claims that Neurocore services produced a "25% reduction in reported symptoms on the autism evaluation checklists."
The problem with the company's claims, according to the NAD, is that they relied on a study of their own patients and those patients' self-assessments.
"The clients are told what improvements they can expect from the Neurocore program after they complete their initial assessment forms," the NAD wrote in a ruling provided to IBT.
"A study which introduces a bias by telling participants how a product should perform, as well as testing a population that was predisposed to believe in the efficacy of the product, is not reliable support for advertising claims," the NAD concluded.
Neurocore disputed the NAD's findings and will appeal to the National Advertising Review Board, the advertising industry's self-regulator.
"We have great respect for the NAD, but we disagree with their decision and we will appeal. Neurocore is proud of what we do and we stand behind the outcomes we deliver to improve people's lives," Murrison said in an email. "From the beginning, we fully and voluntarily cooperated with the NAD to provide extensive support for the statements we make."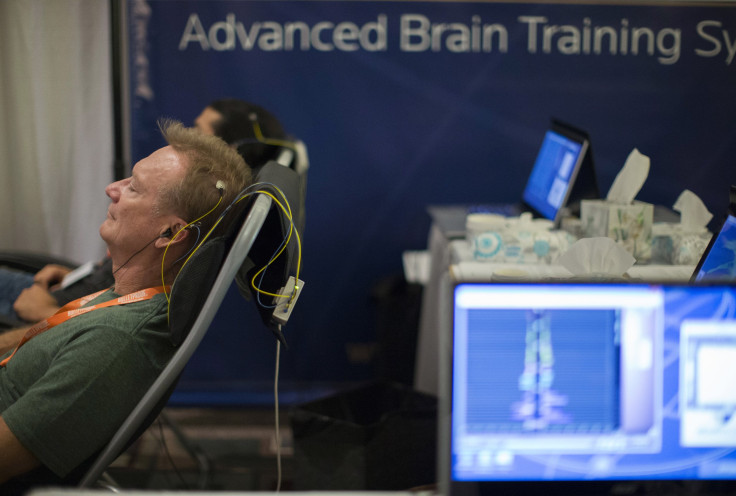 "Our work has improved the lives of thousands of people who seek help for anxiety, depression, ADHD and other mental or behavioral conditions. The public has a right to receive accurate and truthful information about the alternatives to chemical treatments for these conditions and we have provided it," Murrison said.
If Neurocore does not agree with the ASRC's review of its appeal, the board will then refer the matter to the Federal Trade Commission, which has taken action against other "brain training" companies.
Last year, Lumosity agreed to pay the FTC $2 million for making "unfounded claims that Lumosity games can help users perform better at work and in school, and reduce or delay cognitive impairment associated with age and other serious health conditions." Lumosity, unlike Neurocore, did not incorporate neurofeedback in its "brain training" products.
Advocates for students with disabilities including autism were especially alarmed by DeVos' connection to Neurocore — a company that claimed its treatments produced a "25% reduction in reported symptoms on the autism evaluation checklists."
"We have a lot of evidence-based treatments that actually do help children with autism," Fred Volkmar, director of the Yale Child Study Center, told Spectrum News, a news site dedicated to autism research, in February. Volkmar said that DeVos' awareness of treatments seemed to be limited to the one that "has not yet been shown to be effective."
FOR FREE to continue reading
✔️ Unlock the full content of International Business Times UK for free
offer available for a limited time only
✔️ Easily manage your Newsletters subscriptions and save your favourite articles
✔️ No payment method required
Already have an account?
Log in
© Copyright IBTimes 2023. All rights reserved.