Emails Show Clinton Foundation Donor Reached Out To Hillary Clinton Before Arms Export Boost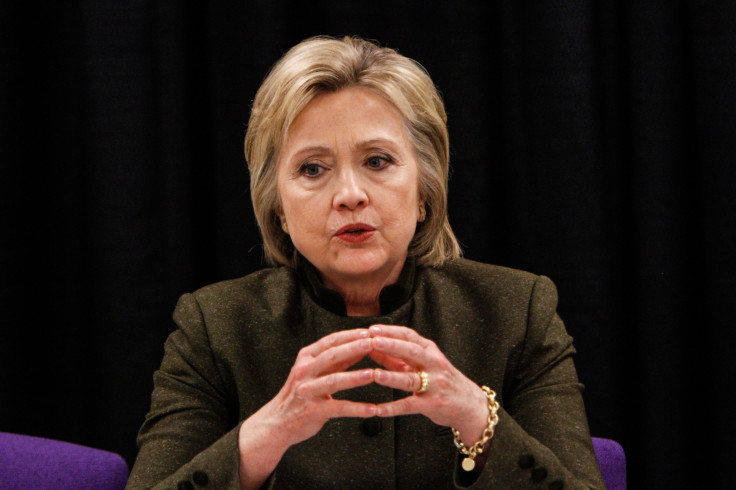 Emails just released by the State Department appear to show Clinton Foundation officials brokering a meeting between then-Secretary of State Hillary Clinton and a top military leader of Bahrain — a Middle Eastern country that is a major foundation donor. Soon after the correspondence about a meeting, Clinton's State Department significantly increased arms export authorizations to the country's autocratic government, even as that nation moved to crush pro-democracy protests.
In a statement quoted by the Wall Street Journal, a Clinton spokesperson, Josh Schwerin, said of the newly released correspondence: "The fact remains that Hillary Clinton never took action as secretary of state because of donations to the Clinton Foundation."
The emails, which were obtained through a lawsuit by the conservative watchdog group Judicial Watch, detail how foundation operations and State Department business intersected, even though they were supposed to be walled off from one another. Last week, Clinton's campaign said the foundation would stop accepting foreign government donations if she is elected president — but did not explain why it accepted that money while Clinton was America's top diplomat.
A 2015 International Business Times investigative series examined how, in that role, Clinton ran an agency that is responsible for regulating U.S. arms exports, and how those State Department exports approvals substantially increased to governments that donated to the Clinton Foundation. Federal law explicitly designates the secretary of state as "responsible for the continuous supervision and general direction of sales" of arms, and early in her term, the State Department called one arms deal a "top priority" for Clinton.
The email exchange about Bahrain shows the Clinton Foundation's top executive Doug Band in 2009 asking Clinton's State Department aide Huma Abedin to set up a meeting between Clinton and Crown Prince Salman, who had recently been named the deputy supreme commander of Bahrain's armed forces. Band referred to Salman as a "good friend of ours."
Abedin told Band that Clinton had initially rejected a previous request for a meeting with Salman because "she doesn't want to commit to anything for thurs or fri until she knows how she will feel." Soon after, though, Abedin told Band that the State Department was now offering Salman a meeting with Clinton.
Salman has directed $32 million to a Clinton Foundation program, and the Kingdom of Bahrain has donated up to $100,000 more. As Bahrain money flowed into the Clinton Foundation, State Department documents showed that between 2010 and 2012 the Clinton-led State Department approved $630 million worth of direct commercial arms sales to Salman's military forces in Bahrain. That was a 187 percent increase from the period 2006 to 2008, and the increase came as Bahrain was violently suppressing uprisings.
During those Arab Spring uprisings of 2011 — when Bahrain was accused of using tear gas on its own people — the Clinton-led State Department approved more than $70,000 worth of arms sales classified as "toxicological agents." That compared to just $700 worth of such sales in the immediate prior period.
In the same period, the Pentagon's Defense Security Cooperation Agency announced proposals to sell missiles and armored vehicles to Bahrain. The office notes that "the Department of State approves individual programs on a case-by-case basis." The State Department itself says it "is responsible for managing all government-to-government transfers of military equipment to other countries."
At the time of the armored vehicle proposal, Foreign Policy magazine reported that Clinton's department "has not released details of the new sale, and Congress has not been notified through the regular process"; instead, the State Department "simply briefed a few congressional offices and is going ahead with the new sale, arguing it didn't meet the threshold that would require more formal notifications and a public explanation."
The deal was stalled after congressional opposition — but Clinton's State Department a year later announced it was again moving forward with arms approvals for Bahrain. That resumption followed a meeting between Salman and U.S. officials including Clinton, according to Reuters.
© Copyright IBTimes 2023. All rights reserved.