Money In Politics: Top Union Bosses Slam Donald Trump As 'Fraud' On Trade, Echo Hillary Clinton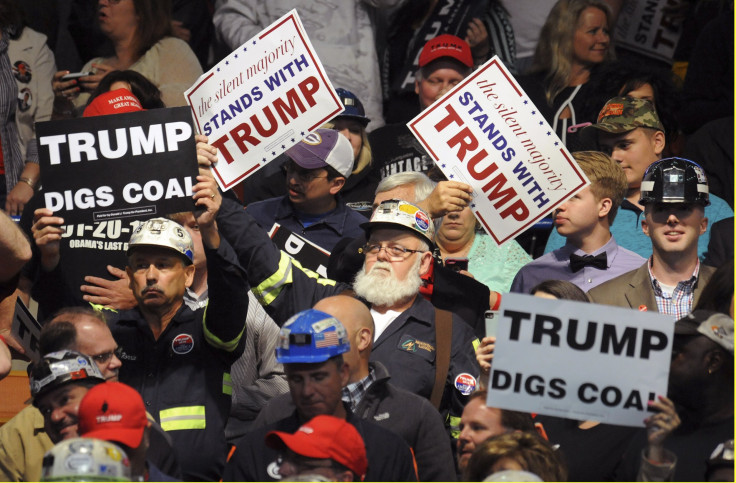 Donald Trump may travel in a private jet, but he knows how to talk like a grizzled union grunt. Standing in front of wall of garbage on Tuesday, the presumptive Republican nominee trashed the proposed Trans-Pacific Partnership trade deal and pitched himself as a friend of the American worker.
On Wednesday, the nation's largest alliance of unions, the AFL-CIO, released an ad filleting Trump's speech and calling the mogul a "fraud on trade." It contrasted Trump's promises to bring jobs back to the U.S. to his history of manufacturing his products in China and Bangladesh, spotlighting a David Letterman clip where the then-"Late Show" host dumped a pile of Trump brand ties on the table, all bearing tags from China.
The AFL's president, Richard Trumka, also tweeted that a Trump presidency would mean "pink slips" for rank-and-file union workers.
Marc Perrone, head of the United Food and Commercial Workers International, joined in and noted that "only Donald Trump can come up with a trade policy that offends both organized labor & the Chamber of Commerce," citing a tweet from the latter that expressed outrage over Trump's policies from a "free-market" point of view.
The AFL-CIO, which along with the Service Employees International Union and United Steelworkers endorsed Trump's Democratic rival Hillary Clinton earlier this year, has launched campaigns to combat Trump's appeal among white workers in the Rust Belt. Clinton's own campaign has scorched Trump in similar terms.
But these same unions have been quiet over Clinton's onetime support for the TPP that Trump has spent his entire campaign lambasting. International Business Times has also reported that Clinton supported trade deals with Colombia and South Korea as secretary of state, after she (and President Barack Obama) promised to block them during the 2008 campaign.
The unions' suspicions over Trump's sincerity, articulated in Wednesday's ad, don't appear to apply to the Democratic nominee, who came out against the TPP only last year, after vocal opposition from her opponent Vermont Sen. Bernie Sanders and Massachusetts Sen. Elizabeth Warren.
Neither Trump's nor Clinton's campaigns responded to IBT requests for comment.
Randy Jones, a longtime steelworker in Granite City, Illinois, told IBT that Trump's appeal to workers is driven by desperation.
"Hillary is all about a fake script and full of herself, and Trump has more of a reality show, hair-trigger approach and is arrogant as hell," he said. "Both have no connection with the plumber Joes and normal/regular people. Both [are] disconnected from the ones hurting ... and just blowing what they think everyone wants to hear, political hot air."
Jones acknowledged that some of his fellow workers in Granite City are leaning Trump, but said many of them view the choice with despair.
"[We're] still too busy trying stay afloat at our own steel mill to give a rat's ass about two millionaires jockeying for the top shelf," he said. "Especially after the past elected officials let our industry get sold out to imports, while they idly sat back on their thumbs, sipped scotch and watched our mills shut."
© Copyright IBTimes 2023. All rights reserved.