Over Elizabeth Warren's Objections, Republicans Move To Help Corporations Hide Their Political Spending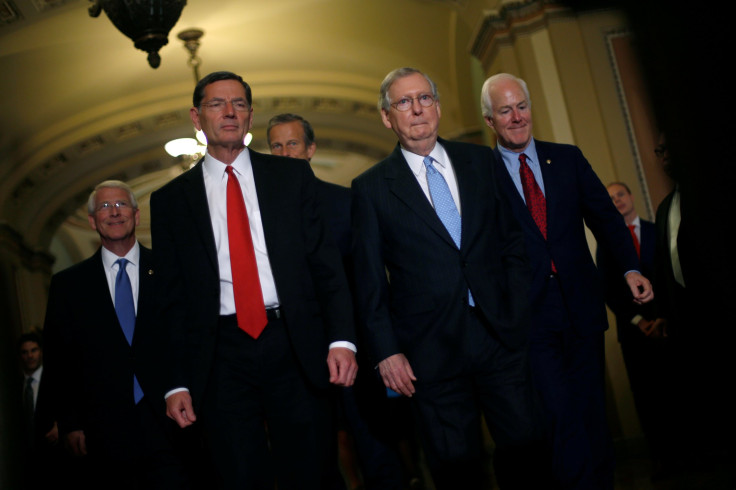 As lawmakers frantically negotiate a last minute budget deal to avert a government shutdown, Republican lawmakers are attempting to use the standoff to help corporations hide their political spending. Any agreement to keep the government running, GOP leaders insist, must include a provision that blocks regulators from requiring companies to fully disclose their political spending to their own shareholders.
Republicans' move to attach the provision to the must-pass budget measure comes amid a 2016 election that has seen companies dump an estimated $65 million into political campaigns and groups, according to data compiled by the U.S. Public Interest Research Group, which supports stronger disclosure rules.
"The American people want to know if giant corporations are buying politicians," Massachusetts' Democratic Senator Elizabeth Warren said on the Senate floor Wednesday. "The Republicans don't want you to know. They are saying they will shut down this government before they will let the SEC make corporations tell about the secret money they are pushing into political campaigns."
The debate centers on what, if any, power the SEC should have to force publicly traded corporations to disclose which politicians and political groups they give money to. After the Citizens United decision in 2010, a coalition of prominent legal scholars -- led by Harvard Law School's Lucian A. Bebchuk, and Columbia Law School's Robert J. Jackson Jr. -- argued that, in the new era of unrestrained corporate donations, shareholders have a right to know how much company cash is being devoted to political causes. They urged the SEC to adopt a new rule to make those disclosures mandatory.
Democratic lawmakers and transparency advocates have repeatedly pushed the SEC to adopt such a policy. The GOP, meanwhile, has insisted that the rule would fall outside the SEC's jurisdiction. Last year, three former SEC chairs publically called on the current Obama-appointed chair, Mary Jo White, to begin forcing corporate disclosures.
For her part, White has said the disclosures are not a priority, and in 2013 her agency stopped listing such a rule as one of its objectives. In 2015, the GOP successfully inserted language into the federal budget preventing the SEC from moving forward on any such rule.
This week -- as the Senate debated a bill to keep the government funded through the end of the year -- Senate Majority Leader Mitch McConnell insisted that the language blocking the disclosure rule must remain in next year's budget. In response, 37 progressive and public interests groups — including Americans For Financial Reform and MoveOn.org — released a letter calling on McConnell to stop holding the budget hostage.
The SEC showdown take place in a budget fight that included heated debate over funding to combat Zika, and money for those suffering from lead poisoning in Flint, Michigan. In the end, Democratic senators were not willing to let the campaign funding rule hold up the entire budget. The bill passed the Senate passed late Wednesday. It will now move to the U.S. House.
© Copyright IBTimes 2022. All rights reserved.
FOLLOW MORE IBT NEWS ON THE BELOW CHANNELS