Pope Francis Defends California Missions' Founder Ahead Of Canonization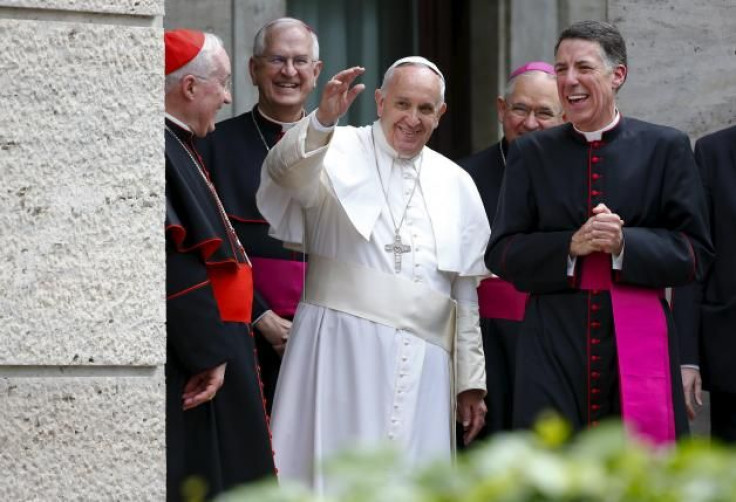 (Reuters) - Pope Francis defended an 18th-century Spanish priest on Saturday from accusations he brutalized Native Americans in missionary work that helped lay the foundations for the Catholic Church in the United States.
The pope intends to declare Father Junipero Serra a saint at a Mass celebrated at the National Shrine in Washington on Sept. 23 during his U.S. visit.
The Franciscan missionary built a series of missions along the Pacific coast in the latter 18th century, in what is now California, to spread the faith among Native Americans there.
Tribal leaders in California say Serra beat and imprisoned local peoples, suppressed their cultures and facilitated the spread of diseases that decimated the population.
Without addressing specific accusations, Francis praised Serra's missionary zeal and said the priest "defended the indigenous peoples against abuses by the colonizers."
"He was one of the founding fathers of the United States, a saintly example of the Church's universality and special patron of the Hispanic people of the country," the Argentine-born pope said in the homily at a Mass in Rome's Pontifical North American College.
In April, Father Vincenzo Criscuolo, a Franciscan from the Vatican department for the causes of saints, said Serra was "a man of his times" but not a brute.
On Saturday, at the event described as a "day of reflection" on Serra, American Cardinal Donald Wuerl said critics took a "secular and somewhat prejudiced view of the Church" and did not have a "historically rooted appreciation" of what Serra did.
Francis made the surprise announcement last January that he would make Serra a saint during his visit to the United States. The trip will include stops in Washington, New York and Philadelphia, where he will attend the World Meeting of Families.
On the way to the United States, Francis will also visit Cuba, where he helped foster closer ties between Havana and Washington following more than a half century of mutual distrust and antagonism.
Francis said priests like Serra, who embarked on single-minded missions to spread Christianity "to all the geographical, social and existential peripheries", should move others "to get involved, personally, in the mission to the whole continent."
Serra was beatified, the last step before sainthood, by the late Pope John Paul in 1988 after a miracle was attributed to him. Pope Francis waived Roman Catholic Church rules that required another miracle before recognizing sainthood.
(Additional reporting by Gillian Hazell; Editing by Tom Heneghan)
© Copyright Thomson Reuters 2023. All rights reserved.
FOLLOW MORE IBT NEWS ON THE BELOW CHANNELS