Pope Francis Ends Turkey Trip With Call For Solidarity Among Muslims And Christians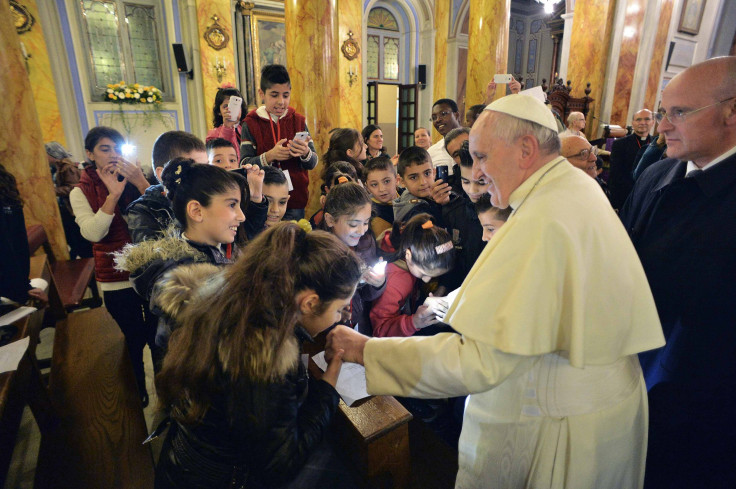 Pope Francis, concluding his three-day trip to Turkey on Sunday, issued a joint declaration along with Ecumenical Patriarch Bartholomew I -- the spiritual leader of the Eastern Orthodox Church -- calling for greater Christian unity and "constructive dialogue" with Muslims, according to reports.
"As Christian leaders, we call on all religious leaders to pursue and to strengthen interreligious dialogue and to make every effort to build a culture of peace and solidarity between persons and between peoples," the two leaders wrote in the joint declaration, according to the Vatican's official news network. "Muslims and Christians are called to work together for the sake of justice, peace and respect for the dignity and rights of every person, especially in those regions where they once lived for centuries in peaceful coexistence and now tragically suffer together the horrors of war."
In their declaration, the pope and Bartholomew also expressed their determination to work toward unifying the Catholic and Orthodox churches, which have remained divided for nearly 1,000 years over disputes regarding theological differences and the pope's claim to universal jurisdiction.
During his visit to Turkey, the pope made frequent references to the plight of religious and ethnic minorities, including Christians and Yazidis, in territories controlled by the Islamic State group in Iraq and Syria, and urged Muslim leaders to condemn the "barbaric violence" being committed by the militant group.
"I told the president [Recep Tayyip Erdogan] that it would be beautiful if all Islamic leaders, whether they are political, religious or academic leaders, would speak out clearly and condemn this because this would help the majority of Muslim people," Francis reportedly said, during a press briefing on Sunday, adding that it was wrong to equate Islam with terrorism and violence.
"You just can't say that, just as you can't say that all Christians are fundamentalists. We have our share of them. All religions have these little groups."
The pope, while affirming that the use of military force against ISIS in Iraq and Syria was justified, also sought to improve ties with the moderate Muslim community.
Earlier, on Saturday, Francis visited the seventeenth-century Sultan Ahmet Mosque in Istanbul and participated in a Muslim prayer along with Rahmi Yaran, the grand mufti of Istanbul. On Sunday, the pope reportedly met with Muslim and Christian refugees from Iraq, Syria and Africa, and commended the efforts of Turkey, which is currently sheltering nearly 1.6 million refugees from Syria.
"I wish to assure you that I share your sufferings," Francis said, according to a report by Vatican Radio. "I hope my visit, by the grace of God, may offer you some consolation in your difficult situation. Yours is the sad consequence of brutal conflicts and war, which are always evils and which never solve problems. Rather, they only create new ones."
© Copyright IBTimes 2023. All rights reserved.