Power Station Malfunction May Have Ignited Southern California's Bobcat Fire
KEY POINTS
The Bobcat fire has burned about 114,000 acres of land and crews contained around 40% of the blaze
Southern California Edison turned over a conductor believed to have been malfunctioning minutes before the fire started
Crews managed to make headway against the fire after initial struggles because of the fire's location
Federal investigators said they have identified a possible source of the Bobcat fire in Los Angeles County as crews continued trying to contain the fire on Thursday.
Southern California Edison said it turned over part of an overhead conductor from a transmission facility near where the fire erupted in the San Gabriel Mountains. Edison previously said in a report to the California Public Utilities Commission that the conductor experienced technical problems minutes before the fire started around 12:30 a.m. on Sept. 6.
Edison spokesman David Song reiterated this while speaking with Los Angeles ABC-affiliate KABC on Wednesday, saying the issue was detected by one of its nearby substations.
"Southern California Edison understands this is a difficult time for the many people who are being impacted by the Bobcat fire," Song said. "Our thoughts are also with those affected by the wildfires currently burning across the western United States."
The conductor will be turned over to the U.S. Forest Service, which is heading the investigation into the Bobcat fire's source.
The Bobcat fire is proving to be one of the two most difficult to contain wildfires California crews have faced in the last two months because it's concentrated in the mountains. State and local fire crews have been stretched thin, as well, due to the number and sizes of several wildfires across northern California since August.
Angeles National Forest spokesman Andrew Mitchell told reporters Tuesday that only around 100 firefighters were dispatched to the Bobcat fire when it first broke out.
"To put that into perspective, normally for a fire that size we'd have at least double or triple that number of firefighters," Mitchell said.
However, crews have since made headway against the fire since the weekend as it pushes down to the base of the San Gabriel Mountains. The Los Angeles County Fire Department said that while the fire burned through roughly 114,000 acres of land in the mountains northeast of Los Angeles, crews managed to contain around 40% of it since Monday.
As of Thursday, the biggest fire crews are trying to contain is the August Complex fire concentrated in Mendocino and Humboldt counties.
The California Department of Forestry and Fire Protection, which is primarily responsible for monitoring and battling the fires in northern California, said crews managed to contain 38% of the fire after burning through 860,118 acres of land and 56 structures have been damaged or destroyed. The August Complex fire is considered the largest single-wildfire and largest series of fires in California history.
The SCU Lightning Complex, LNU Lightning Complex, North Complex, and Creek fires are other 2020 wildfires listed among the 10 biggest wildfires in California history.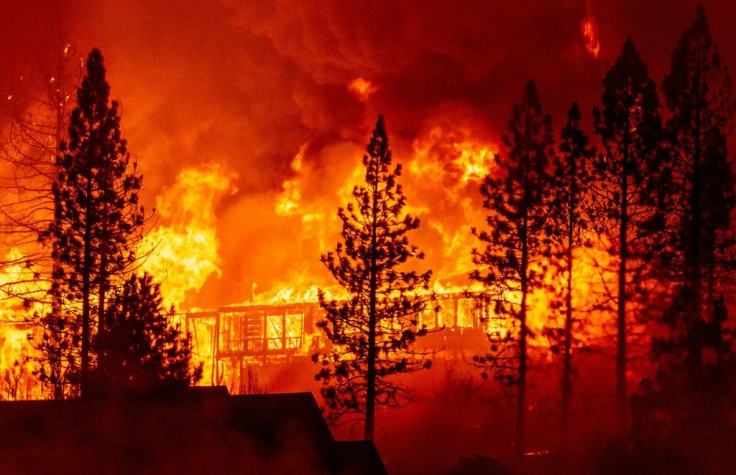 © Copyright IBTimes 2023. All rights reserved.