Presidential Debate 2016: Trump Calls For Drug Test Before Final Face-Off, Claims Clinton 'Pumped Up' With Drugs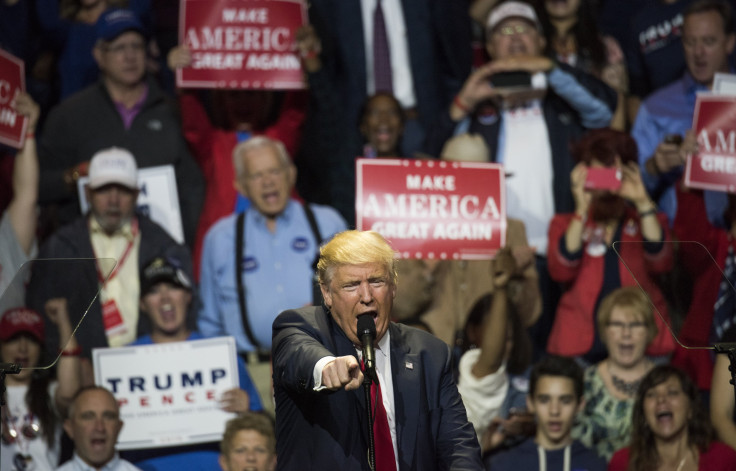 Republican U.S. presidential candidate Donald Trump alleged Saturday that his Democratic rival Hillary Clinton was "pumped up" with drugs for the second presidential debate, adding both candidates should be tested for drugs before the final debate Wednesday.
Speaking at a rally in New Hampshire, the real estate mogul said Clinton began last week's debate energetically but lost steam as the debate progressed. He offered no evidence for his claim that the former secretary of state could have been on drugs.
"I think we should take a drug test prior to the debate," Trump reportedly said. "Because I don't know what's going on with her, but at the beginning of her last debate, she was all pumped up at the beginning, and at the end it was like, huff, take me down. She could barely reach her car."
The personal attacks against Clinton come at a time when Trump is facing allegations of sexual harassment from several women who say the 70-year-old had, at various occasions, forcibly groped or kissed them.
Trump has repeatedly denied these allegations calling them "absolutely false."
Trump tweeted earlier claiming the elections were "rigged," an allegation he has brought up several times during his presidential campaign.
"Hillary Clinton should have been prosecuted and should be in jail. Instead she is running for president in what looks like a rigged election," Trump said Saturday.
During last week's debate, Trump referred to Clinton as "the devil," saying: "If I win I am going to instruct my attorney general to get a special prosecutor to look into your situation – there has never been so many lies and so much deception."
"You'd be in jail," the Republican nominee said.
© Copyright IBTimes 2023. All rights reserved.