Presidential Recount Latest Update: Federal Judge To Consider Jill Stein's Pennsylvania Request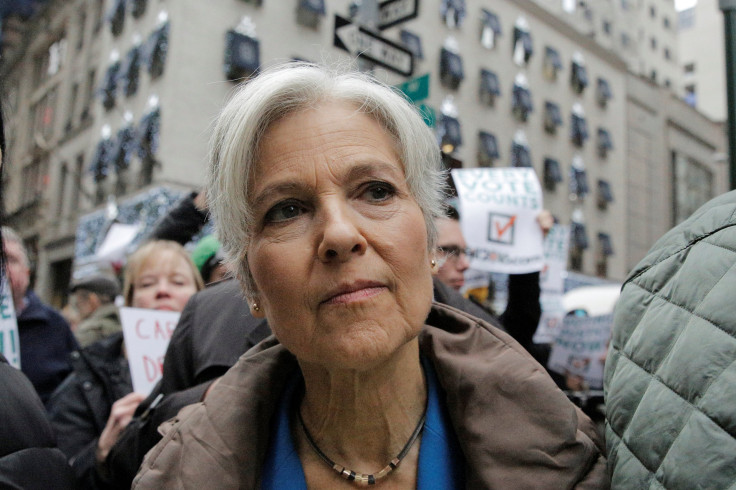 A federal judge in Pennsylvania Tuesday afternoon granted Green Party presidential election candidate Jill Stein's request for a hearing to decide whether a ballot recount is needed in the state, the Associated Press reported. The hearing was scheduled for Friday and marks the latest update in Stein's quest to challenge the 2016 election results.
U.S. District Judge Paul Diamond's decision came just hours before two Michigan appeals court judges—one at the state level, the other at the federal level—offered conflicting orders for Stein's recount effort in the state. The federal appeals court upheld a Detroit federal judge's Monday decision to order an immediate recount, while the state appeals court ordered the Michigan election board to reject Stein's petition for a recount. By 11:30 p.m. Tuesday, the federal judge, with the state appeals court's disapproval in mind, ordered a hearing set for 10:30 a.m. Wednesday to decide whether the Michigan recount should continue.
In Wisconsin, the third state in which Stein pushed for a recount effort and where re-tallying of the state's 3 million ballots began Thursday, Republican president-elect Donald Trump widened his victory margin by 146 votes as of Tuesday afternoon, cementing the defeat of his Democratic opponent Hillary Clinton by about 22,000 votes, according to the AP.
Trump beat Clinton by about 44,000 votes, or 0.7 percent, in Pennsylvania, winning the state's 20 electoral votes on Election Day. In Michigan, he won by less than 11,000 votes, or 0.2 percent, accruing 16 electoral votes. In Wisconsin, he took 10 electoral votes and beat Clinton by 0.8 percent, solidifying his victory of 306 votes to Clinton's 232 in the Electoral College, in which 270 votes are needed to win the presidency. Clinton, meanwhile, won the popular vote by more than 2.6 million votes, or 2 percent.
Stein, who garnered less than 0.8 percent of the vote in Pennsylvania, 1.1 percent in Michigan and 1 percent in Wisconsin, wants a recount as a means of "holding institutions of democracy accountable by ensuring all votes that are cast are counted," according to a Nov. 22 press release on her campaign page. Stein also cited "reported hacks into voter and party databases and individual email accounts," a reference to WikiLeaks' publishing emails from Clinton campaign Chairman John Podesta and the Democratic National Committee during the campaign, as well as suspicions from a computer science professor that the three states' electronic ballots were vulnerable to cyberattacks.
According to FiveThirtyEight, however, what some claimed to be irregularities in the states' voting patterns could actually be attributed to demographics: when race, education and population density were controlled for, the disparities vanished.
While Clinton campaign lawyer Marc Elias wrote in a Medium post of the need for a recount, Stein has fielded criticism from some on the left who pointed to the fact that her percentage wins in each of the three states were larger than Clinton's losses, and could have potentially gone to the Democratic candidate, had Stein chosen not to run.
© Copyright IBTimes 2023. All rights reserved.
FOLLOW MORE IBT NEWS ON THE BELOW CHANNELS