Final Election Result 2016: Clinton's Popular Vote Margin Increases As Jill Stein-Led Pennsylvania Recount Still In Doubt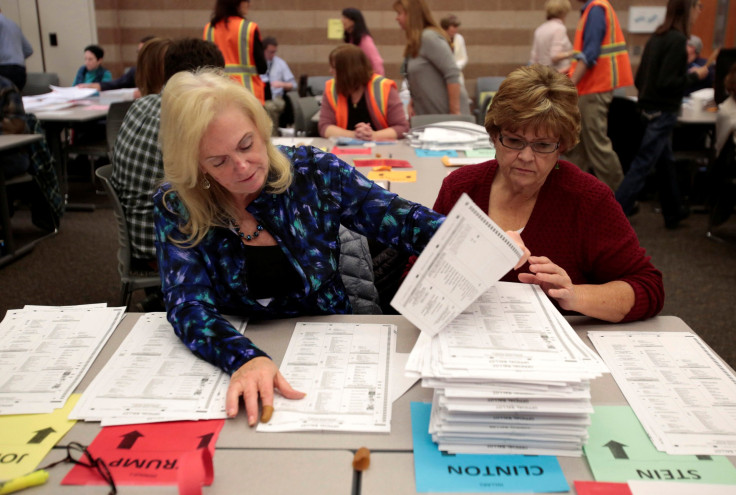 U.S. District Judge Paul Diamond in Philadelphia on Tuesday scheduled a Friday hearing to decide on the fate of the Green Party-led vote recount effort in Pennsylvania.
Former presidential candidate Jill Stein reportedly called Pennsylvania's election system "a national disgrace" but her team is yet to provide evidence of hacking.
The campaign announced late Saturday it would seek an emergency federal court order, hours after dropping a case in the state court. The case was dropped after the Commonwealth Court of Pennsylvania asked for a $1 million bond.
"Make no mistake — the Stein campaign will continue to fight for a statewide recount in Pennsylvania," recount campaign lawyer Jonathan Abady said in a statement. "We are committed to this fight to protect the civil and voting rights of all Americans. Over the past several days, it has become clear that the barriers to verifying the vote in Pennsylvania are so pervasive and that the state court system is so ill-equipped to address this problem that we must seek federal court intervention."
President-elect Donald Trump and the GOP warned that the case could harm Pennsylvania's chances of certifying its election before the Dec. 13 federal deadline. Trump currently has a lead of about 44,000 votes over his rival Hillary Clinton in the swing state with over 6 million votes cast. A state spokeswoman said 15 provisional ballots are yet to be counted.
Stein had filed petitions for a recount in Michigan and Wisconsin as well. The recount effort was launched after reports surfaced alleging discrepancies with voting machines. The results of all three battleground states must be overturned in order for Clinton to win the presidency but this change is unlikely. Trump won 306 electoral votes surpassing the 270 votes needed to win the election.
However, Clinton has won more popular votes than Trump. As of Tuesday morning, Clinton had won 2,653,958 votes more than Trump, a figure larger than any other election in U.S. history where the candidate who won in the popular vote failed to win the election.
© Copyright IBTimes 2023. All rights reserved.
FOLLOW MORE IBT NEWS ON THE BELOW CHANNELS