Presidents Day Sales 2012: Where Can You Get the Best Online Deals?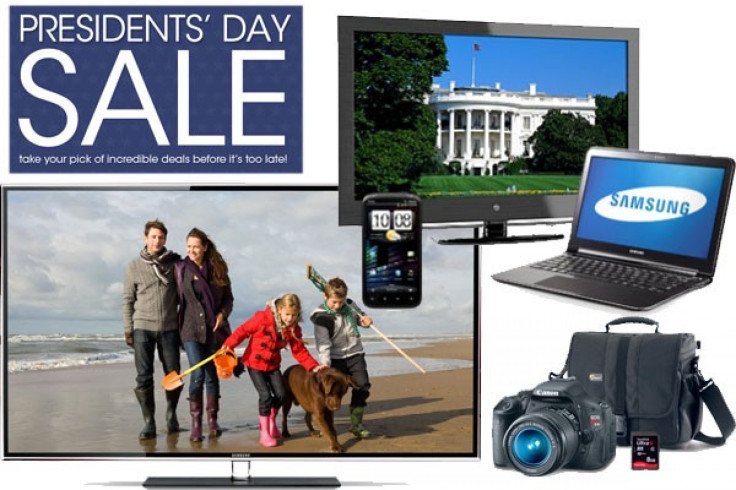 America will celebrate President's Day, a day to honor the nation's greatest leaders, on Monday, but to many, it also means a day off from work and getting some of the best shopping deals of the year, even better than Black Friday sales.
Yes, Presidents Day discounts are deep and, in fact, deeper than the discounts offered during the record Black Friday sales in many places.
Free online personal shopper, Shop It To Me said, in 2011, Presidents Day sales averaged 46.7 percent discount on apparel, shoes and accessories. In comparison, Black Friday sales averaged up to 42.1 percent off and Cyber Monday sales averaged up to 41.1 percent off, according to ABC News Consumer Report .
In fact, Presidents Day sales is second, in terms of discount offered, only to Labor Day sales, when retailers offer up to 48.4 percent discount on average.
But where do you go to score the best online deals on Presidents Day? Here's a rundown of the best online bargains on Presidents Day 2012. After all, why waste waste precious time searching for them, when you can spend your time shopping? Happy shopping, but don't forget to remember our Founding Fathers.
Best Buy
Best Buy is having a 2-day Presidents Day on a wide selection of laptops, smartphones, cameras, TVs and more. For instance, you can save $450 on Samsung 55-inch LED HDTV or $100 off on Samsung 13.3-inch Series 9 laptop (with 4GB memory, Intel Core i5 processorr and 128GB SSD).
If you're a shutterbug, you're in luck. You can snag the Nikon Coolpix S80, which has a 60% discount on its regular price tag. The 14.1 megapixel shooter boasts of 3.5 Touchscreen OLED, 5x Optical Zoom, HDMI and more.
There are also great deals on Canon DSLR cameras.
Microsoft
Microsoft is offering $150 off any Windows 7 PC that is purchased from its online store until Feb. 20. Plus, it comes with free shipping.
Office Depot
Office Depot is offering huge discounts on its entire range of laptops as well as over 50% off on select technology items and printers.
Dell
Dell has also launched its Presidents Day sale by offering up to 30% off on select electronic products and accessories. For instance, you can get Samsung Series 6 46-inch 1080p LED HDTV for only $897 ($399 off) or Canon EOS Rebel T3i 18-55IS Kit with 8GB SDHC card and bag for only $799 ($120 off).
OfficeMax
OfficeMax is offering up to 75% off on select electronic items as part of its 2-day Presidents Day Sale that ends on Feb. 20.
And, if you're looking for non-tech deals, try:
ToysRUs
Toy retail giant ToysRUs has launched a Presidents Day 4-day Sale by offering up to 75% off on select toys, 25% off on Tony Hawk bikes, and 30% off on select LEGO construction sets. They also have a BOGO offer on select Marvel, Hot Wheels and CARS Squinkies as well as on all Real Steel, Pirates of the Carribean Twilight action figures, play sets accessories. You can also BOGO 50% off on all VTech V.reader software and VTech MobiGo software.
ToysRUs are also giving away free gift cards with select purchases.
Macy's
Macy's is having a huge sale to celebrate Presidents Day and giving 15% off any purchase with code PRES at checkout.
You can also save extra 20% off on select shoes and boots, $10 off denim apparel, and - hold your breath - an extra 25% off on all clearance items.
They are also offering free shipping with purchase of $99 or above (excludes mattresses).
Bloomingdale's
Bloomingdale's is holding its super-hot Big Brown Bag sale in stores and online, with 20% to 40% off on most items through 2/20. If you're lucky, you can even snag up to 65% off on some home items and 50% off on fine jewelry.
Nordstrom
Nordstrom is offering up to 40% off as part of its shoe clearance sale, on select styles.
Calvin Klein
The entire Calvin Klein site is offering 40 percent off through Feb. 20. The discount applies at checkout. However, note - fragrance, underwear and home collection are excluded.
J. Crew
J. Crew is offering an online only 20% discount (code FABFEB) on orders of $150 or more.
Victoria's Secret
Victoria's Secret has launched a special offer that will run through march 13, 2012 - 415 off a $100 order, $30 off a $150 order and $75 off a $250 order. Enter offer code SPRING12 at checkout to be receive the discount.
Body Shop
The health and beauty specialist Body Shop is offering BOGO 50% off on all body, bath, hair and accessories. To celebrate Presidents Day, it has launched a 2-day special sale (ending Feb. 20) - get 3 items (all skin care and fragrance but excludes skin care kits) for $30. Additionally, you can save $10 on a $40 (or above) purchase with code PRESIDENT at checkout. And, here's the cherry on the cake - shipping is free on orders of $50 (or above).
Must Read: iPhone 5 to Unveil in Fall - Real or Rumor?
Must Read: iPad 3 'Leaked Photo' Suggests Faster Processor and 8-Megapixel Shooter
MUST READ: iPhone 5: Buy a Motorola Photon 4G with Ice Cream Sandwich or Wait for iPhone 5?
© Copyright IBTimes 2023. All rights reserved.
FOLLOW MORE IBT NEWS ON THE BELOW CHANNELS