'Pretty Little Liars' Spoilers: What Happened In The Season 6 Finale? Recap Before The Season 7 Premiere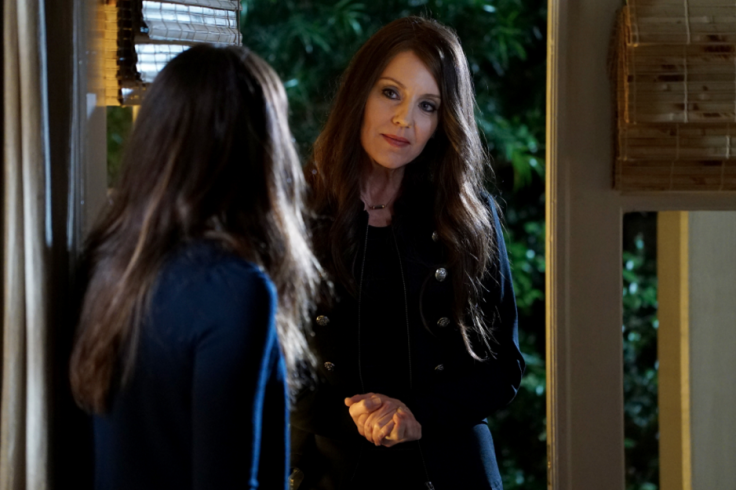 Are you ready for another dramatic season of "Pretty Little Liars"? Season 7 of the hit Freeform series premieres Tuesday night, reuniting fans with the whole Rosewood crew. But the premiere won't be a happy occasion. Hanna's life is on the line after getting kidnapped by "A" in the Season 6 finale. Check out everything that happened:
Reunited and It Feels So Good
The five-year time jump at the start of Season 6 revealed that all the major couples split. However, a couple of those old flames reignited during the finale. Aria (Lucy Hale) and Ezra (Ian Harding) hooked up after learning that their publisher loved their chapters. It was also a big step for Ezra, who finally seemed to be getting over his dead ex.
Meanwhile, fans finally found out why Hanna (Ashley Benson) and Caleb (Tyler Blackburn) split. Hanna was too focused on her job, and kept putting her relationship with Caleb on the back burner. Caleb eventually got tired of it and gave Hanna an ultimatum. Hanna tried to salvage their relationship, but by the time she returned to their apartment he was already gone. The two locked lips after Caleb found out the truth — completely forgetting about their new significant others.
Spoby Investigates
Spencer (Troian Bellisario) and Toby (Keegan Allen) didn't have the same romantic reunion as their friends, but they did team back up in the finale to investigate what Sara Harvey (Dre Davis) may be hiding at the Radley. Toby skipped the campaign party for Yvonne's (Kara Royster) mother and broke into a secret records room with his ex. It was there that the two found a file belonging to an old Radley patient named Mary Drake. Twenty-five years ago Mary Drake gave birth to a child, Charles. That baby was adopted by Mary's twin sister, Jessica DiLaurentis (Andrea Parker).
A Haunting in Rosewood
Alison (Sasha Pieterse) began to lose her cool when she hallucinated a zombified version of her dead mother. Later she got a visit from Detective Wilden (Bryce Johnson), who reached out and touched her. Since her husband, Dr. Rollins (Huw Collins), was out of town, Alison decided to check herself into a mental hospital. Emily accompanied her as she signed her rights away. What Alison and Emily (Shay Mitchell) didn't realize was that Jessica's ghost wasn't haunting the town — it was really Jessica's evil twin sister, Mary Drake.
A Plan Gone Wrong
The gang set up a plan to catch "A" by getting Hanna to falsely admit to killing Charlotte (Vanessa Ray). With Hanna locked in a room at the Lost Woods Resort, they were going to set up cameras and knock their stalker out using an electric fence. That plan backfired, resulting in Hanna getting kidnapped. However, the cameras did catch Mary Drake.
The Truth About Dr. Rollins
Alison may have fallen in love with Charlotte's doctor, but he's not the man she thought he was. It's revealed that he's actually British and had been working alongside Mary Drake. They wanted Alison to check herself into a mental facility so they could take over her stake in the Carissimi group — a whopping 50 percent.
Hanna's Fate
Is Hanna alive? The Season 6 finale of "Pretty Little Liars" concluded with an unknown figure dragging her unconscious body to the bell tower.
What's Next for Season 7?
The Season 7 premiere will pick up where Season 6 left off, with the Liars going after Hanna. The question is whether they'll get to her in time. As previously reported, "A" will set up a countdown, and the clock will run the entire episode.
"Pretty Little Liars" premieres on Freeform Tuesday, June 21, at 8 p.m. EDT.
© Copyright IBTimes 2023. All rights reserved.