'Pretty Little Liars' Spoilers: What Happened In The Summer Finale? Recap Before The Season 6B Premiere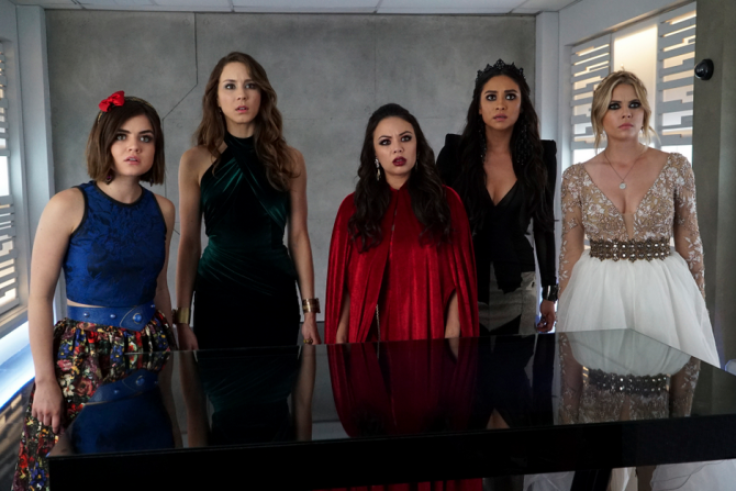 Alison (Sasha Pieterse), Aria (Lucy Hale), Emily (Shay Mitchell), Hanna (Ashley Benson) and Spencer (Troian Bellisario) are back! It's been months since a new "Pretty Little Liars" episode aired, but we've got a refresher on where the ladies left off before fans dive right back into the Rosewood drama in the Season 6B premiere.
We last saw the gang during the Season 6 summer finale, which aired on August 11. After multiple seasons of being harassed by a mysterious person called "A," the girls were finally able to unmask their cruel tormentor.
The episode, titled "Game Over, Charles," kicked off with Aria, Emily, Hanna and Spencer racing to help Alison, who was on the roof of Radley Sanitarium with "A." In a surprising twist, "A" was getting ready to jump off the building. However, the girls were trying to save the masked villain from making the leap.
The summer finale then cut back to the events that led them all to the roof. Aria, Emily, Hanna and Spencer were at the Carissimi Group building with Mona (Janel Parrish). They were tricked into going there by Sara (Dre Davis), but it ultimately ended up working out in their favor. Inside they discovered a control room full of cameras who exposed their mysterious tormentor as CeCe Drake (Vanessa Ray).
It turns out that CeCe is actually transgender. She was born Charles DiLaurentis, but shunned by her father when he caught her wearing female clothing. Mr. DiLaurentis (Jim Abele) ultimately ended up sending his son to Radley when he caught him standing over baby Alison in the bathtub. Mr. DiLaurentis thought that Charles was trying to hurt Alison, but CeCe insisted that she was only trying to calm her down when she couldn't get her mother's attention.
Things only went downhill for Charles at Radley. She befriended Bethany Young – the girl who ended up in Alison's grave. However, Bethany wasn't the friend that Charles thought she was. Bethany pushed Toby's (Keegan Allen) mom off the roof and blamed it on Charles. Mrs. DiLaurentis was able to protect her son by bribing Detective Wilden (Bryce Johnson), but the doctors at Radley ended up prescribing Charles with more drugs. As a result, Charles nearly died from an overdose. But Mrs. DiLaurentis was once again able to work her magic. She worked out a deal with Radley to "kill" Charles and allow him to reemerge as CeCe.
But that didn't mean CeCe was able to roam free. She was still at Radley but allowed to attend classes at the University of Pennsylvania. CeCe didn't go to class though. Instead she went to check on her family and ultimately ended up dating Jason (Drew Van Acker) – although the two never actually got physical.
Mrs. DiLaurentis found out about CeCe and Jason and was NOT happy. However, there was nothing she can do because she had lied to her husband and told him that Charles had died. But then that fateful Labor Day weekend happened.
CeCe was the one that struck Alison that night – but not because she wanted to hurt her sister. She claimed that she was looking for Bethany, who was wearing the same outfit that Alison had one. Bethany had snuck out of Radley after discovering that her dad was having an affair with Mrs. DiLaurentis. CeCe thought that Bethany was going to hurt her mom, which was why she accidentally hit Alison.
Mrs. DiLaurentis paid off Detective Wilden again. But elsewhere, Bethany ended up dead at the hands of Mona, who mistook Bethany for Alison. As "Pretty Little Liars" fans already know, Mona ended up in Radley and that's where CeCe stole the "game" from her.
Almost all of the mysteries plaguing Rosewood were resolved – except for who killed Mrs. DiLaurentis. But the girls had a bigger problem on their hands. Sara, who was actually CeCe's Black Widow/ Red Coat accomplice, went to Radley to plant a bomb. CeCe and Alison were inside, and the others couldn't let them perish in the building. With Mona's help, the girls manage to get out of the Carissimi Group building to help Alison. Sara tries to trigger the bomb, but it doesn't go off. Emily uses that opportunity to punch her former lover in the face.
That's when things go full circle to the Radley roof where they convince CeCe not to jump. But the summer finale didn't end there. The episode jumped ahead to Labor Day weekend with the liars getting ready to go their separate ways for college. But that wasn't the end either. Another time jump brought "Pretty Little Liars" five years forward to a classroom at Rosewood High. The girls are no longer students, but Alison is a teacher named Mrs. Rollins – and unfortunately someone is after her.
"Pretty Little Liars" Season 6B will premiere on the new Freeform channel Tuesday, Jan. 12 at 8 p.m. EST. The premiere, episode 11, will continue with the time jump and reintroduce fans to Alison, Aria, Emily, Hanna and Spencer all grown up. But just because CeCe is no longer playing her "game," doesn't mean that the liars are done hiding deep dark secrets.
FOR FREE to continue reading
✔️ Unlock the full content of International Business Times UK for free
offer available for a limited time only
✔️ Easily manage your Newsletters subscriptions and save your favourite articles
✔️ No payment method required
Already have an account?
Log in
© Copyright IBTimes 2023. All rights reserved.