Prince Harry Feared He Had 'Shelf Life,' Would Become 'Irrelevant' After Prince George Turns 18: Book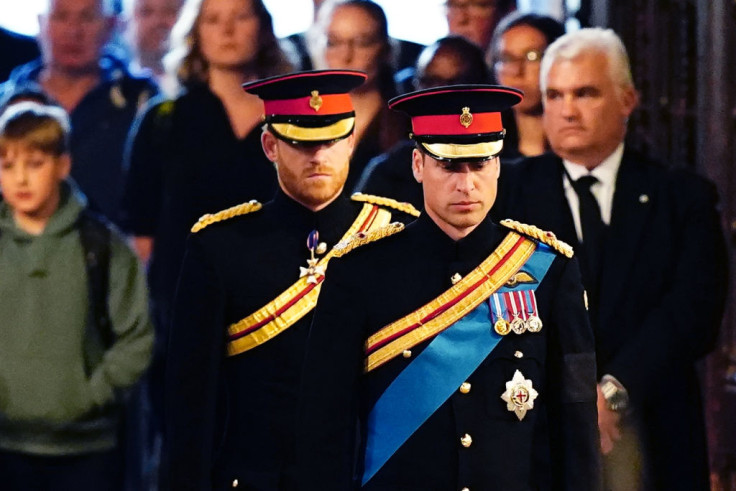 KEY POINTS
Prince Harry believed he had only a limited time to make a difference until his nephew became older, a new book claims
The Duke of Sussex was reportedly "fixated" on the idea that he had a "shelf life" and would compare himself to Prince Andrew
Prince Harry's staff reportedly assured him he could still make an impact into his 50s and beyond, but he "never saw that"
Prince Harry allegedly feared that he had a "shelf life" and would become irrelevant once his nephew Prince George turned 18, a new book has claimed.
An upcoming book by The Times of London's royal correspondent Valentine Low claimed that the Duke of Sussex believed he had only a limited time to make a difference until his nephew became older and was frustrated that his advisers "were holding him back" when he wanted to get involved in the same areas as his brother Prince William, who is the heir to the British throne. International Business Times could not independently verify these claims.
In an excerpt published by the Times, the veteran royal reporter spoke to members of the royal household for his book, "Courtiers: The Hidden Power Behind The Crown," and was reportedly told that Prince Harry held a longtime "fear that his time was running out" while he was still a working royal.
The book, which is set to be published on Oct. 6, also claimed that Prince Harry reportedly compared himself to his uncle Prince Andrew, who was forced to quit public duties and was stripped of his royal titles in January after a sexual assault lawsuit was filed against him. The Duke of York has denied all allegations and settled the lawsuit for an undisclosed sum.
Low quoted an unnamed royal insider as saying of Prince Harry: "He had this thing that he had a shelf life. He was fixated [on] this. He would compare himself with his uncle [Prince Andrew]."
"He would say, 'I have this time to make this impact. Because I can.' Until George turns 18, was the way he was thinking about it. 'Then I will be the also-ran.' He was genuinely thinking of it as, 'I have this platform now, for a limited amount of time. I want to move forward, move forward,'" the source continued, according to the excerpt.
Prince George, the eldest son of Prince William and his wife Kate Middleton and the second in line of succession for the British throne, will turn 18 in 2031, when Prince Harry will be 46.
Prince Harry's staff reportedly assured him that he was different from his uncle and could still make an impact into his 50s and beyond as long as he "set the right foundations now," but the Duke of Sussex "never saw that," the book claimed.
Low also alleged that Prince Harry was obsessed with the media, mistrusted palace courtiers and constantly tested the staff's loyalty even before Meghan Markle arrived in his life. However, when he met her, "it got significantly worse," the royal correspondent claimed.
Representatives for Prince Harry and Markle have not publicly addressed the new book's claims.
Prince Harry and Markle stepped back from royal duties in 2020. The prince has since claimed that a "lack of support and lack of understanding" from the firm and the "toxic" British media drove him and his wife to leave the royal family.
Tina Brown, author of "The Palace Papers," claimed to Page Six that Prince Harry had wanted to flee before he even met the former actress and Markle only "enabled him to do what he wanted."
"He's shown ever since that he absolutely hates that whole life, doesn't like it," the royal author claimed of Prince Harry. "If not but for Meghan he wouldn't have found a way out because he basically was a man who had everything done for him all of his life. He had never carved a life for himself."
In royal expert Katie Nicholl's new book, "The New Royals: Queen Elizabeth's Legacy and the Future of the Crown," the Vanity Fair royal correspondent claimed to have been told by a friend of the late Queen Elizabeth II that the late monarch confided that she was "exhausted" by the "turmoil" caused by Prince Harry and Markle's decision.
"She [the Queen] was very hurt and told me, 'I don't know, I don't care, and I don't want to think about it anymore,'" the friend, who was not named, reportedly added.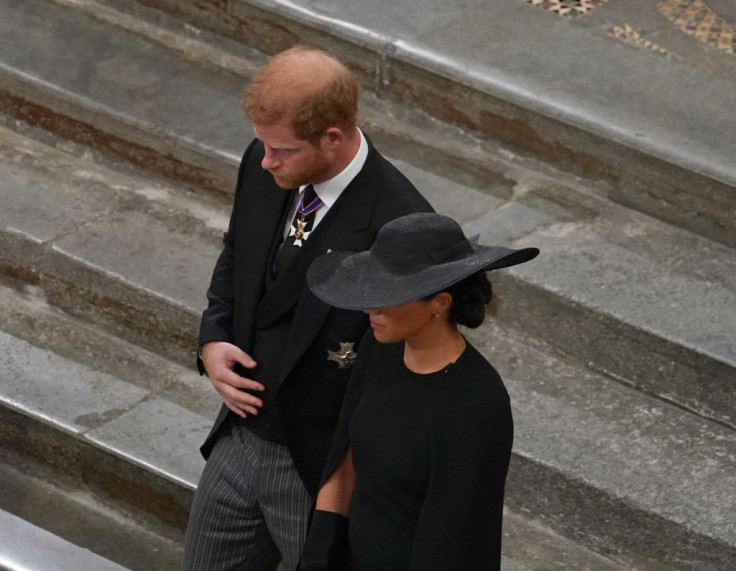 © Copyright IBTimes 2022. All rights reserved.
FOLLOW MORE IBT NEWS ON THE BELOW CHANNELS