Prince Harry, Meghan Markle Critics Accuse Sussex Fans Of Trying To 'Cancel' Them
KEY POINTS
British journalist Richard Eden claimed that fans of Prince Harry and Meghan Markle reported one of his tweets
He claimed in the tweet that the couple's allegations of racism "increased the danger of attacks" on the royal family
The tweet has not been removed by the platform as of Wednesday
Some critics of Meghan Markle and Prince Harry have called out the couple's fans for allegedly trying to silence them.
On Wednesday, royal commentator and Daily Mail Diary editor Richard Eden took to Twitter to share a screenshot of a message he allegedly received from the social media platform notifying him that one of his tweets had been reported by users residing in Germany.
"Despite the best efforts of Prince Harry and Meghan's fans to get me 'canceled,' I will continue to speak my mind on royal issues," he responded.
In the tweet that received a complaint, Eden commented on the allegations of racism that Markle and Prince Harry made against the royal family during their sit-down interview with Oprah Winfrey in March.
At the time, the Duchess of Sussex claimed that there were "concerns and conversations" about how dark her unborn child's skin might be but refused to name the royals who allegedly made the remarks. "That would be very damaging to them," she explained.
Prince Harry also said he would "never share" the full details of the discussion, though he later said that Queen Elizabeth II and the late Prince Philip were never part of the alleged conversations.
Commenting on the allegations, Eden tweeted Tuesday, "I genuinely worry that Prince Harry and Meghan's criticism of unnamed 'racist' royals has increased the danger of attacks on the Royal Family. Security needs to be stepped up as a result."
Eden's tweet was allegedly reported by unnamed Sussex supporters via the Network Enforcement Act, which requires Twitter to notify individuals if their post received a complaint from a user in Germany, according to the message shared by the royal commentator.
According to Twitter's alleged message, Eden's tweet was found to be not subject to removal under the platform's rules or German law. His post has not been taken down by Twitter as of Wednesday.
Royal commentator Angela Levin, author of "Harry: A Biography of a Prince," claimed that she also received the same treatment from supporters of Markle and Prince Harry after slamming the Duke of Sussex's upcoming memoir "that rumors say will hugely criticize [the] royal family."
While the person who sent Twitter a complaint about Eden's tweet was not identified in the journalist's post, author and The Grio writer Stephanie Guerilus wrote that she also reported his tweet.
"The targeted harassment of the Sussexes by sectors of the British press should no longer be indulged," she replied to his latest post.
"I hope the Sussexes sue you personally for inciting violence towards them. No one cares enough about the U.K. Windsors to cause them harm, but there are haters out there ready to harm the Sussexes as you know damn well," another Twitter user commented.
Actress and activist Vivicca Whitsett, meanwhile, accused Eden of lying, adding, "Where's your concern over the Sussexes? Where was your concern when Charles removed Prince Harry's security?!? GTFOH and miss me with that s--t."
Some users sided with Eden, claiming that fans of Markle and Prince Harry and some notable personalities did not face backlash after allegedly "inciting" hatred toward the royal family.
"Agree Richard. The likes of the Sussex Squad, [BotSentinel.com founder Christopher Bouzy] and ['Finding Freedom' author Omid Scobie] are inciting royal hatred with seemingly no sanction from Twitter. It's an alarming tendency that vulnerable young minds are being influenced by these types of targeted propaganda initiatives," one person claimed.
Another netizen agreed that the royal family should step up their security and accused Prince Harry and Markle of spreading false stories to "manipulate their fans."
Another claimed that the Sussexes' fans are being fed "poison and lies" that Markle is vulnerable and a victim of the "evil" royal family.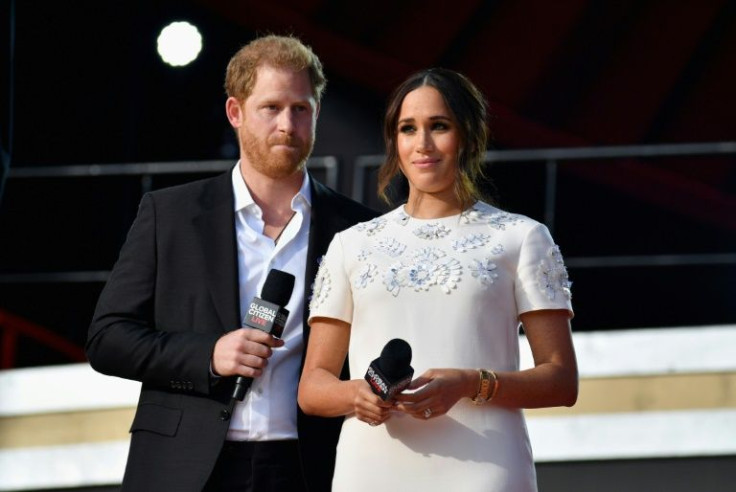 © Copyright IBTimes 2023. All rights reserved.