Prince Harry, Meghan Markle Wanted To Live In Windsor Castle But Got Frogmore Cottage, Book Claims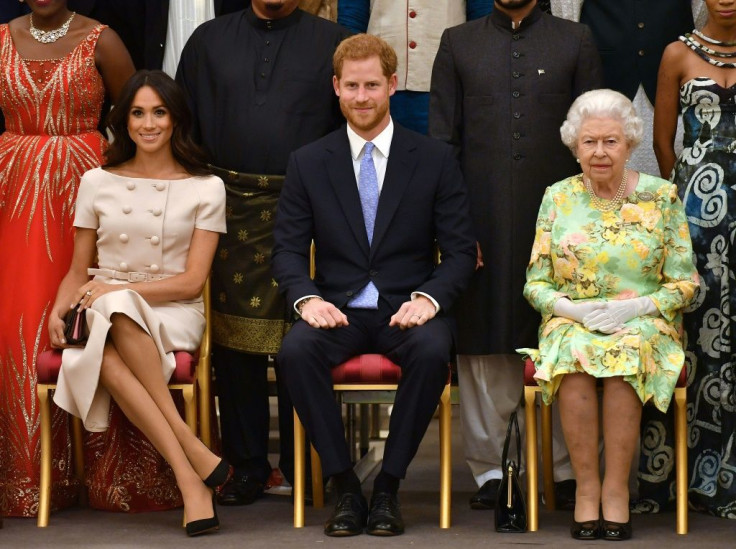 KEY POINTS
Prince Harry and Meghan Markle hoped to move into a "suite of apartments at Windsor Castle" after leaving Kensington Palace, a new book claims
Queen Elizabeth II "offered" the couple Frogmore Cottage in Windsor Great Park instead, according to author Katie Nicholl
The Queen's cousin said the monarch gave up her "solitude" and "privacy" in gifting the residence to Harry and Meghan
Prince Harry and Meghan Markle reportedly hoped to move to Windsor Castle after leaving Kensington Palace, but Queen Elizabeth II gave them Frogmore Cottage instead, a new book on the British royal family has claimed.
Months after their May 2018 royal wedding, the Duke and Duchess of Sussex announced their wish to move out of Kensington Palace in London, where they lived with Prince William and Kate Middleton.
At the time, the late Queen reportedly offered Prince Harry and Markle a new residence, but it wasn't the one they had hoped for, Vanity Fair royal correspondent Katie Nicholl claimed in her new book, "The New Royals: Queen Elizabeth's Legacy and the Future of the Crown." International Business Times could not independently verify this information.
"When Harry and Meghan announced their wish to move out of Kensington Palace, the Queen offered them Frogmore Cottage in Windsor Great Park as their new home. This was not the suite of apartments at Windsor Castle they had hoped for," Nicholl wrote in an excerpt from the book published by the Mail on Sunday.
A first cousin of Queen Elizabeth II, Lady Elizabeth Anson, who passed away in 2020, reportedly told Nicholl that it was a "generous gesture" from the late monarch. The Queen reportedly gave up her "privacy" by gifting the cottage to Prince Harry and Markle, according to Lady Elizabeth.
"The cottage was a big deal," Lady Elizabeth told Nicholl, according to the extract. "The Queen's entrance into the gardens is right next to their cottage. It is essentially her backyard, her solitude, and her privacy. She was giving that up in gifting Harry and Meghan Frogmore Cottage. We all thought it was very big of her. She said, 'I hope they'll respect it.'"
Frogmore Cottage is located about half a mile from Windsor Castle in the English county of Berkshire. Prince Harry and Markle posed for their engagement photos in the Frogmore estate and gardens, and are believed to have had a summer picnic on the grounds before their engagement in 2017, USA Today reported.
In a statement from Prince Harry and Markle's office in 2018, their spokesman said Windsor, located about 30 miles west of London, was a "special place" for the couple.
"Windsor is a very special place for Their Royal Highnesses and they are grateful that their official residence will be on the estate," their spokesman said at the time.
The couple moved into Frogmore Cottage in April 2019. A month after that, Prince Harry and Markle made another huge decision — they decided to also move their royal household — effectively their office — from Kensington Palace to Buckingham Palace, according to the book.
The move officially ended Prince Harry and his older brother Prince William's "double act," Nicholl noted.
Following the separation of Prince Harry's and Prince William's royal households, which many reportedly never expected as most, including the Queen, were hopeful that the royal trio would become the "Fab Four" after Markle joined the family, there were several speculations as to why they decided to split.
British journalist and commentator Duncan Larcombe, author of "Prinz Harry: Die Insider Story," believed that the Sussexes, who were new parents at the time, wanted to do "things their own way." He claimed that the separation was a sign of "rift" and "division."
"It is clear that Meghan and Harry were initially prepared to slot in under the wing of William and Kate but that's not how they feel a year on," Larcombe claimed in June 2019. "Harry is going to forge his own path with Meghan. For years, before he met Meghan, he was the royal gooseberry standing behind William and Kate."
Seven months later, Prince Harry and Markle announced their decision to step back from their roles as senior working royals. The brothers became estranged after the couple moved to California, where the Sussexes now live with their children, Archie, 3, and Lilibet, 1.
Prince William and Prince Harry recently put on a united front during their grandmother Queen Elizabeth's funeral, but several reports have claimed that their relationship remains strained.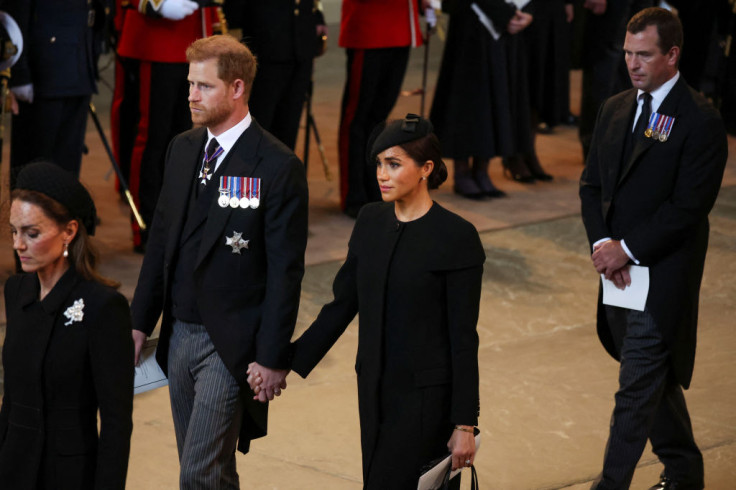 Harry and Meghan are known to be taken with the Frogmore estate and gardens, which is why they chose it for the engagement photos where Meghan is wearing a $75,000 Ralph & Russo couture gown as they posed on the steps to the house. They are believed to have had a summer picnic on the grounds before the engagement.
© Copyright IBTimes 2023. All rights reserved.