Prince Harry Reveals Kate Middleton's Alleged Texts That Left Meghan Markle 'Sobbing On The Floor'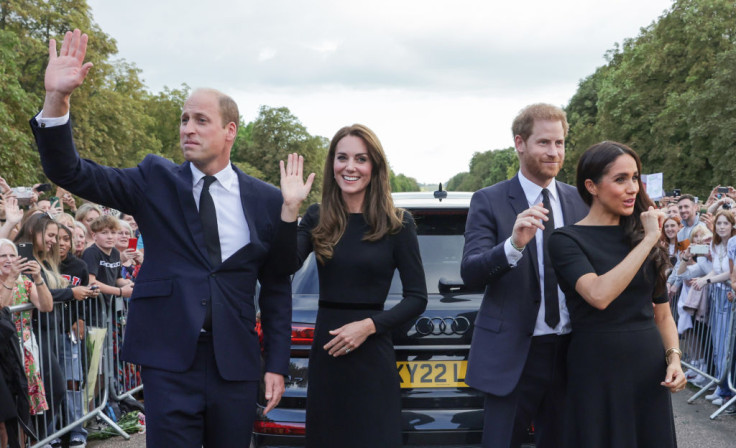 KEY POINTS
Prince Harry shared the text messages sent between Kate Middleton and Meghan Markle over flower girl dresses
The Duke of Sussex claimed Middleton complained that Princess Charlotte's dress was too big, long and baggy
She allegedly insisted all the dresses needed to be remade instead of just getting Charlotte's dress altered
Prince Harry has revealed the text messages sent between his wife Meghan Markle and sister-in-law Kate Middleton over flower girl dresses that left the Duchess of Sussex sobbing ahead of their royal wedding in 2018.
The Duke of Sussex wrote in his new book, "Spare," that Middleton messaged Markle to complain that her daughter Princess Charlotte's flower girl dress did not fit correctly but found the then-bride-to-be's response insufficient.
"Charlotte's dress is too big, too long, too baggy. She cried when she tried it on a home," Prince Harry recalled the Princess of Wales allegedly texting his then-fiancée about the dresses, which were made from measurements before a fitting, Page Six reported.
Markle then allegedly texted back, "Right, and I told you the tailor has been standing by since 8am. Here. At KP. Can you take Charlotte to have it altered, as the other mums are doing?"
Rather than agreeing to let her daughter's dress be altered, Middleton allegedly insisted that "all the dresses be remade" and said she discussed the issue with her own wedding designer, who agreed with her.
Hoping to make the royal understand the stress she was under, the former "Suits" star allegedly asked Middleton if she was aware of the drama surrounding her father, Thomas Markle Sr.
"Meg asked if Kate was aware of what was going on right now. With her father," Prince Harry wrote. "Kate said she was well aware, but the dresses. And the wedding is in four days!"
"Yes, Kate, I know..." Markle reportedly replied.
Prince Harry alleged that his sister-in-law had "problems with the way Meg was planning her wedding. Something about a party for the page boys? It went back and forth."
"I'm not sure what else to say. If the dress doesn't fit then please take Charlotte to see Ajay. He's been waiting all day," Markle reportedly responded.
"Fine," Middleton allegedly replied.
Prince Harry said he found his wife "sobbing on the floor" of their home following her exchange with Princess Kate.
The Duchess of Sussex previously addressed the incident in her interview with Oprah Winfrey in 2021. Markle denied the tabloid claims that she made Middleton cry in the run-up to her 2018 wedding, saying, "The reverse happened."
Markle admitted that there was a misunderstanding about the flower girl dresses, and her argument with Middleton "made me cry and it really hurt my feelings." She also claimed that the Princess of Wales had been "upset about something" that day and later apologized and brought her flowers and a note.
In Prince Harry's book, he wrote that Markle told Middleton, who was pregnant with her third child with Prince William at the time, that she "must have baby brain because of her hormones" amid their flower girl dresses feud.
Markle was reportedly reprimanded for her remark and told that she wasn't close enough to the future queen consort to say something like that. The "Horrible Bosses" actress allegedly became "offended" and was reduced to tears.
Buckingham Palace said they would not comment on the claims in Prince Harry's book.
"Spare" hits shelves Tuesday.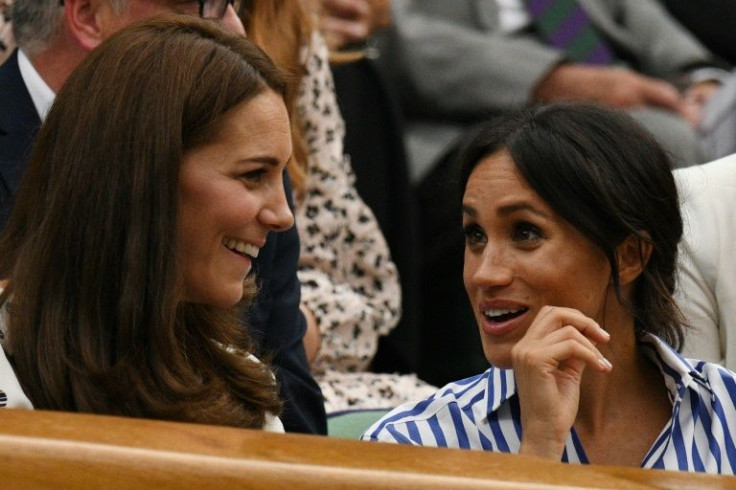 © Copyright IBTimes 2023. All rights reserved.