Prince William Needs Kate Middleton's Permission To Take Prince George, Princess Charlotte To Soccer Match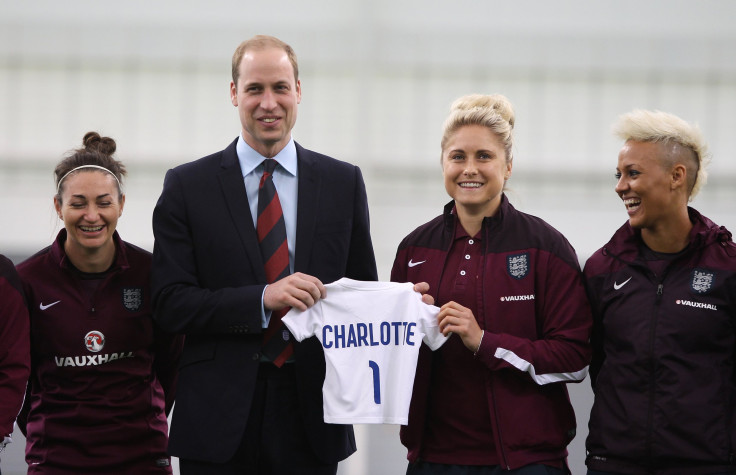 Prince William, who is looking forward to the day when Prince George and Princess Charlotte can accompany him to a soccer match, said he would need his wife Kate Middleton's permission first. The Duke of Cambridge also said in a BBC interview, ahead of Saturday's FA Cup final, that it was little early for Prince George to attend the match.
"I'll have to pass that by the missus," William reportedly said, adding, "see how I can get away with it!
"At the moment, [with George] being only 22 months, it's a little bit early."
Prince William, who is an Aston Villa fan, hinted that he would also want his son, Prince George, to support the club.
"The responsible thing would be to say, to let him make his own mind up, but I think I might be quite biased! I haven't quite worked out how to play that yet," Prince William reportedly said. "But, of course he can support whoever he wants, but if he supports Villa, it'd be fantastic. I'd love to go to the odd match with him in the future.
"It'll probably end up being that Charlotte is the Villa fan, and George will go and support someone else."
During the interview, which will air on Saturday on BBC1, Prince William also revealed why he supported Aston Villa. "I wanted to have a team that was more middle of the table, that could give me the more emotional rollercoaster moments. To be honest, now looking back, that was a bad idea. I could have had an easier time," he reportedly said.
William also said that he was "nervous" ahead of the final match between Aston Villa and Arsenal where he is scheduled to present the Cup.
Prince William has resumed his royal duties after his paternity leave, following the birth of his second child, Princess Charlotte of Cambridge, earlier this month.
© Copyright IBTimes 2023. All rights reserved.