Princess Charlotte Breaks Down In Tears At Queen Elizabeth's Funeral; Kate Middleton Comforts Her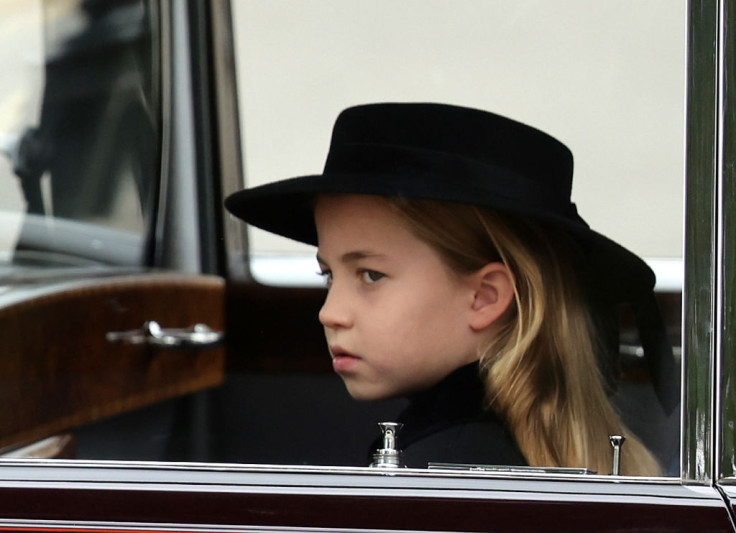 KEY POINTS
Princess Charlotte burst into tears as she was exiting Westminster Abbey following the funeral for Queen Elizabeth II
The young royal wore a horseshoe brooch reportedly gifted to her by her late great-grandmother
Princess Charlotte appeared to be in better spirits shortly after crying
Princess Charlotte couldn't hold back her tears during her great-grandmother Queen Elizabeth II's funeral in London Monday.
Princess Charlotte, 7, attended the Westminster Abbey service alongside her older brother Prince George, 9, and their parents Prince William and Kate Middleton. Her younger sibling, 4-year-old Prince Louis, did not join them.
The Prince and Princess of Wales' only daughter was seen visibly upset as the family exited Westminster Abbey following the funeral, Entertainment Tonight reported.
Princess Charlotte, who wore a horseshoe brooch reportedly gifted to her by Queen Elizabeth II, was photographed crying outside of the church. It is unclear what moment in the service prompted her emotional display.
Middleton was seen comforting her daughter. Shortly after her outburst, Princess Charlotte appeared to be in better spirits.
Princess Charlotte and Prince George joined Middleton and Queen Consort Camilla in a car that rode behind the procession of the Queen's coffin from Westminster Abbey to Wellington Arch.
The young royals then exited the car and stood alongside their parents at Wellington Arch as the coffin was moved to the hearse to make the drive to Windsor, England.
Princess Charlotte has drawn attention from royal fans over the years due to her striking resemblance to her late great-grandmother, who died on Sept. 8, at the same age.
Her first day of school portrait in 2018 and the photo Kensington Palace released for her sixth birthday last year sparked comments from royal fans regarding the features Princess Charlotte and the late Queen apparently share, including blue eyes, striking eye structure and arched eyebrows.
"Princess Charlotte is twinning with her great-grandmother!" one royal fan commented.
"She looks a lot like the Queen!!" read another tweet. Another wrote, "She looks exactly like her great-grandma the Queen!"
Princess Charlotte also inherited her grandmother's love for all things equestrian. In 2018, Paralympic equestrian Natasha Baker met with Middleton, who revealed her daughter's love of horseback riding.
"I asked her how the children were, and she said Charlotte is really enjoying her riding which is great to hear," Baker said of Middleton. "She emphasized that Charlotte has this passion for horses, and although she doesn't echo it, she'll do her best to champion and encourage it."
Following Queen Elizabeth II's passing, Prince William released an emotional statement via Instagram in which he paid tribute to his grandmother.
"I have had the benefit of The Queen's wisdom and reassurance into my fifth decade," he wrote. "My wife has had twenty years of her guidance and support. My three children have got to spend holidays with her and create memories that will last their whole lives."
"She was by my side at my happiest moments. And she was by my side during the saddest days of my life," he continued. "I thank her for the kindness she showed my family and me. And I thank her on behalf of my generation for providing an example of service and dignity in public life that was from a different age, but always relevant to us all."
After the state funeral and processions, Queen Elizabeth II was buried alongside her late husband, Prince Philip, at the King George VI Memorial Chapel at Windsor Castle Monday evening, the royal family announced.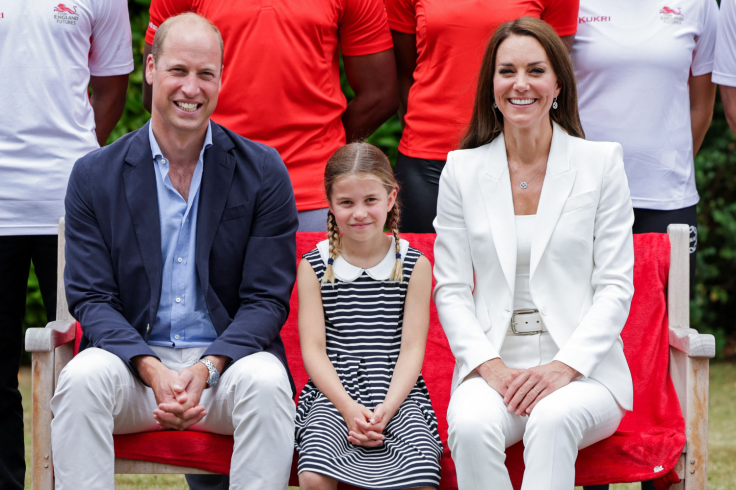 © Copyright IBTimes 2023. All rights reserved.