Princess Madeleine Of Sweden Appears In New Official Portrait In Aquamarine Kokoshnik Tiara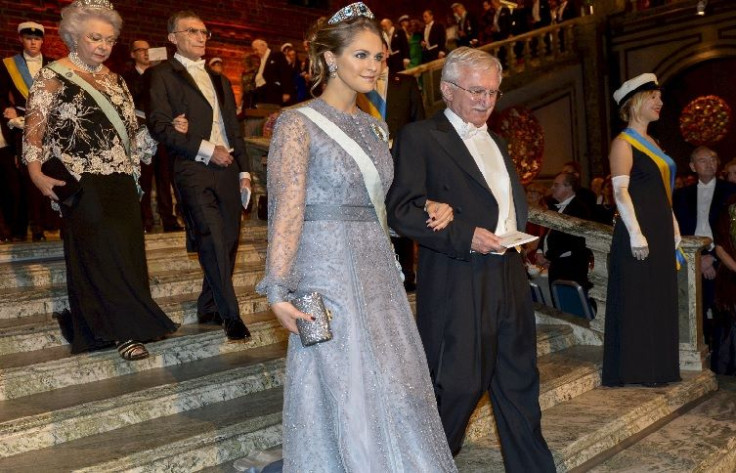 Princess Madeleine of Sweden seems to be particularly fond of the gorgeous Swedish Aquamarine Kokoshnik tiara. The rarely seen tiara from the Swedish royal family's vaults has become a regular with the 33-year-old royal. Madeleine donned the tiara in her recent official portrait for the official website of the palace.
Madelaine looked beautiful in the eye-catching tiara in the official portrait. The topper's bright blue stones brought out the princess's eyes in the glamorous shot. The diadem featured vibrant-colored jewels, is delicate and feminine, and a row of lattice-like diamonds frames. The multi-carat aquamarine stones form the distinctive half-moon or "kokoshnik" shape.
The mother-of-two was last seen donning the tiara at a fairy tale party for little girls at the Royal Palace of Sweden in February. She hosted a party for 12 kids and made their dream of becoming prince and princess for a day come true. Madeleine looked stunning in a powder blue gown with sheer long sleeves that featured high neck, ruffled sleeves and embellished detailing.
Earlier, she accessorized with the tiara at the Nobel Prize Banquet on Dec. 10. She then teamed it up with diamond earrings, chunky ring and a glittering clutch. She wore smoky eyes and a hint of lip gloss while her brunette tresses were styled into a chic up "do."
Meanwhile, the Aquamarine Koloshnik tiara has reportedly been custom made by German court jewelers, Robert and Louis Koch during the second half of the 19th century. It has been inspired by the traditional headpieces worn by Russian and other Northern European married women in the 17th century. It reached peak popularity 200 years later at the Russian imperial court of the Romanovs.
The jeweled headpiece also has a coordinating aquamarine and diamond brooch that Bernadotte princesses often wore with it in the past. Sweden's Princess Margaret of Connaught was the first royal family member to possess the sparkler. She was the granddaughter of Queen Victoria and after her death in 1920; it was inherited by Madeleine's grandmother, Princess Sibylla.
She is believed to be the first royal photographed wearing the headpiece at a 1932 Jazz Age ball. When she died in 1972, it was her eldest daughter who inherited the striking family heirloom. The 81-year-old Princess Margaretha currently lives in the English countryside and has kept the diadem in the royal family's vaults. She has worn it with a matching brooch to the wedding of Crown Princess Victoria with Prince Daniel in 2010, and then to the wedding of Prince Carl Philip with Princess Sofia in June 2015.
© Copyright IBTimes 2023. All rights reserved.