Probe Into Navy Sailors' Suicides Reveals Collective Leadership Failure In Providing Good Working Conditions
KEY POINTS
Two leaders said in a memo that there was an 'organizational drift' within the Navy
Nine sailors at the USS George Washington reportedly died of suicide within nine months
Four deaths in less than a month among MARMC personnel were classified as apparent suicides
An investigation into a string of suicides among personnel of a Navy ship and command center has found that the working conditions personnel experienced cannot be blamed on a single leader but it was a collective failure among Navy leadership, two officials said Thursday.
"The conditions experienced by those assigned to the USS George Washington and MARMC (Mid-Atlantic Regional Maintenance Center) are not the result of any act or inaction by any single leader. Collectively, Navy senior leadership, officer and civilian, let our standards slip – and in doing so we let our people down," said Navy chief admiral Michael Gilday and Navy secretary Carlos Del Toro in a joint memo this week following the release of findings from investigations of working conditions at the carrier and command center in question.
Gilday and Del Toro said investigations at both the USS George Washington and the MARMC found an "organizational drift – a slow erosion over time" and "conditions that were clearly not right became acceptable."
The memo noted that to ensure good working conditions for all Navy service members and civilians, a "new course" will be established for Navy Quality of Service (QoS).
The Navy QoS, as per Gilday and Del Toro, should ensure that "every sailor" gets appropriate mental and physical health assistance and "the best care" to prevent further suicides.
Sailors should also be provided with high-speed WiFi "in unaccompanied housing and Moral Welfare and Recreation centers" so they can communicate with loved ones, pursue distance learning, or engage in "stress-relieving" activities such as gaming.
The Navy leaders also said all sailors should be allowed to live "off the ship while in an industrial environment."
Sailors assigned to ships or submarines in the shipyard should be provided access to "convenient, affordable, and nutritious food."
For sailors who are "unable to perform normally assigned duties," or those on limited duty status, the Navy should provide "full, direct support."
"Our success will be dependent on every leader, at every level, asking one question every day: Are we asking our people to overcome something they shouldn't have to overcome?" Gilday and Del Toro wrote.
In April 2022, Military.com reported that nine crew members of the USS George Washington died of suicide within a nine-month period, citing three sailors who spoke on condition of anonymity.
One sailor told the outlet that since the Navy crew members lived in a construction zone, there were always "problems with ventilation" and "hot water," making the workplace environment even more stressful during the winter season.
The parents of Master at Arms Seaman Recruit Xavier Hunter Mitchell Sandor, who was reported to have died of suicide while onboard the USS George Washington, criticized Navy leadership for the "awful" conditions their son had to endure on the ship.
Weeks after the suicides were reported by multiple outlets, Naval Air Force Atlantic spokesperson Rob Myers said the commanding officer of the ship provided sailors with the opportunity to live off-ship "at a local installation."
The Navy's investigative report into the deaths of sailors at the USS George Washington found that there was inadequate "parking, transportation, access to food and nutritional options, training space, physical fitness facilities, and housing options" for sailors. "This directly contributed to poor Sailor QoS and morale," the report said.
Admiral Daryl Caudle, head of the U.S. Fleet Forces Command, described the tragic deaths of the sailors as "a 9/11 event" and something the Navy "should have seen coming," reported CBS News.
In December, four sailors who worked at the MARMC died in less than a month, according to NBC News. Military officials said the four deaths were classified as apparent suicides.
"I was inundated with the amount of hopelessness at that command," said Kayla Arestivo, the licensed counselor who was tapped to help sailors at the MARMC.
Arestivo said "toxic leadership" was among the issues sailors at the command "immediately pointed out" as a reason why they felt overworked and undervalued. There were also inadequate mental health resources at the command, the report revealed.
An investigation into the MARMC deaths found that the sailors involved were dealing with "family, financial, medical and career-related" issues, the Navy Times reported. All four were also under a limited duty status, a working category that was not adequately monitored at the command according to investigators.
Investigators added that communication between MARMC coordinators and military treatment facilities was lacking, thus fracturing the assistance personnel needed and leading to "blind spots" for sailors seeking mental health assistance.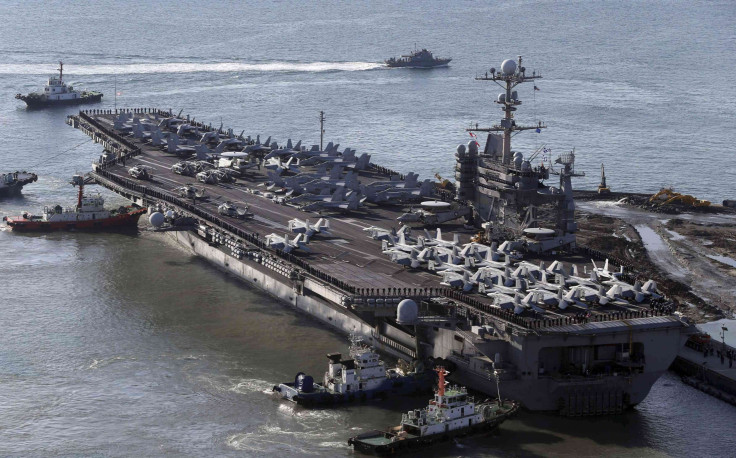 FOR FREE to continue reading
✔️ Unlock the full content of International Business Times UK for free
offer available for a limited time only
✔️ Easily manage your Newsletters subscriptions and save your favourite articles
✔️ No payment method required
Already have an account? Log in
© Copyright IBTimes 2023. All rights reserved.