'Project Runway' Season 13 Spoilers: Who Was Eliminated In Episode 4? Find Out Who Got Blood On His Dress [RECAP]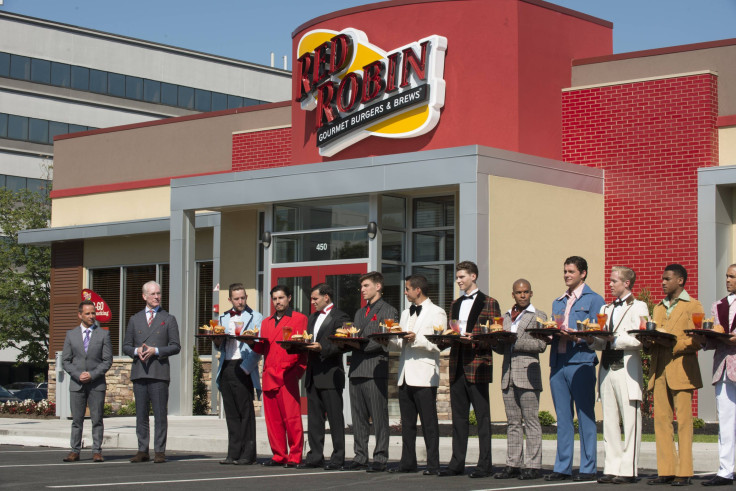 "Project Runway" Season 13 episode 4 challenged designers to turn something old into something new. They visit Red Robin to find a line up of vintage suits (which are "as classic as the hamburger," according to Tim Gunn), but they aren't really the cool vintage suits designers would want. They're bargain bin vintage. These suits are made of corduroy, pink patterns, velvet and plenty of others fabrics. Tim tells the designers that they have to repurpose the suit into a high fashion women's look. They can buy $100 of supplemental fabric, but they must make sure their suit fabric is the main focus.
Drama:
Kristine and Korina both make motorcycle jackets. After taking a closer look at Kristine's design, Korina changes some of her plans. She is worried that the judges will compare them. Yet Kristine might not have much more than the jacket. She still hasn't started her pants at the end of the day.
Mitchell lies on the floor to determine if his dress is too short on the model. He can't see her crotch, so he declares it a tastefully short dress. "I don't feel like Mitchell is a threat to me. The design and the taste level, it's just not there," Alexander says.
Alexander has his own troubles with overcompensation. Tim worries that the top half of his dress might be overpowering and looks like he is trying too hard. Tim tells the designer to tone it down and relax.
Amanda might be allergic to her pink suit. As she pulls the fabric apart, he allergies act up. Amanda hates her suit (chosen by Sandhya), but she decides to just focus on doing the work. Other people take more of an issue with Sandyha's choices.
Sandhya won last week's challenge, so she gets to choose her suit first. Then she gets to assign suits to the entire group. She says, "I genuinely gave everybody what I thought they would have picked for themselves."
She didn't get that quite right because not everyone is happy with their suits. "I want to kill her," Hernan says.
Hernan decides that Sandhya picked the ugliest suit for him because she thinks he is her biggest competition. He hates his white and brown suit, and he holds a grudge against Sandhya throughout the challenge. Hernan even claims that Sandhya is a completely different person off camera.
Sandhya knows that Hernan is talking about her constantly. She keeps her head high and says, "I'm not an easy prey."
She will not apologize to Hernan for picking the suit. "If you can't make something good from what you've got, than you are not a good designer," Sandhya tells the audience.
Hernan's mood is even worse when Tim comes for check in. Tim notes that his design isn't going well. He is using vinyl and he can't treat it like a fabric. It doesn't drape properly, and Tim tries to guide Hernan's use of the material.
The designer works until the last second. Hernan even bleeds on his white dress while trying to sew his model into it. Instead of sewing the hem, he cuts it, and then he has to take his model to the runway, despite the dress being unfinished.
The designer holds a grudge against Sandhya even as his dress comes down the runway. While other designers compliment each other during the fashion show, Hernan see his design and says, "Thank you Sandhya again, b_____."
Snadhya flips him her middle finger and says, "Don't ever speak to me like that again."
Top Three
Kini: His gray and white pinstripe suit becomes a sexy geometric dress. "She looks very powerful but at the same time, very sexy," Nina Garcia says. The judges are impressed with the design and the construction of the polished look. They're shocked that the designer was finished two hours early.
Amanda: Her pink printed suit may have irritated her allergies, but Amanda ends up with a design she and the judges really like. She used the inside and outside of the suit to create a patchwork design and the supplemental fabric is used for fringe. It has a hippie feel that fits with Amanda's aesthetic. The judges find her look to be resourceful. "It just really shows how creative you are," guest judge Bethany Mota says. Zac Posen isn't quite as impressed. "I don't think this is the most imaginative design in the world. Still, that's okay, it worked," Zac says.
Alexander: His classic black suit turned into a two-piece outfit with a full skirt and a structured top. The one shoulder top only reveals a sliver of stomach, which the judges love. The designer understands how much skin can still be considered classy and high fashion. "From the bottom to the top," Heidi Klum says. Alexander redeemed himself after last week's potato sack dress.
Bottom Three
Kristine: The suit was made of red velour and Kristine decided to use faux leather and organza as supplemental fabrics. The organza extension that starts under the knee on the pants doesn't work for the judges. She didn't have enough fabric for the pants, and Heidi wonders why she still made them when she could have done a short skirt. "I'm worried I'm not seeing enough of a vision," Zac says. After the designers leave, Tim says she was going for an unexpected mixture of textiles. "It is unexpected. It's just ugly," Nina says.
Hernan: His white and brown suit didn't make for a great design. The dress is short in front but longer in the back with odd strips of brown vinyl that create a V shape. "It looks like she is the vagina superhero. Not very elegant," Nina says. From the back, the judges say it looks great, but the front is awful.
Hernan explains that his fabric was hard to use and falling apart (which viewers never saw in the workroom). "So you didn't like the material of the suit, and then you bought vinyl," Heidi says. None of the judges understand why he created this dress. Upon closer inspection, the dress looks even worse. He claimed his suit was disintegrating, but Zac pulls at the dress. The fabric was strong and sturdy.
Sean: The brown corduroy suit "look like pealing skin," according to Zac. The dress was strips of different brown fabrics layered on top of each other with outward seams for a deconstructed look. "It looks like a shredded mess," Heidi says. Sean tries to explain that a deconstructed look isn't supposed to look polished, and the judges cut him off. They understand deconstruction. "It's not our first day here," Heidi says. They think it looks like bandages gauze bandages, not a high fashion design.
Winner: Amanda
This means that after four challenges, there have only been two winners. Amanda and Sandhya have each won two challenges.
Eliminated: Hernan
Made up excuses didn't sit well with the judges. Hernan says that he is disappointed in the judges because they're not looking for talent.
"Project Runway" airs Thursdays at 9 p.m. EDT on Lifetime. Were you happy to see Hernan go or did you want him to stick around? Sound off in the comments section below.
© Copyright IBTimes 2023. All rights reserved.