Provocative Sculpture Known As 'Queen's Vagina' In France Vandalized With Anti-Semitic Messages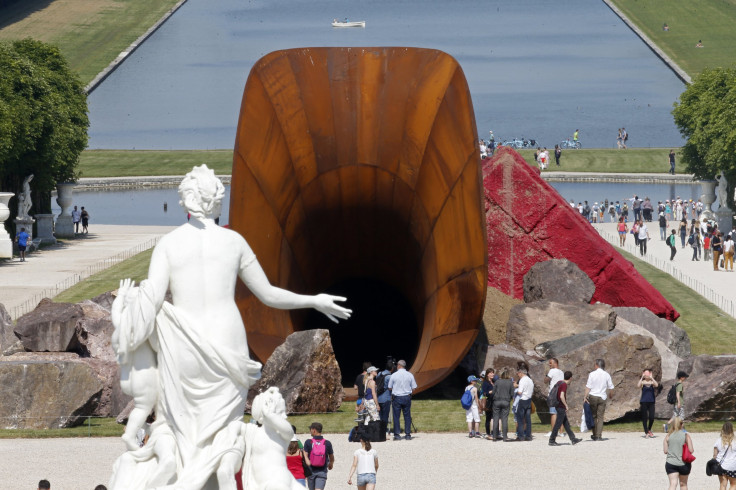 Vandals have scrawled anti-Semitic messages across a controversial steel sculpture nicknamed the "Queen's vagina" currently on display in the grounds at the Palace of Versailles in France. It was the second time the sculpture has been defaced since it was unveiled in June.
The crime elicited strong rebuke from the country's top government leaders including President Francois Hollande, who called it "hateful," and Prime Minister Manuel Valls who assured French citizens and art fans worldwide that the vandals would be caught and reprimanded. "This is no more or less an act which reveals a fascist vision of art," Fleur Pellerin, France's culture minister added.
The sculpture resembles a large steel funnel which is about 200 feet long and 33 feet high. It's official name is "Dirty Corner" and artist Anish Kapoor has described the piece as "very sexual," ABC News reported.
The sculpture was first vandalized in June and quickly scrubbed clean of the offending splotches of yellow paint. But this time, Kapoor said he prefers that the bold white letters -- which declare "Christ is king in Versailles" and allude to an "SS blood sacrifice"-- remain on the sculpture as a reminder of the hate which exists in the world, Times Live reported.
"I had already questioned the wisdom of cleaning it after the first vandalism. This time, I am convinced that nothing should be removed from these slurs, from these words which belong to anti-Semitism that we'd rather forget," Kapoor said, according to ABC News.
It is unclear whether French officials will respect his wish. The palace grounds were first opened to contemporary artists as an exhibit space in 2008 and Kapoor's work has been the most controversial display to date. The palace was home to French royalty including Louis XIV and Marie Antoinette until the late 1700s and now serves as a museum and tourist attraction, according to the Chateau de Versailles website.
Kapoor once described the sculpture as "the vagina of the queen who took power," BBC News reported, but has lately preferred to describe the work as open to interpretation.
© Copyright IBTimes 2022. All rights reserved.
FOLLOW MORE IBT NEWS ON THE BELOW CHANNELS