In Push Against Teachers Unions, Campbell Brown Refuses to Release Names Of Funders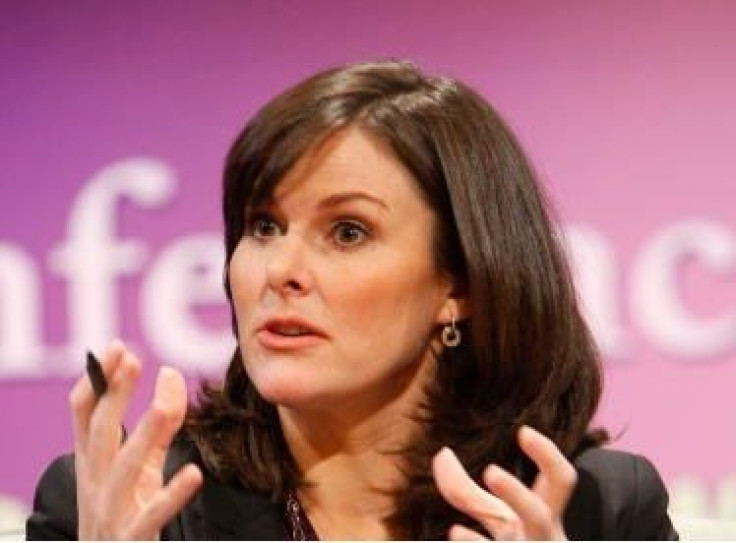 The founder of a high-profile group seeking to weaken teacher tenure laws refuses to reveal who is funding her efforts, despite her organization's stated aim to "bring transparency" to education policymaking. Campbell Brown, a former CNN news anchor who founded the Parents Transparency Project and the Partnership for Educational Justice, rejected the request for details about her funders during her appearance on "The Colbert Report" Thursday night to discuss a new lawsuit.
The suit aims to get New York courts to mimic a recent court ruling in California, which weakens union-negotiated teacher tenure laws. Brown said her group is "helping and supporting" the lawsuit, which was filed this week. Asked who is funding her group, Brown told show-host Stephen Colbert: "I'm not going to reveal who the donors are." She defended her secrecy on the grounds that critics "are also going to go after people who are funding this."
As Brown keeps the identity of her financial backers under wraps, her organization describes itself as a group "whose mission is to bring transparency" to education policymaking.
Politico has reported that under current law, Department of Labor rules require unions to "disclose more than many political groups about their internal operations," funding and expenditures. By contrast, many political groups seeking to limit teachers unions' workplace rights and replace traditional public schools with privately run, union-free charter schools have been able to keep the identity of their benefactors shrouded in secrecy, though periodic leaks have shed at least some light on the funders.
For example, the most prominent opponent of the teachers union, Students First, has rejected requests for a list of its donors. Yet thanks to a Pennsylvania lobbying disclosure law, the Huffington Post in 2012 was able to report that "New Jersey hedge funder and Romney backer David Tepper and the Texas-based Laura and John Arnold Foundation [are] among the largest donors" to the organization. Additionally, the board of Students First includes hedge fund billionaire Paul Tudor Jones, News Corp. education-technology executive Joel Klein, and Dan Senor, Brown's husband, who previously served as the Bush-appointed spokesperson for the Coalition Provisional Authority in Iraq.
Likewise, in New Jersey, WNYC reported that a group called the Committee For Our Children's Future spent millions on ads promoting Republican Gov. Chris Christie's education agenda, while the funders of the ads remained anonymous. WNYC later reported that television station filings revealed that the group used the "same ad buyers Christie used for his 2009 campaign for governor," and that the contact address for the group could "be traced back to Kevin F. Feeley, a Christie donor whose son has worked for Christie as an intern." The radio station also reported that the documents linked the ads to a Republican consulting firm that had done work for former GOP presidential nominee John McCain. Christie has pushed for more privately run charter schools in New Jersey.
Though Brown refuses to release details about her financial benefactors, Mother Jones in late 2013 reported that the Parents Transparency Project worked with a Republican consulting firm that employs Mike Murphy, a former Romney strategist, and Mark Dion; a former chief of staff to Sen. Pat Toomey, R-Pa.; and Evan Kozlow, former deputy director of the National Republican Congressional Committee.
In pushing New York state courts to follow California's recent Vergara decision, Brown recently established a group called the Partnership for Educational Justice. That organization's website does not name its funders, but it does disclose that Joe Williams is a board member. Williams serves concurrently as the executive director of a group called Democrats for Education Reform. The New York Times has reported that the group is backed by major hedge fund managers.
Public school advocates have argued that with the education sector becoming a multibillion-dollar business, Wall Street executives have a financial profit motive for investing heavily in the education policy debate. Meanwhile, unions such as the American Federation of Teachers have encouraged pension trustees managing public school teachers' retirement savings to consider divesting from the Wall Street firms that financially support the campaign to privatize schools. According to Politico, that campaign now involves top confidantes of President Obama, who recently established a public relations firm to do battle against teachers unions.
IBTimes contacted the Partnership for Educational Justice requesting comment from Brown. No reply had been received as of publication time.
© Copyright IBTimes 2023. All rights reserved.