Pussy Riot Founder, Crypto Firms Form DAO To Raise Funds For Ukraine Defense
KEY POINTS
UkraineDAO to donate proceedings to Come Back Alive
Ukraine flag NFT minted by DAO
Come Back Alive was banned by Patreon
A blockchain-enabled decentralized autonomous organization (DAO) has been formed by crypto investors and Russia-based artistes to raise funds for the Ukraine armed forces defending their country against the Russian army.
UkraineDAO was established by members of investment group PleasrDAO, NFT studio Trippy Labs, and the founder of Russian art collective Pussy Riot on Thursday.
A decentralized autonomous organization (DAO) is a transparent organization with regulations encoded as a computer program that is governed by its members and not influenced by any central authority. They can be used for any projects including fundraising.
UkraineDAO intends to support Ukrainian soldiers with funds from its official war chest (ukrainedao.eth). The group intends to donate to Come Back Alive, a Ukrainian charity that was recently banned from the crowdfunding platform Patreon for breaking the site's rules of service. Come Back Alive has raised nearly $6.9 million in crypto donations by then.
The DAO released a one-of-a-kind NFT of the Ukrainian Flag on Saturday. The flag was minted by CXIP. The release launches with the introduction of a PartyBid (a tool that allows people to bid collectively and, if they win, obtain fractionalized ownership of the object in question), allowing anyone to pay any amount of money and receive a POAP (proof of attendance).
A donation to UkraineDAO is an investment in $LOVE tokens, which can be purchased and sold on decentralized exchanges such as Uniswap.
Funds raised from the auction of this flag would be sent to Come Back Alive to support the Ukrainian troops. The DAO also supports Proliska, a non-profit organization operating in Eastern Ukraine.
Nadya Tolokonnikova of Pussy Riot, Alona of FreeRossDAO, CryptoSteve of PleasrDAO, and Trippy of Trippy Labs have been drumming up support for UkraineDAO.
Moreover, the Ukrainian government also announced in a tweet that it would start accepting Bitcoin, Ethereum, and USDT to support its troops.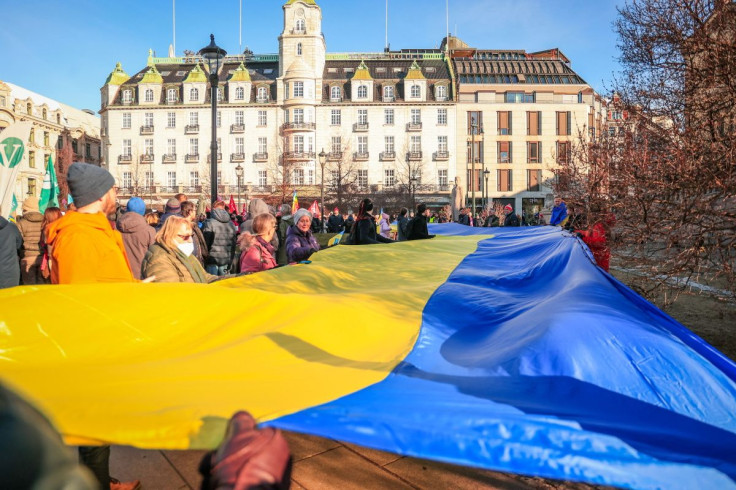 © Copyright IBTimes 2023. All rights reserved.