Putin Accuses US Of Meddling Abroad, Hopes For Better Russia Ties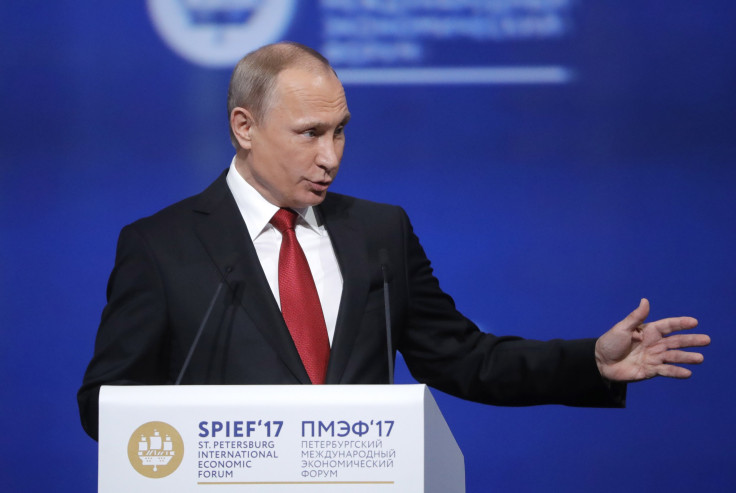 In the 15th episode of his annual call-in show, Thursday, Russian President Vladimir Putin accused America of meddling abroad. He said: "Just take a globe, spin it and poke your finger into it at any place — there are American interests there, and, for sure, they're involved there."
Putin was responding to questions about the recent testimony before Congress by James B. Comey, former F.B.I. director, when he repeated there was no evidence to support the accusations Moscow interfered with the American presidential election, a New York Times report said Thursday.
Read: Twitter Reacts To Putin Offering Fired FBI Director James Comey Asylum In Russia If Prosecuted
Putin reaffirmed his denial of allegations by U.S. intelligence agencies that the Kremlin meddled in the 2016 U.S. election, saying Russia has openly expressed its views and hasn't engaged in any covert activities.
Putin however, sarcastically even offered Comey asylum in Russia if he faces legal challenges for quietly passing information to the news media about his meetings with President Donald Trump.
"It sounds and looks very weird when the chief of a security agency records his conversation with the commander in chief and then hands it over to media via his friend," Putin said.
Putin compared Comey to Edward Snowden, a contractor who leaked thousands of secret documents from the National Security Agency and has been living in Russia since being granted asylum in 2013.
"What's the difference then between the FBI director and Mr. Snowden?" he asked. "In that case, he's more of a rights campaigner defending a certain position than the security agency chief.
While taking a question from an American via video about U.S.-Russia relations, Putin responded saying the U.S.' "political infighting" is blocking better relations with Russia.
In the four-hour long televised town hall-style event, Putin also tried to turn the tables on the U.S., saying it has sought to influence Russian elections by funding nongovernmental organizations as part of its aspirations for world domination.
On a conciliatory note, Putin added that Russia still hopes for normalization of ties with the U.S. "We don't see America as our enemy," he said.
He added that Moscow and Washington could cooperate to prevent the proliferation of weapons of mass destruction and pool efforts to tackle the North Korean nuclear and missile problem.
Read: Megyn Kelly's Putin Interview: Russian President Says CIA Could Have Hacked US Presidential Election
He added the two countries also could cooperate on global poverty and preventing climate change. Furthermore, he also said that the U.S. remains the essential player on climate despite Trump's decision to pull the U.S. out of the Paris accord.
Moscow also hopes that the U.S. could play a "constructive role" in helping settle the Ukrainian crisis, he said.
During the show, Putin mostly glorified the economic statistics of Russia, his concern for social ills and saw little mention of his foreign policy announcements.
Putin mixed the tough talk with benevolent promises about the Russian economy to disgruntled callers complaining about decrepit housing and low salaries during the four-hour marathon intended to burnish his father-of-the-nation image. But the 64-year-old did not reveal if he plans to seek another term in the 2018 election, although he is widely expected to do so.
© Copyright IBTimes 2023. All rights reserved.
FOLLOW MORE IBT NEWS ON THE BELOW CHANNELS