Queen Elizabeth Reportedly Notices Meghan Markle's 'Growth'; Harry's Wife 'Determined' To Follow Princess Diana's Footsteps
Rumors about Queen Elizabeth II not liking the wives of Prince William and Prince Harry have been making rounds online for quite some time now. Being the ruler of the British monarchy is no easy, especially since the Queen instantly becomes an easy target for malicious rumors. Recently, Her Majesty is said to be "impressed" with Meghan Markle.
The mother of Prince Charles is, reportedly, happy with all the positive things that Meghan has been doing lately. A Royal insider shared to Us Weekly that Queen Elizabeth II noticed the growth and maturity of Prince Harry's wife during their current trip to Africa.
"She's seeing a more mature, responsible side of Harry, and she's really impressed with how Meghan's upped her game," the anonymous tipster claimed. "This is the real Meghan. It's not an act. And while she'll never replace [Princess Diana], she's determined to follow in her footsteps," it added.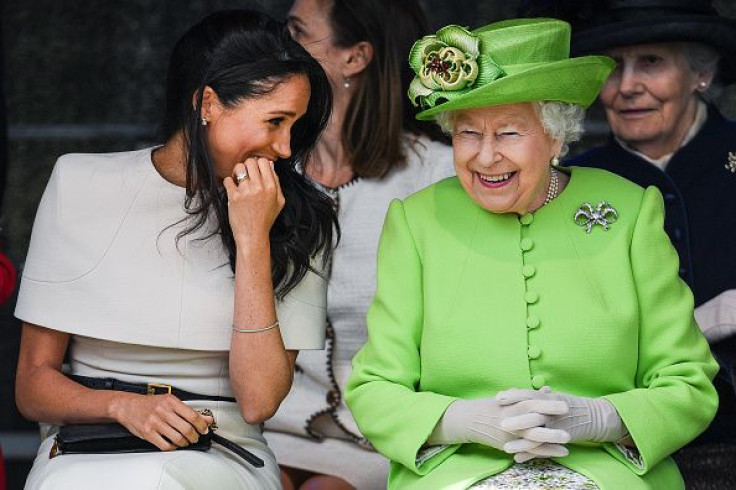 Royal expert Robert Hardman, previously, told Closer Weekly that Queen Elizabeth has become more relaxed lately as she has been sighted smiling more than before. He even shared that Her Majesty sure does share words of wisdom to both Meghan Markle and Kate Middleton.
Hardman said Queen Elizabeth "took an effort to take them under her wing," especially since Meghan and Kate are new to the Royal game. Aside from Prince Harry and Prince William's wives, Her Majesty has, reportedly, been spending some quality time with the "Suit" actress' mother, Doria Ragland, as she loves hearing the latter's personal experiences in Los Angeles.
Meanwhile, the New York Post reported that Queen Elizabeth uses fashion to secretly throw subtle shade. London journalist Sali Hughes said, in her new book called "Our Rainbow Queen: A Tribute To Queen Elizabeth II and Her Colorful Wardrobe," that the grandmother of Prince William and Prince Harry trolls using her stunning ensembles.
On one occasion, Queen Elizabeth, reportedly, donned a blue and yellow-colored outfit to express her disapproval with the controversial Brexit referendum in 2016. During an official meeting with POTUS Donald Trump and FLOTUS Melania Trump in 2018, Her Majesty, allegedly, completed her look with a large brooch given by former U.S. President Barack Obama and Michelle Obama to show that she likes the ex-first couple.
© Copyright IBTimes 2023. All rights reserved.