Quick & Easy Pumpkin Desserts To Serve For Thanksgiving
Looking for a quick and easy dessert for Thanksgiving? These six sweet pumpkin sweets are great options to complement any holiday feast.
Whether you want a treat before running a "turkey trot" race or you are looking for something to give guests after the festivities are over, these treats are sure to please. A lot of the prep work can be done beforehand with these recipes, leaving time for friends and family.
Don't have all the ingredients? Don't worry. This ingredient substitution guide can help.
1. Pumpkin Pie
This five-ingredient pumpkin pie recipe comes from Grace Elkus of The Kitchn. After preparing the main courses for your meal, it's likely you don't want one more thing to worry about. This recipe takes the pressure off of dessert, creating a simple but delicious treat that everyone can enjoy. The recipe can also be baked ahead of time and frozen so it's ready whenever you need it.
See the recipe on The Kitchn
This twist on a dessert classic comes for the Bon Appetit kitchen. For children and ice cream lovers this recipe is sure to satisfy. Use the ingredient list provided or play with a mixture of ice cream, milk and pumpkin puree for an easy treat.
See the recipe at Bon Appetit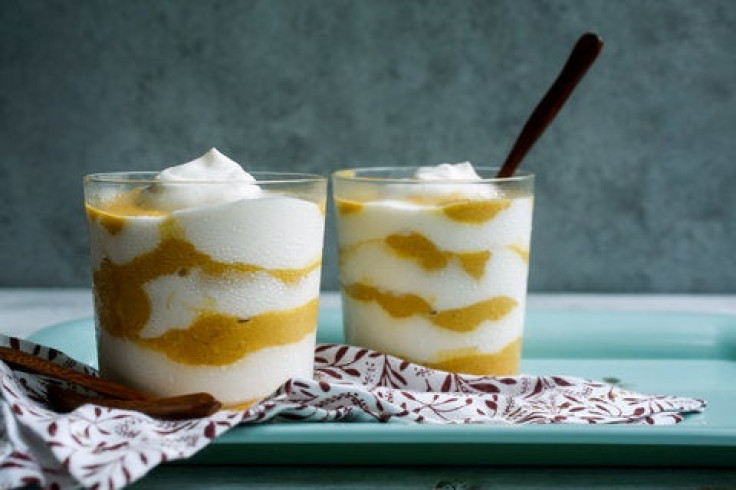 New York Times Cooking's Mark Bittman developed this pumpkin parfait recipe that is surprisingly simple and easy to portion. The spices in the recipe can be swapped out for pumpkin pie spice if you have it and the rum can be switched to rum extract for a similar flavor.
Serves: 8-10
Total Time: 20-25 minutes, plus freezing
What You'll Need:
1 (15-ounce) can pumpkin puree (about 1¾ cups)

2 cups heavy cream, divided
¾ cup whole milk
¾ cup plus 1 tbsp sugar
½ tsp ginger
¼ tsp nutmeg
1 tsp cinnamon
2 tbsp rum
Food processor
Directions:
In a large bowl, whisk together the pumpkin, ¾ cup cream, milk, ¾ cup sugar, spices and rum.
Line an 8- or 9-inch square pan with plastic wrap and pour the mixture into the pan. Wrap the whole pan in plastic.
Freeze it in the freezer for at least 4 to 6 hours, until it is frozen solid (it can keep for as long as two days).
Remove the pan from the freezer about 20 minutes before serving.
Whip the remaining cream with 1 tablespoon sugar. Refrigerate while completing the dessert.
Cut the frozen pumpkin mixture into small cubes and purée them in a food processor until they are smooth.
In small parfait or wine glasses, layer 2 tablespoons pumpkin mixture, and a tablespoon whipped cream, alternating for 4 layers.
Serve immediately.
4. Pumpkin Chocolate-Chip Cookies
Chocolate chip cookies are always a crowd pleaser but this version adds the fall flavor of pumpkin to create a unique and tasty treat. Pair with a cold glass of milk or give them away as holiday treats.
Find the recipe by Yossy Arefi in New York Times Cooking.
5. Pumpkin Bars
These fluffy and light sheet cake bars come from Martha Stewart. Add cream cheese frosting for a comforting and irresistible sweet treat to enjoy during your Thanksgiving festivities.
Find the recipe by Martha Stewart.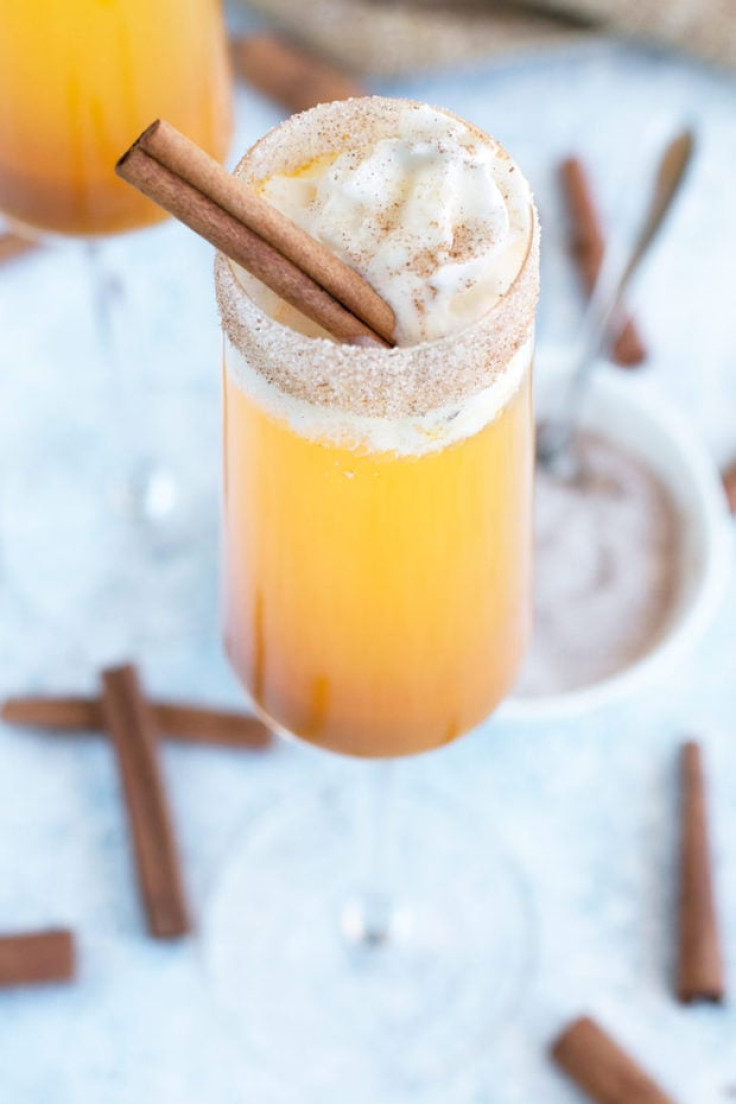 This boozy Oprah-approved drink is perfect for the adults at your Thanksgiving or "Friendsgiving" event. The recipe from Cake 'n' Knife puts an autumnal twist on a brunch favorite, the mimosa.
Serves: 4
Total Time: 10 Minutes
What You'll Need:
1 (15 oz) can 100% Pumpkin Puree
1 tsp Pumpkin Pie Spice (a blend of cinnamon, nutmeg, cloves, and ginger)
2 ½ tsp Granulated sugar
¼ cup water
1 bottle Brut Champaign
Mesh sieve strainer
Directions:
In a small saucepan over medium heat, cook the pumpkin puree, pumpkin spice, sugar, and water. Cook the mixture down slightly while stirring constantly – 2-3 minutes.
Remove the puree from the heat and strain through a mesh sieve. Cool completely in the fridge. Discard the remaining puree.
Optional: If you'd like to rim the drinks, you can create a rimming sugar mixture of 2 tsp pumpkin spice and ¼ cup sugar. Wet the rims of 4 champaign glasses and rim them with the mixture. Set aside.
Add 1 ½ oz of strained pumpkin juice to champagne glass and stir.
Fill each glass to the brim with brut champagne.
Optional: Top each glass with whipped cream, a cinnamon stick, and sugar.
Serve.
© Copyright IBTimes 2023. All rights reserved.