Rafael Nadal Injury Wimbledon 2013: Was His Knee A Factor In Shock First-Round Loss To Steve Darcis? Spaniard Refuses To Discuss Injury In Press Conference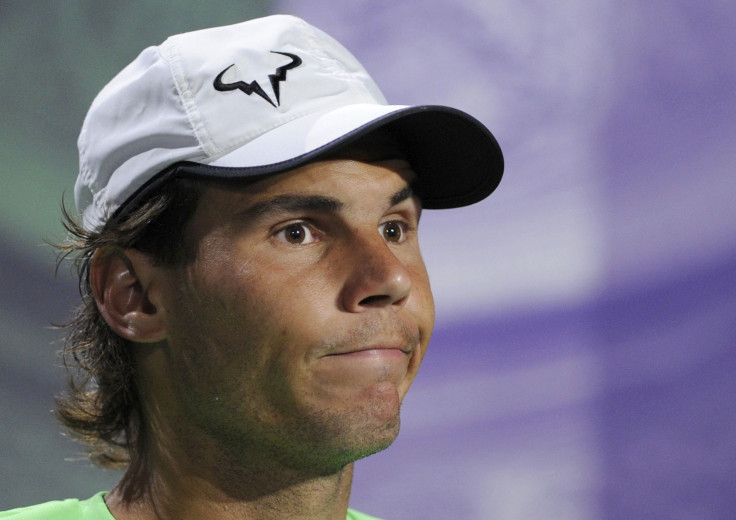 After suffering a stunning first-round loss to Steve Darcis to end his attempts to land a third Wimbledon title on the opening day of the championships, Rafael Nadal faced repeated questions about the degree to which his troublesome left knee contributed to the defeat. For the 12-time Grand Slam champion it is the first time he has ever lost in the opening round of a major. It is a defeat, though, that brings back memories of his second-round exit at to Lukas Rosol at the All England Club 12 months ago.
After that loss, Nadal missed seven months of action with a left knee injury. However, since his comeback in February, the man from Mallorca has gone on an incredible run -- reaching the final of all nine tournaments he entered and winning seven of them, including claiming his eight French Open title at Roland Garros just two weeks ago. Such was his sensational form that few had even been talking about the knee in the run up to Wimbledon.
There appeared, though, to be little doubt that it affected him in the 6-7(4), 6-7(8), 4-6 loss. In the third set he limped between points and even applied an ice pack to the knee at one change of ends. Nadal, refusing to make excuses, did was not in the mood to discuss his physical condition in the press conference following his exit.
"It's not the right day to talk about this," he said. "I tried my best out there. I had my chances but I did not find my rhythm. What else can I say? That's all. Just congratulate to Darcis. Despite having twice refused to comment about his knee, Nadal continued to be asked and eventually bristled at the repeated line of questioning. "I answered this question two, three times already," he lamented. "It is not the right day. Anything I say about my knee would be an excuse. I do not want to make an excuse."
However, Nadal did concede that the low-bouncing grass courts make it tough for him to play at his best. "The grass is a difficult surface for the way that I have to play to do well here," he added. "It is a tough surface because I have to play in a lower position than other surfaces. "
And the 27-year-old tried to play down fears that he could again be forced to be absent from the tour. "I am confident that I will have a good recovery and be ready for the next tournament," he explained. "I played much more than I had dreamed before here after the injury. So that's a very positive things for me."
Nadal was not expected to play again until the ATP Masters 1000 Event in Montreal at the beginning of August and he will hope to be at full-strength there ahead of the final Grand Slam of the year, the US Open, later in the month.
© Copyright IBTimes 2023. All rights reserved.