Rand Paul Blasted For Touting COVID Immunity, Telling Public To 'Throw Away Masks' [WATCH]
Sen. Rand Paul on Thursday called for those who have recovered from COVID-19 to "throw away their masks, go to restaurants, live again" as the coronavirus surges nationwide. Paul also falsely claimed that those who recovered from the virus are "now immune."
Paul, who tested positive for the virus in March, told Fox News that the 11 million Americans who have also recovered should "celebrate."
"We should tell them to throw away their masks, go to restaurants, live again, because these people are now immune," Paul said.
The Kentucky Republican also went after Anthony Fauci, the nation's top infectious disease expert, and claimed the director of the National Institute of Allergy and Infectious Diseases "doesn't want to admit to any of that."
"Dr. Fauci is like 'Oh, woe is me' until the election occurs, but now maybe he'll be changing his attitude," Paul continued.
Paul's comments appear to contradict the guidance from public health experts who have said there is no evidence yet to suggest that people who have contracted the virus are now immune to reinfection indefinitely or cannot spread it to anyone else.
The Centers for Disease Control and Prevention released updated guidance on Oct. 27 arguing that experts are still learning more about COVID-19 reinfections. Current research suggests reinfection is rare but the CDC states some coronavirus reinfections are "expected."
The CDC still recommends wearing a mask, social distancing, and washing hands regardless of whether you have had COVID-19 or not.
Paul's comments come as coronavirus cases have spiked to record-breaking levels across the country.
On Thursday, the United States recorded more than 160,000 new coronavirus infections, The New York Times reported. The grim record comes after the U.S. first reached 100,000 new cases in a single day last week.
Twitter users were quick to criticize Paul and argued against his false claims.
Paul, who has frequently criticized lockdowns aimed at preventing the spread of the coronavirus while questioning their effectiveness, has previously gone after Fauci's guidance.
In September, a seemingly irritated Fauci scolded Paul at a congressional hearing after the senator claimed that COVID-19 cases might not be rising in New York because of herd immunity.
Fauci told Paul he had been wrong about the concept of herd immunity and said: "No, you've misconstrued that, senator, and you've done that repeatedly in the past."
"He was saying things that were not true," Fauci told Vox. "It is what's called cherry-picking information out there. He was saying things that were not compatible with the scientific data."
This isn't the first time Paul spread fraudulent information about the virus. After recovering from COVID-19, Paul claimed he was now "immune" to the virus.
"I've had it. I can't get it again," Paul said. "I can't give it to you, and I can't get it."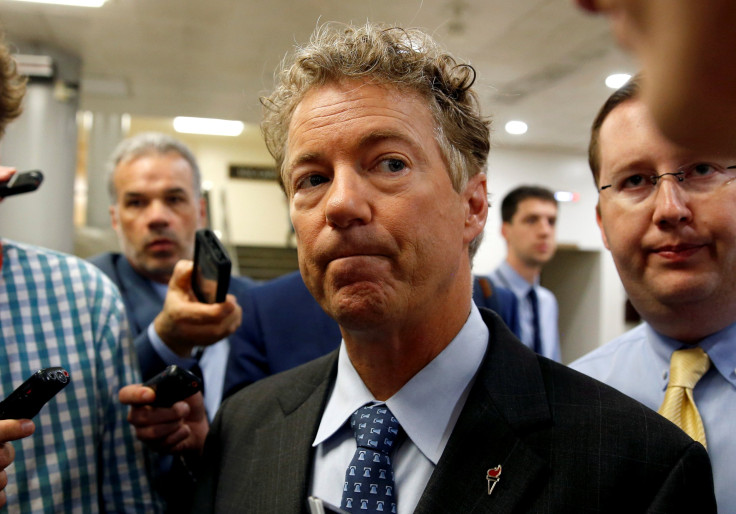 © Copyright IBTimes 2023. All rights reserved.
FOLLOW MORE IBT NEWS ON THE BELOW CHANNELS