Randy Jackson Owes $500,000 In Child Support, Denied Access To Michael's Will: Report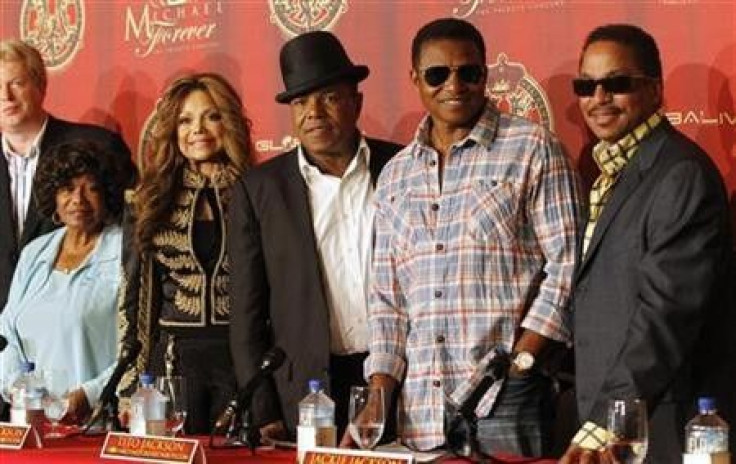 The fight over Michael Jackson's will just got even crazier. Radar Online is reporting that Randy Jackson, brother of the deceased King of Pop, is far behind on his child support payments and needs some help from brother Michael's estate.
Randy reportedly owes around $500,000 to Alejandra Genevieve Oaziaza, the mother of his two children. The two started dating when Randy was 25 and Oaziaza gave birth to the couple's first child, Genevieve Katherine Jackson, who is now 22.
Randy Jackson later married Eliza Shaffe without Oaziaza's knowledge, according to The Daily Mail. Shaffe gave birth to Jackson's second child, Stevanna, although the couple divorced in 1991. After the split, Randy got back together with Oaziaza and at that point fathered his third child (and second with Oaziaza, if you're following) Steven Randall Jackson Jr.
Randy and Oaziaza then broke up again, and she married Randy's older brother Jermaine. Jermaine then fathered two children with Oaziaza. The Daily Mail reports that Jermaine has also fallen behind on child support payments with Oaziaza and although the brothers have requested some help from Michael's estate, an insider said they were "shot down immediately."
Last week, Randy escalated the already hot feud by accusing the executors of the estate of trying to kill the Jackson matriarch, Katherine. "It is my fear and belief that they are trying to take my mother's life," he wrote in a Twitter post last week, TheBoombox.com reported.
The Daily Mail said the estate confirmed that it had denied a request from a family member.
Late in July, Randy Jackson told Al Sharpton in an interview that the feud "isn't about money."
"This is about a family that has questions that has lost a family member and we feel the evidence is right there that my brother was not in Los Angeles on the date that they swore he was," Randy Jackson said. "He was in New York so therefore the will is fake, and they cannot answer the questions and they are trying to turn family members against family members."
Howard Klein, a Los Angeles attorney, said that not only would it be too late for the Jacksons to challenge the will but Randy isn't even entitled to do so because he wasn't named a beneficiary.
The estate has gained $475 million in gross revenue since Michael Jackson died in 2009. Much of the money has been used to pay off the debts Jackson had when he died and to provide private schooling, security, vacations and other perks to the singer's children and mother.
© Copyright IBTimes 2023. All rights reserved.