Ranger Fan Dies: Widow Worries About Son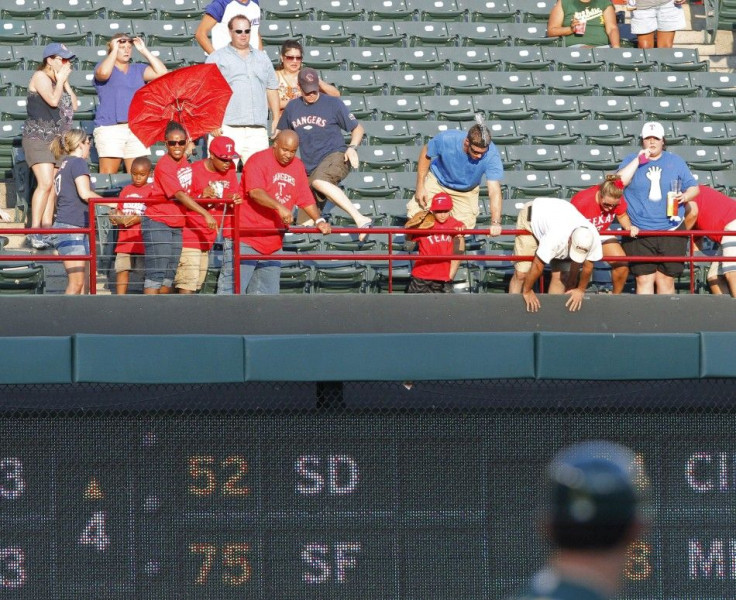 By now, the story is well-known: A father reaches over the railing at a Texas Rangers baseball game to catch a ball, only to fall to his death while his son watched.
Shannon Stone, a 39-year-old Rangers fan, was trying to catch a foul ball tossed to him by Rangers All-Star, Josh Hamilton, during Thursday's game when he fell over the railing in left field. Stone, who was at the game with his 6-year-old son, fell 20 feet and landed on his head. He was taken to Tarrant County Medical Examiner's Office where he later died.
The game went on as scheduled with players, coaches and most fans unaware that Stone, a firefighter from a nearby Dallas suburb, had died, all the while his boy yelling for his father.
Hamilton, who tossed the ball to Stone, said he is still grappling with the aftermath of the night, saying he could hear the boy screaming for his dad after he fell. Hamilton said he remembers the fall like it happened in slow motion, Forbes reported.
Pitching great, Nolan Ryan, now the president of the Texas Rangers, said the tragedy hits us at our roots of who we are.
We're about making memories, family entertainment, he said. I certainly understand - and I'm no different than our fan base - when I was young and I went to the ballpark, my hope was to get a foul ball.
You can see how many people come into our ballpark with gloves, just hoping to have that opportunity, Ryan said. That's just part of the experience of being here.
And Shannon Stone's mom, Suzann, agreed.
That's what they were there for, was to catch a ball, she said. Cooper loves baseball and he's a big Josh Hamilton fan. Had his jersey.
Players were given the option of getting grief counseling before Friday's game, and both teams - the Texas Rangers were playing the Oakland A's - planned to wear black ribbons on their uniforms. And at Rangers Ballpark, flags flew at half-staff.
A moment of silence was planned before the Rangers and A's played the second of their four-game series.
But now the attention has turned to the little boy who had to watch his father die.
Jenny Stone, the victim's 36-year-old widow, said she worried how her son would recover from the horror of not only watching his father fall, but riding in the front of the ambulance on the way to the hospital.
She's very concerned about her son and the impact that this is having on him, Ryan said, who spoke with her by phone. She asked if I could do anything about the video footage that is being shown.
Replays have continually shown the boy watching his father reaching for the ball, and falling through a gap several feet between the left-field seats.
At the request of the Stone family, MLB.com has not posted video of the accident.
© Copyright IBTimes 2023. All rights reserved.