Rapper Meek Mill Takes Aim At Drake On Twitter, Claims 'He Don't Write His Own Raps!'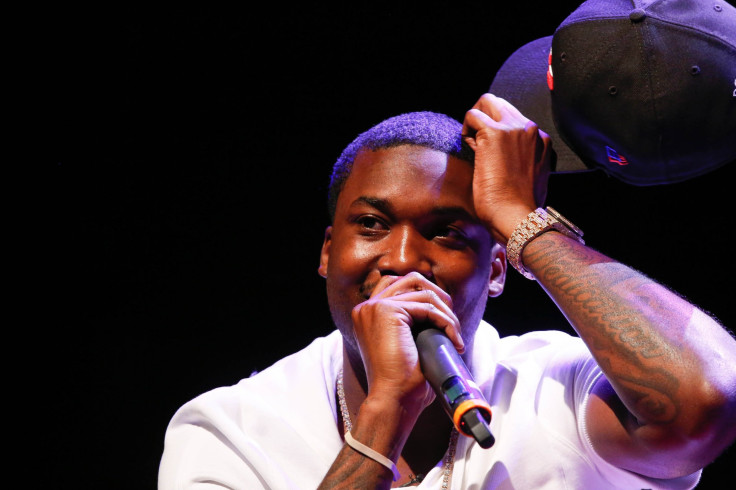 Nicki Minaj wasn't the only one with grievances to air on Twitter Tuesday. Hours after Minaj's passionate VMA Video of the Year snub rant, boyfriend Meek Mill hopped on the social media site to get a few things off his chest.
The 28-year-old rapper, who became a household name after going public about his relationship with Minaj, took a moment to get real with his followers about the industry. Meek's rant was largely aimed at fellow recording artist Drake, whom he recently featured on his song "R.I.C.O." off his new album, "Dreams Worth More Than Money."
As was reported by Entertainment Weekly, the Philadelphia native asked that everyone stop comparing him to Drake since "he don't even write his own raps!" Mill said if he had known the verse on "R.I.C.O." had been written by someone other than Drake, he would have removed it from the album. Despite outing the Toronto-based rapper as an alleged fake, Mill said he would have done the same to an industry great like Jay Z. Read Mill's full rant about Drake below.
The Twitter beef quickly drew the attention of other artists in the industry who weighed in with some interesting opinions. Rick Ross, who has been close with Mill since his earliest days in the music business, tweeted "Drake >>>>>>Meek." The message was quickly deleted and replaced with retweets of a select few excerpts from Mill's lengthy rant.
Earlier that same day, Minaj took to Twitter to express her frustrations about "Anaconda" not receiving a nod for Video of the Year at MTV's 2015 Video Music Awards. She blamed it on the music industry's tendency to favor white artists and "women with very slim bodies." In a series of tweets, she claimed that had she been "a different kind of artist" she would have been nominated.
In the midst of her venting to fans, nominee Taylor Swift chimed in to ensure that Minaj's tweets were about her. The "Bad Blood" star asked why Minaj wasn't throwing shade at one of the men nominated for the award. The female rapper quickly shut that down, explaining her point of view in the simplest terms possible for her. Nicki wasted no more tweets on Swift, though her fans had plenty to say on the matter.
Drake has not responded to Mill's ghostwriting allegations.
© Copyright IBTimes 2022. All rights reserved.
FOLLOW MORE IBT NEWS ON THE BELOW CHANNELS